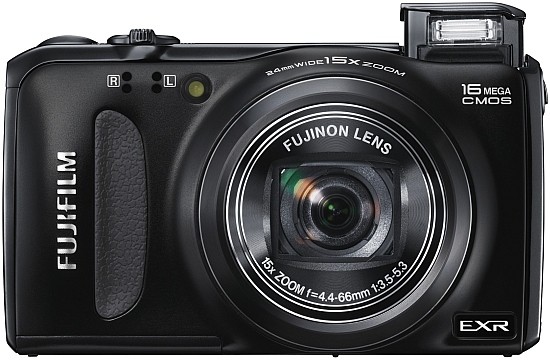 The Fujifilm FinePix F660EXR is a new, 16-megapixel travelzoom camera. Building on the success of the FinePix F600EXR, the new camera boasts an improved, high-contrast, 460,000-dot LCD screen and innovative face tracking to ensure users never miss their intended target. The 16-megapixel Fujifilm EXR-CMOS sensor has also been redesigned to deliver a 30% reduction in digital noise and smoother tones in both highlight and shadow areas at higher ISO settings. In addition to the new features and enhancements, the F660EXR also retains the 24-360mm equivalent superzoom lens, manual controls, raw file capture, film simulation modes and Full HD movie recording capability of its predecessor.
Fujifilm Press Release
Fujifilm FinePix F660EXR: The travel compact camera that takes you further
The new FinePix F660EXR is a premium digital zoom compact that builds on the success of the FinePix F600EXR and while no bigger in size than its predecessor, the FinePix F660EXR adds Fujifilm's latest 16 megapixel EXR-CMOS sensor to give users the very best of Fujifilm's acclaimed imaging technology.
Other improvements include an improved 3.0-inch, 460,000 pixel LCD screen and innovative face tracking to ensure users never miss their intended target. Add to this the Fujifilm F-series' trademark of superb images in low-light, a Fujinon 15x optical zoom lens and a stylish, robust exterior, and it's clear that the FinePix F660EXR will quickly become an essential travel companion.
Technology at the heart
With Fujifilm's pioneering 1/2-inch 16 megapixel EXR-CMOS sensor at the heart of the FinePix F660EXR, users are guaranteed unparalleled image quality, whatever the lighting conditions. The unique sensor combines Fujifilm's EXR and Back Side Illumination (BSI) technologies to deliver superb results. The user can switch between three EXR modes to change the sensor's characteristics according to the lighting conditions, or let the camera optimise settings in the Auto EXR mode.
The camera's ISO mode can also be selected automatically and offers a range of 100 up to 3200, but also stretches to an incredible 12800 (Image size S only).
The Fujifilm EXR-CMOS sensor has also been redesigned with a 30% reduction in digital noise over its predecessor, ensuring smoother tones in both highlight and shadow areas at higher ISO settings.
See the bigger picture
The FinePix F660EXR's 3.0-inch LCD has an improved high-contrast screen for displaying clear images even when viewing the screen in direct sunlight. An increase to 460,000 pixels on the LCD guarantee crystal clear images and movie to make it even simpler for users to assess exposure, explore the camera's menus and capture their unmissable moments.
The FinePix F660EXR manages to pack an impressive 15x optical zoom Fujinon lens (24-360mm equivalent to a 35mm camera) into its pocket-sized exterior, but for when that little extra distance is needed the camera has an Intelligent Digital Zoom function doubles the focal range with no obvious drop in quality, thanks to the application of innovative image processing to boost sharpness in selected areas without increasing digital noise.
For breath-taking landscapes or scenes rich in detail, the Fujifilm FinePix F660EXR has a wide-angle field of view of 24mm and even a seamless Motion Panorama 360 mode to capture scenes in stunning widescreen.
Go beyond still images
The FinePix F660EXR's brilliance is not limited to still capture: the camera offers 1080p Full HD movie capture at 30fps for seamless quality and adds face tracking. This ensures users' movies stay in focus, no matter where their subject moves. Combining the best of Face Detection and Tracking Auto Focus to precisely follow subjects' faces throughout a scene, the FinePix F660EXR's movie functionality and stereo sound recording will captivate keen videographers of all abilities. A high speed movie option allows more creative users to slow down fast-moving action by shooting an amazing 320 frames per second.
Maximize picture-taking enjoyment
As well as the exciting new technological advances contained within the FinePix F660EXR, the camera offers many premium features that users have come to expect from Fujifilm's F-series of high-powered compacts. A full-complement of exposure modes enable users to quickly capture a scene without sacrificing image quality, plus the F660EXR also offers more conventional exposure modes such as aperture priority, shutter priority and full manual to take complete photographic control over images.
Fujifilm's traditional film simulation modes are also present and allow users to experiment with their creativity when capturing their adventures on camera, while those wanting to capture the action haven't been forgotten with up to 11 frames per second possible in the Image Size [M][S] at continuous shooting mode.
The FinePix F660EXR will be available in three colours: black, red and blue.
Fujifilm FinePix F660EXR key features
High quality Fujinon 15x optical zoom covering 24-360mm (35mm equivalent)
Intelligent Digital Zoom boosting range to approx.30x
Superb build quality and finish
16 mega-pixel EXR CMOS sensor
Three-inch LCD with 460,000 dots and Monitor Sunlight mode
Full 1080p HD movie
ISO 100-12800*
P, A, S, M exposure modes for creativity plus Scene modes
Raw file capture Film simulation modes
Macro focusing down to 5cm
Optical image stabilisation
Motion Panorama 360 mode

*ISO 6400 is effective in image size M or lower.
ISO 12800 is effective in image size S

Customer contact
For information about Fujifilm and its products, please visit www.fujifilm.co.uk or call 0844 553 2322
About Fujifilm
Fujifilm is a global leader in imaging technology, products and services including digital cameras, photofinishing, digital storage and recording media, consumer and professional film, motion picture film, professional video, printing systems, medical imaging, office technology, flat panel displays and graphic arts. The company employs more than 73,000 people worldwide, with 178 subsidiaries stretching across four continents.
Uniquely placed to be a market leader in digital imaging, Fujifilm develops and manufactures its own sensors, lenses and processing technology. In addition to its production plants and R&D operations in Japan, the company has key manufacturing facilities in Europe and the USA for core products such as colour film, colour paper, single use cameras and CTP printing plates, and has further factories in Brazil and China. It has a global turnover in excess of £13 billion.
In the UK, Fujifilm has been supplying the imaging, printing and graphics industries, as well as consumers, professional and enthusiast photographers, with high quality, innovative products and services for over 25 years. Fujifilm UK currently employs more than 450 people and has become one of the country's most popular photographic and imaging brands.
 Specification chart
Your Comments