Fujifilm FinePix HS20 Launches in UK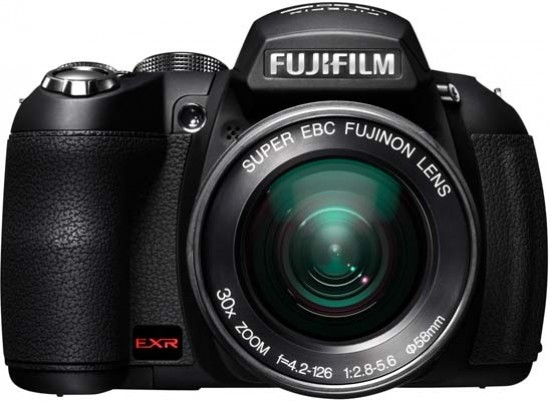 Fujifilm UK has announced that the Fujifilm FinePix HS20 is now available at retail. The Fujifilm FinePix HS20 is a new 30x super-zoom digital camera with a new 16-megapixel EXR CMOS sensor, 8fps high speed continuous shooting, fast auto focus, a 360° motion panorama mode and Full 1080p HD video with stereo sound. The camera is available now for £399
Fujifilm Press Release
Fujifilm FinePix HS20 – All-in-one bridge cameras hail a new king
London, 20 April 2011: Fujifilm will set a new performance standard for all-in-one cameras with the introduction of the FinePix HS20. As the top model in Fujifilm's bridge camera range, the HS20 comes with a class-leading feature set including a: brand new EXR CMOS sensor, high speed continuous shooting capability, improved user interface, versatile video functions, 30x zoom lens and a 16 megapixel resolution (the highest available for a sensor of this size and type).

The HS20 represents the perfect picture taking solution for photographers who want the specification and picture quality of an SLR without the heavy camera bag and the huge dent in their bank balance.

Fast, brilliant results in all lighting conditions
The HS20 features the unique combination of a Back Side Illuminated (BSI) CMOS sensor and Fujifilm's powerful EXR processor technology to deliver truly outstanding results, regardless of the lighting conditions.

EXR engine drives picture-taking benefits
The newly developed triple core EXR processing engine, speeds up processing time and boosts performance on both still and moving images.

As with other FinePix models featuring EXR sensors, three shooting options are available. In the High Resolution mode, users can take advantage of the huge 16 megapixel resolution for truly breathtaking levels of detail and sharpness. The Dynamic Range mode uses dual capture technology to provide a maximum range of 1600% - which is almost a full stop wider than any other camera - for stunning results on high contrast scenes. While the Signal to Noise mode increases pixel size using Pixel Fusion to produce outstanding images in low lighting conditions.

The camera also features 27 different scene scenarios so point and shoot photographers can automatically have the optimum settings. Playback is perfectly reproduced on the cameras high-quality 460,000 pixel, 3 inch screen or via the viewfinder.

Full HD video is captured beautifully at 30fps and by employing the same Pixel Fusion technology as for still images, so it's possible to shoot videos in low-light and not miss any of the detail. Playback of movies is also easy via the cameras HDMI socket.

High speed, high quality
Blink and you'll miss moments aren't a problem for the HS20, as the super fast contrast focusing system takes no more than 0.16 seconds to focus. And if you're not sure exactly when the best shot will be, the camera is capable of taking continuous full resolution shots at 8 frames per second or can even take a total of seven frames before and after you press the button making it just about impossible to miss the right shot.

A lens for every application
With a 30x mechanical zoom Fujinon lens, covering focal lengths from 24-720mm (35mm equivalent), the FinePix HS20 EXR really is ready for anything, straight out of the bag.
But, with such long zoom lengths it's also important to combat camera movement, so the HS20 has three image stabilisation methods to ensure all images are blur free.

Firstly, the EXR CMOS sensor moves during exposure to eradicate shake. Secondly, the camera will employ Pixel Fusion to increase sensitivity and boost shutter speeds and finally in EXR Auto, the HS20 features an Advanced Anti-blur technology where four images are taken in quick succession then combined to deliver a single shake-free image.
Fujifilm FinePix HS20 key features:
•      All-new 16 megapixel EXR CMOS sensor
•      30x optical zoom covering 24-720mm (35mm equivalent)
•      3.0 inch tilting rear LCD with 460,000 pixels and new Rich User Interface using Vector fonts and graphics
•      Full resolution high speed shooting at 8fps, high speed video capture at up to 320 fps (320 x 112 pixels)
•      Advanced Anti-blur technologies
•      1600% wide dynamic range
•      Longer battery life (up to 350 frames with 4 x AA batteries)
•      Electronic Horizon level function
•      RAW shooting (RAW or JPEG or simultaneous RAW+JPEG)
•      Full HD movie capture using H.264 (MOV) format
•      New 27 mode EXR Auto mode
•      Colour fringe reduction and improved corner sharpness
•      Film simulation modes
•      Quick start mode
•      360° Motion Panorama mode
•      TTL flash control with optional external flashes
•      Lens hood included
•      Photobook Assist function
Your Comments