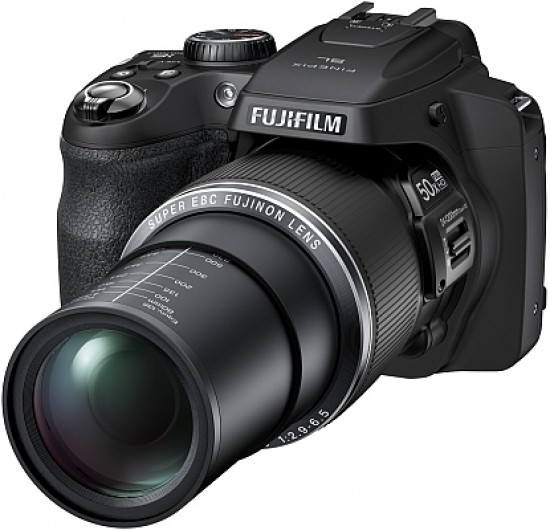 The Fujifilm FinePix SL1000 is a raw-capable 16-megapixel superzoom camera with 50x optical zoom, Full HD video, 920K dot EVF, tilting 3" LCD screen, an extensive range of manual controls and a conventional mode dial with P, A, S and M exposure modes. The newly developed, 24-1200mm eq. f/2.9-6.5 Fujinon lens features Optical Image Stabilisation and an optical formula that comprises 17 elements in 12 groups including a number of aspherical and ED elements. Thanks to an eye proximity sensor, the Fuji SL1000 is able to switch automatically between the EVF and the articulated rear screen by sensing whenever your eye is near. The camera offers Panoramic shooting just by pressing the shutter and spinning on the spot. You can also create 3D shots by combining two separate shots, taken from slightly different angles. Other highlights include a 1cm Super Macro mode, Full HD video with stereo sound, a 3-level zoom switch, a flash hot-shoe, and a Function button which can be assigned to frequently used features.
Fujifilm Press Release
With its stunning 50x zoom lens, the FUJIFILM FinePix SL1000 offers a shooting range of 1cm super macro to a huge 1200mm*1?extreme telephoto.
The FinePix SL1000 is ideal for those people who don't want the hassle of changing lenses or to worry about getting dust on the sensor, but who still want a powerful all-encompassing camera. Not only can it take superb shots but it can record videos in Full HD and will allow your creative juices to flow with the Advanced Art Filters and 3D shooting. And what's more, the zoom doesn't stop at a 1200mm*1– with Intelligent Digital Zoom – the focal length is effectively doubled to 2400mm or an incredible 100x with absolutely stunning results.
1. High-Magnification Zoom and Powerful Optical Image Stabilisation
The SL1000 incorporates a newly-developed 50× optical FUJINON zoom lens (24mm-1200mm*1) with fast apertures of f/2.9 to f/6.5 and powerful new Optical Image Stabilisation, to reduce the effect of blurring at longer zoom lengths. With 17 elements in 12 groups, the lens combines aspherical and ED elements for reduced aberration and superior image quality. FUJINON's unique Super EBC coating technology is employed to reduce ghosting and flare for sharp results with backlit subjects in challenging situations. Capable of super-macro photography at distances as close as 1cm, this is a camera that is flexible enough to be used in any situation.
2. Fast AF and High speed responses
The SL1000 uses a 16 megapixel 1/2.3-inch BSI-CMOS sensor with the ability to shoot at sensitivities as high as ISO 12800*2, ensuring you capture high quality images even in low light conditions. With autofocus speeds as fast as 0.2 seconds*3, a startup time of 0.9 seconds, and continuous shooting mode at 10 fps at full resolution (max 9 frames), the SL1000 ensures you'll never miss a shot.
3. Full HD Video 60p/fps with stereo sound
Thanks to the CMOS sensor, the SL1000 is capable of 1080i Full HD video capture at 60 frames per second, with stereo sound. Just press the dedicated video button on the back of the camera and you will be on your way to becoming your very own film director. With a number of advanced video-editing features, including Movie Trimming to cut unwanted video footage, and Movie Join to join multiple separate clips into a single movie.
Additionally, FUJIFILM's Scene Recognition technology works when recording videos and will recognise up to 6 types of scene, to ensure picture quality is always optimised. You can get even more creative and shoot an incredible 480fps*4 for incredible slow motion capture.
4. Hassle free image composition with Tilting LCD screen
With its highly detailed (920K dot) Electronic Viewfinder, the SL1000 is perfect for helping you frame your composition in bright sunshine. Thanks to an eye sensor, the SL1000 is able to switch automatically between the EVF and the 3.0-inch Tilting LCD (920K dot) screen by sensing whenever your eye is near. This saves you the trouble of adjusting camera settings when you want to be framing photographs and guarantees stress-free operation, whichever display you use.
5. Handy controls – so you never miss that crucial shot
In addition to the standard zoom toggle controls on the top of the camera, a second zoom lever is placed on the side of the lens barrel, allowing you to adjust the zoom range with your left hand, while your right index finger rests on the shutter button, ready to take the shot. Choose from three zoom speeds or use the Auto Return Zoom for long zoom photography.  The mode dial makes choosing a shooting mode easy - P, S, A, and M modes can be selected at the twist of a dial for sophisticated photographic techniques using manual exposure control.
6. Creative expression made easy
The Advanced Filter functions allow you to indulge your artistic expression in-camera. The FinePix SL1000 users can choose from up to 8 different artistic effects:
Pop Colour - emphasises contrast and colour saturation
Toy Camera - creates shaded borders as if you were taking a photo on a toy camera
Miniature - adds top and bottom blur for a diorama or miniature effect
Partial Colour – captures a black and white image but retains one of 6 additional colours (red, orange, yellow, green, blue, or purple)
High Key - enhances brightness and reduces contrast to lighten tonal reproduction.
Cross screen (NEW) – creates starbursts around bright objects
Soft Focus (NEW) – blur the focus of the image's edges to create a softer effect
In addition to these creative effects, the SL1000 offers Panoramic shooting just by pressing the shutter and spinning on the spot, whether the camera is in portrait or landscape orientation, the results are great. You can also create 3D shots by combining two separate shots, taken from slightly different angles for a fun effect. And Instant zoom, which shows your composition and includes a view of the area outside of the frame, letting you concentrate on composing the shot without losing sight of the big picture.
FinePix SL1000 Key features list:
50x FUJINON optical zoom (f/2.9-6.5, 24-1200mm*1)
Optical Image Stabilisation
Intelligent Digital Zoom to 100x (2400mm*1)
16 megapixel 1/2.3-inch BSI-CMOS sensor
Autofocus speed of 0.2seconds*3 in fastest conditions
Continuous shooting; 10fps at full resolution (Max 9 frames)
Start-up time of 0.9seconds
Full HD Video 1080i/60 fps with stereo sound and slow-motion capture at 480fps
Bright 3.0-inch Tilting LCD screen (920K dot)
Electronic Viewfinder (920K dot) with eye sensor
1cm Super Macro
Manual exposure control(P/S/A/M modes)
RAW shooting (RAW, JPEG, RAW+JPEG)
Hot-shoe attachment for the use of external flash guns
Function (Fn) button which can be assigned to frequently used features
7 Advanced Filters
Individual shutter 3D
HDR, motion panorama
Instant zoom and Zoom Bracketing
3 level zoom switch
Lithium-ion battery with from 350 shots per charge
*1?35mm format equivalent
*2?ISO6400 is effective in image size M or S./12800 is effective in image size S.
*3?FUJIFILM research based on CIPA guidelines and conducted in "High Performance" mode.
*4 High Speed 320 x 240 pixels (480 fps)
Your Comments