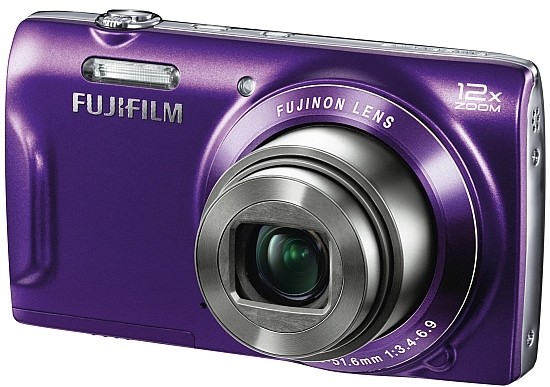 The Fujifilm FinePix T500 is a slim travelzoom camera with 12x optical zoom. The lens offers a 35mm equivalent focal length range of 25-288mm, while the camera's CCD sensor can capture 720p HD video in addition to 16-megapixel stills. Video recording can be started in an instant, thanks to the dedicated Movie recording button. Additionally, the Fuji T500 features a new Advanced Filter option that lets users choose from 6 creative patterns including Pop Colour, Toy Camera, Miniature, Partial Colour and Soft Focus.
Fujifilm Press Release
New FUJIFILM T500 long zoom camera designed for travel photography on a budget!
The FinePix T500 camera is designed for people that want a slim and stylish, long zoom camera to take on their travels, or to capture family life, but don't want the hefty price tag to match. Equipped with a 16 megapixel sensor, a 12x FUJINON zoom lens and a powerful Optical Image Stabilisation to compensate for camera shake and subject blurring, ensuring great pictures, every time.
1. Super thin camera with an impressive 12x zoom lens and an aluminium finish
Despite being ultra-compact (18.6mm at its thinnest point**), the T500 offers impressively wide subject coverage from 24mm* (wide) to 288mm* (telephoto) for 12x FUJINON optical zoom. To compensate for blurring at the maximum zoom lengths, this camera employs Optical Image Stabilisation to capture as crisp a photo as possible. FUJIFILM's exclusive high resolution technology ensures stunning, clear results, even at an impressive 24x Intelligent Digital Zoom.
2. High-resolution image capture and a super-fast response time
With a 16 megapixel CCD sensor, the FinePix T500 can produce high-quality, low-noise images, even at sensitivities of up to ISO 3200. Video can be recorded at 720p High Definition (HD) (1,280 × 720 pixels) and where appropriate, images with aspect ratios of 16:9 can also be achieved. Video recording can be started in an instant, thanks to the dedicated Movie recording button and for the imaginative types amongst us; the camera also incorporates a number of advanced video-editing features. What's more the camera's Autofocus time is 20% faster than the previous model, the FinePix T400, so you can rest assured that your camera will be ready when you are.
3. Easy on the eye
Using this camera and viewing images is a pleasure with the smooth, easy-to-read vector fonts and the bright new high-resolution 2.7-inch/230K-dot LCD screen. Additionally, the Instant Zoom feature, which shows your area of composition area as well as the area outside your frame, and large buttons - in a clear, simple layout - help you concentrate on composing, without ever losing sight of the big picture. Another exciting change in this year's T Series is that the battery now never has to be removed for charging, as it can be connected via a USB cable to the supplied 3 pin plug or a PC.
4. Advanced Filter
The T500 features a new Advanced Filter option that lets you enjoy quite different forms of photographic expression. Choose from 6 creative patterns, these include:
Pop Colour - great for boosting contrast and saturation
Toy Camera – adds vignetting for a 70's retro look
Miniature - blurred top and bottom sections for a tilt-and-shift effect
Partial Colour - selects one colour and takes the rest of the shot in black and white. (choose from red, purple, yellow, green, blue and orange)
NEW Soft Focus – create a soft focus effect
NEW Cross Screen - adds starbursts around bright objects
5. FinePix T500 & T550 key features list:
12x FUJINON optical zoom (24mm*-288mm*)
16 megapixel CCD sensor
24mm* wide-angle
2.7inch LCD screen
Advanced Filter
Individual shutter 3D
Motion Panorama
Easy to use GUI with large buttons
720p HD movie recording with dedicated
Movie recording button
Advanced video editing features
Super slim and pocketable (just 18.6mm**)
Battery charging via USB cable
* 35mm format equivalent
** At thinnest point
Your Comments