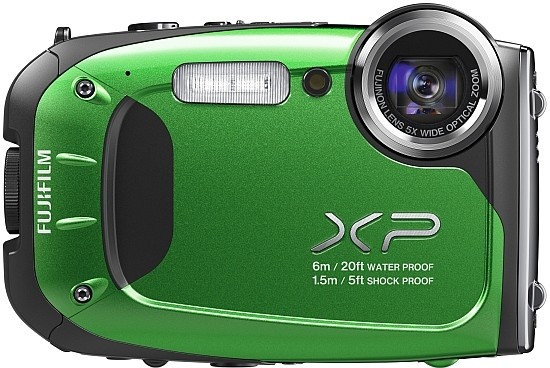 The Fujifilm FinePix XP60 is the latest addition to Fuji's XP range of rugged cameras. Dust- and sandproof, waterproof to a depth of 6m, shockproof from a height of 1.5m and freezeproof down to -10 °C, the Fujifilm FinePix XP60 has a 16-megapixel CMOS sensor and an internally stacked 28-140mm equivalent zoom lens. With the fast read-out and high speed processing of the CMOS image sensor and processor, the XP60 can record Full 1080i HD videos at 60 frames per second (fps), while high-speed video recording for slow-motion playback is also available at frame rates of up to 240fps, at reduced resolutions. Sensor-shift image stabilisation, 10fps continuous shooting, Motion Panorama and HDR imaging round off the features list.
Fujifilm Press Release
A new family-friendly XP camera with High-speed continuous shooting and Full HD video
The FinePix XP60 is the latest addition to FUJIFILM's XP range of rugged cameras. Built to withstand the rough and tumble of family life, and building on the success of the XP50, the XP60 offers improved image quality, along with a 5x optical zoom and the ability to perform, even if it's been dropped, frozen, covered in dust or taken for a swim.
Family holidays offer a diverse range of picture taking opportunities, but they don't always make for happy partners with the family camera. The FUJIFILM FinePix XP60 offers the ideal solution: a robust camera that takes good quality pictures in some of the most testing circumstances, and offers four different "family-proof" levels of protection. It will deliver crisp, quality images whether you are on land or shore.
1. Irresistible resistibility
Waterproof** - the XP60 shoots stills and records videos underwater, up to a depth of 6 metres, with crystal clear quality. There's even a double seal over the battery chamber for increased protection. Shockproof** - you don't need to worry about letting children take hold of the XP60; it can withstand the shock of being dropped from heights of 1.5 metres. Sandproof** - getting sand inside the camera is not an issue due to the thoroughly sealed access ports, protecting both the lens and the sensor and ensuring optimum quality images. Freezeproof - if summertime fun on the beach or poolside doesn't appeal, then the XP60 can capture pictures of a winter wonderland up to temperatures of a teeth-chattering -10 ºC.
2. Superior image quality
At the very core of the XP60 is the camera's 1/2.3-inch 16 megapixel CMOS sensor. With ISO sensitivity up to 6400 and CMOS Shift Image Stabilisation, image capture is handled with ease ensuring that sharp, clear pictures are produced, even in challenging low-light conditions. Details in shadow and in bright light can sometimes be lost on cameras with less powerful sensors, but the XP60's CMOS sensor ensures that more beautiful pictures are captured in the darker scenes.
3. Get closer to the action
The indomitable XP60 features an internal 5x optical FUJINON zoom lens (28mm***-140mm***), which means that you can zoom right up to the action, even underwater. Blur free pictures are achieved through the CMOS Shift Image Stabilisation which corrects the effects of any slight shake of the hand when depressing the shutter. The technology continues to impress with the added application of Intelligent Digital Zoom. The XP60 combines its 5x optical zoom with Intelligent Digital Zoom which results in double the zoom range (10x) whilst offering optimum image processing to counteract the degradation that has traditionally occurred when digital zooms are used.
4. A high speed shooter
Capture high speed action with the XP60's 10fps continuous shooting mode at full resolution (max 10 frames). You can also shoot ultra-high speed continuous shooting at up to 60fps (max 70 frames*). With the dedicated Burst Mode button placed on the top of the camera, it's easy to switch to this mode instantly, which means it's always easy to get those important action shots.
5. Made for movie makers
The XP60 allows you to make amazing action-packed HD videos to share with friends and family on TV, computers and other large screen devices. With the fast read-out and high speed processing of the CMOS image sensor and processor, the XP60 can record Full 1080i HD videos (60fps). You just need to press the dedicated Movie Recording button on the back of the camera, and video recording starts quickly and easily. High speed video recording is also available on the XP60 at frame rates of up to 240fps.
Additional features such as Scene Recognition Auto now work when recording videos and a noise cancellation feature ensures you do not record the distracting sound made by the zoom lens when shooting videos. Advanced in-camera video editing is available including features such as Movie Trimming to edit out unwanted footage and Movie Join to seamlessly pull together multiple video clips into a single video.
6. Seeing is believing
The XP60 has a bright and impressive 2.7inch LCD monitor with an anti-reflective coating which makes looking at images and data on the back of the screen really easy and crystal clear, even in bright sunlight. The screen features an automatic brightness adjustment feature which can be optimised to monitor brightness to account for ambient lighting, saving battery power without sacrificing clarity.
7. Transform your photographs with in-camera Advanced Filter
The Advanced Filters add artistic effects to your photos which you can preview on the LCD before you take your shot. Pop Colour creates a dramatic effect which emphasises colours and contrast; Toy Camera produces pictures with a retro feel by adding vignetting; Miniature blurs the top and bottom of the frame to produce shots to provide a tilt and shift effect; Partial Colour – highlights one colour (choose from red, orange, yellow, green, blue or purple) and shoots the rest of the photo in black and white; High Key increases overall brightness and reduces contrast; Soft Focus provides a soft filter effect; Cross Screen creates starbursts around bright objects.
8. Advanced features
The XP60 features a number of advanced features allowing greater creative flexibility. High speed multi-frame processing lets you record two shot or more at different exposures and then combine them to achieve High Dynamic Range (HDR) shots with natural contrast that preserves details in the highlights and shadows. Motion Panorama 360 lets you create a 360º panoramic shots just by selecting the mode & pressing the shutter button and spinning round in a circle. This is simple to use and the effect is superb, particularly for landscape shots. Individual shutter 3D lets you create fun images with a 3D effect by combining two shots taken from slightly different angles.
9. Handsome looks and wide appeal
The XP60 is a well-designed rugged camera with an excellent core specification, which will withstand the wear and tear of members of the family of all ages getting their hands on it. Its stylish body is compact enough to keep it in your pocket and it's available in a range of five exciting colours: Yellow, Blue, Red, Green and Black.
10. FinePix XP60 Key features list:
Waterproof to 20ft/6m**
Shockproof to 5ft/1.5m**
Dust/Sandproof**
Freezeproof to 14°F/-10ºC
1/2.3-inch 16 megapixel CMOS sensor
5x optical zoom (10x Intelligent Digital zoom)
CMOS Shift Image Stabilisation
2.7inch LCD screen with anti-reflective coating
Full 1080i HD Video recording and a dedicated "Movie recording button"
10fps continuous shooting mode at full resolution (max 10 frames)
A dedicated "Burst mode button"
Available in Yellow, Blue, Red, Green and Black
* 16:9 S size only
** Dust proof: IP6X
Water proof: IPX8 (up to 6.0m, within 120min.)
Anti-shock: Method; MIL-STD-810F-516.5 Fuji's standard;1.5m
*** 35mm format equivalent
Your Comments