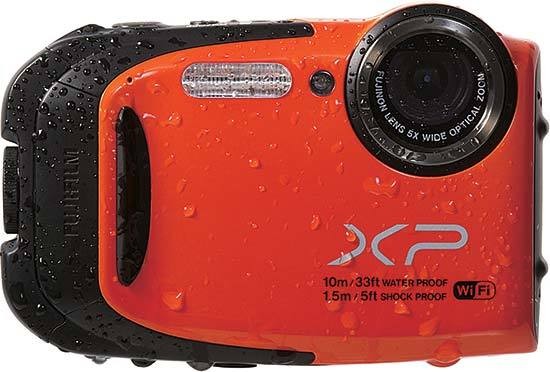 The Fujifilm FinePix XP70 is a new all-weather digital compact camera. The 16.4 megapixel waterproof, shockproof, freezeproof and dustproof Fujifilm XP70 features wireless connectivity for simple sharing with a smartphone or tablet along with a host of powerful picture taking features. The Fujifilm FinePix XP70 will be on sale from February 2014 for £169.99.
Fujifilm UK Press Release
Shoot and share in all weathers with the FinePix XP70
Fujifilm is delighted to announce the arrival of the new FinePix XP70, which enables all-action photographers to take great pictures and movies before sharing them instantly. The 16.4 megapixel waterproof, shockproof, freezeproof and dustproof compact features wireless connectivity for simple sharing with a smartphone or tablet along with a host of powerful picture taking features.
Supremely tough on four different levels
Ideal for snowboarding, skiing, mountain biking and other outdoor leisure activities, the FinePix XP70 complies with IP68 standards (*4). This means it is waterproof to 10 metres, can withstand a drop of up to 1.5m(*1), will still operate in temperatures as low as -10°C and is dustproof to prevent the intrusion of dust or sand. Further protection from the elements is offered by the double-lock mechanism on the battery/memory card compartment that prevents accidental opening, plus there's a front grip and thumb rest for assured handling.
Instant image and movie sharing
The FinePix XP70 comes equipped with wireless functionality for simple image sharing via a smartphone or tablet (*5). The built-in Smartphone Send function allows users to select images or movies (*6) to be transferred without the need for any time-consuming ID or password creation. All that's required is the free Fujifilm Camera Application to be downloaded and installed on the receiving device.
In addition to simple sharing, the Wi-Fi (*7) functionality in the XP70 allows users to back up images to a computer. Again, it's a very quick and simple process; just connect to a Wi-Fi router, select 'Save on Computer' and let the XP70 do the rest (*8).
LCD with anti-reflection coating
Given that the FinePix XP70 is likely to be used in bright, sunny conditions as well as inclement weather, an anti-reflection coating is applied to the rear LCD so it's still easy to view or compose images on the beach or in snow. The LCD monitor also has an auto brightness function that adjusts according to the ambient light levels, which cuts down unnecessary battery consumption so users can keep shooting for longer.
Action Camera Mode
Outdoor activities don't need to be limited to still image capture with the XP70, which offers a raft of movie capture functions, including a new Action Camera Mode. Available with the optional Action Camera Lens, which turns the XP70's lens into a fixed 18mm (*2), the mode enables hands-free shooting so the camera can be mounted on your body or a piece of sporting equipment to get right to the heart of the action. In Action Camera Mode, the rear LCD turns off automatically for extending recording times.
For more conventional videos, the XP70 offers Full HD movie capture (1920 x 1080), plus it has Scene Recognition for optimum settings and Advanced Filters to create eye-catching effects. Wind noise - often a problem with outdoor movie recording - is reduced thanks to the Wind Filter setting. Recording the movies themselves is simple thanks to the dedicated movie button and there are even some in-camera editing functions, including Movie Trimming for removal of unwanted sections and Movie Join which combines separate movies into one file.
High quality, shake-free shots
The XP70 offers a 5x optical zoom lens that includes a 28mm*2 wide-angle setting for sweeping landscape and scenic shots. The optical zoom range can be doubled to 10x with Fujifilm's Intelligent Digital Zoom technology, while the camera's Optical Image Stablisation function ensures that any effects from camera shake are minimised.
16.4MP sensor delivers powerful performance
The XP70 boasts a 1/2.3-inch 16.4 megapixel CMOS sensor for impressive results in a wide range of conditions. Coupled with a powerful processor, the camera delivers a rapid performance, capturing images at up to 10 frames-per-second (*3) at full resolution and an incredible 60 frames-per-second at reduced resolution (2MP). Users wanting to take advantage of these blistering speeds can do so quickly and easily thanks to the dedicated continuous shooting button on the back of the camera.
Further picture-taking versatility is offered by the Scene Recognition mode that rapidly determines the scene being captured before optimising focus, exposure and shutter speed for the best possible result. Underwater and underwater macro functions are also available to underline the XP70's all-action credentials.
Further creativity is offered by 10 Advanced Filter functions (see list below), while multi-frame processing is used to capture two or more shots for a High Dynamic Range (HDR) image that preserves detail in both shadows and highlights. Finally, the Motion Panorama 360° function offers the chance to capture superb panoramic shots at the touch of a button.
The Advanced Filter functions on the XP70 are:
• Pop Color emphasises contrast and colour saturation
• Toy Camera creates a shaded border as if the picture was taken on a toy camera
• Miniature blurs the top and bottom of the frame for a miniature effect
• Partial Color retains one colour (choose from red. orange, yellow, green, blue or purple) and turns the rest of the image black & white
• High-Key enhances brightness and reduces contrast to lighten tones
• Soft Focus creates an overall soft look to the images
• Cross Screen creates starbursts on bright objects
• Dynamic Tone creates a fantasy effect
• Fish-Eye gives a fish-eye effect
Low-Key darkens tones
FinePix XP70 key features:
Waterproof to 10m, Shockproof to 1.5m, Freezeproof to -10°C and Sand/dustproof
1/2.3" 16.4 megapixel CMOS sensor
5x optical zoom with 28mm wide-angle setting
Wireless connectivity for instant image and movie sharing
Full HD movie capture
Action Camera mode
Optical Image Stabilisation
10 Advanced Filters
High Dynamic Range (HDR) capture
Motion Panorama 360°
*1: Measurement method of MIL-Standard 810F Method5 16.5-Shock of the "MIL Standard", a standard stipulating the durability of supplies procured by the American military, set by the United States Department of Defense, is used.
*2: 35mm format equivalent
*3: According to CIPA (Camera & map; Imaging Products Association) standards.
*4: Waterproof and dustproof protection standards of products, stipulated by IEC (International Electrotechnical Commission)
*5: Android™ smartphone and tablet terminals, iPhone / iPad[s3]
*6 : Some movie files that cannot be played on smartphones cannot be saved with the iOS version of the "FUJIFILM Camera Application". Please try with the movie mode with a size smaller than HD (1280 x 720).
*7: Wi-Fi® is a registered trademark of Wi-Fi Alliance®.
*8: It is necessary to install the free dedicated software "FUJIFILM PC AutoSave" onto the computer first.
FinePix XP70 Specification Chart
XP70
Number of effective pixels
16.4 million pixels
Image sensor
1/ 2.3-inch CMOS with primary color filter
Total number of pixels: 17.5 million pixels
Storage media
Internal memory (approx. 99MB) 
SD/SDHC/SDXC memory card *1
File format  
                    (still image)
JPEG (Exif Ver 2.3 *2)
(Design rule for Camera File system compliant / DPOF-compatible)
                   (movie)
Movie File Format : MOV
Movie Video Compression : H.264
Audio : Linear PCM  Monaural
Number of recorded pixels
L:<4:3>4608×3456  <3:2>4608×3072 <16:9>4608×2592 <1:1>3456×3456
M:<4:3>3264×2448 <3:2>3264×2176 <16:9>3264×1840 <1:1>2432×2432
S:<4:3>2048×1536 <3:2>2304×1536 <16:9>1920×1080 <1:1>1728×1728
Motion Panorama
360 Vertical:11520×1632  Horizontal:11520×1088
180 Vertical: 5760x1632    Horizontal:5760 x 1088
120 Vertical:3840×1632  Horizontal:3840×1088
Lens   
Fujinon 5 x optical zoom lens
            focal length
f=5.0mm - 25.0mm, equivalent to 28mm-140mm on a 35mm format
            full-aperture
F3.9(Wide)- F4.9(Telephoto)
            constitution
13elements in 11 groups
(includes 4 aspherical elements)
Digital zoom
Intelligent digital zoom:approx. 2× (up to approx. 10 ×, with 5x optical zoom)
Aperture
F3.9/F6.2 (Wide) 
F4.9/F8 (Telephoto) 
Focus distance
(from lens surface)
Normal : Wide: Approx. 60cm to infinity/2.0 ft to infinity
            Telephoto: Approx. 1.0m to infinity/3.3 ft to infinity
Macro:   Wide: Approx. 9cm - 80cm / 3.5 in.- 2.6 ft.
           Telephoto: Approx. 40cm - 80cm/1.3 ft - 2.6ft..
Sensitivity
AUTO/ AUTO(400)/AUTO(800)/AUTO(1600)
Equivalent to ISO 100/200/400/800/1600/3200/6400*(Standard Output Sensitivity)
*ISO 6400 is effective in  image size M or S .
Exposure control
TTL 256-zone metering
Exposure mode
Programmed AE
Shooting  modes
(Scene Position)
Portrait, Landscape, Sport, Night, Night (Tripod), Sunset, Snow, Beach, Under water, Under water (Macro), Party, Flower, Text
 (MODE DIAL)
-
Image Stabiliser
CMOS shift type
Anti Blur mode
―
Face detection
Yes
Exposure compensation
-2.0EV-+2.0EV  1/3EV step
Shutter speed
(Auto mode) 1/4 sec. To 1/2000 sec.
(All other modes) 4 sec. to 1/2000 sec.
Continuous shooting       (TOP)
 *The frame rate and the recorded number of frames varies with shooting conditions .
H:approx. 10 fps   max. 10 frames  (Size L,  M) / max, 20 frames (size S)
M:approx. 5.5 fps   max. 10 frames  (Size L,  M) / max, 20 frames (size S)
L:approx. 3.3 fps   max. 10 frames  (Size L,  M) / max, 20 frames (size S)
SH::approx. 60 fps   max. 70 frames  (Size L  S <16:9> only)
* Use a card with SD Speed Class with "Class10" or higher.
                                        (LAST)
H:approx. 10 fps   max. 10 frames  (Size L,  M) / max, 20 frames (size S)
M:approx. 5.5 fps   max. 10 frames  (Size L,  M) / max, 20 frames (size S)
L:approx. 3.3 fps   max. 10 frames  (Size L,  M) / max, 20 frames (size S)
* Use a card with SD Speed Class with "Class10" or higher.
Auto bracketing
-
Focus    (mode)
Single AF/Continuous AF
(type)
TTL contrast AF
(AF frame selection)
Center/Multi/Tracking
White balance
Automatic scene recognition
Fine, Shade, Fluorescent light (Daylight), Fluorescent light (Warm White), Fluorescent light (Cool White), Incandescent light, Under water,
Self-timer
10 sec./ 2 sec. delay, Group Timer
Flash
Auto flash (i-flash)
Effective range: (ISO AUTO):
           Wide: approx. 70cm - 3.1m /2.3 ft.-10.2 ft.
           Telephoto: approx.70cm - 2.7m /2.3ft. - 8.9ft
           Macro: approx. 30cm - 80cm / 1.0ft. - 2.6ft      
Flash modes
Red-eye removal OFF: Auto, Forced Flash, Suppressed Flash, Slow Synchro.
Red-eye removal ON: Red-eye Reduction Auto, Red-eye Reduction & Forced Flash, Suppressed Flash, Red-eye Reduction & Slow Synchro.
LCD monitor
2.7-inch, approx. 460K-dot, TFT color LCD monitor, approx. 97% coverage for shooting, 100% for playing back
Movie recording
Full HD 1920x1080 60i/30p
HD 1280×720 60p
640×480 30p
with monaural sound, Wind filter .
Zoom function can be used.
* Use a card with SD Speed Class with "Class10" or higher.
Photography functions
SR AUTO, Program AE, Action camera mode, Pro low-light, HDR,  Natural Light& with Flash, High Speed movie (120/240 fps), Advanced Filter for still image : Toy camera / Miniature/ Pop color / High-key / Low-key / Dynamic tone / Soft Focus/ Cross  Screen/ Fish-eye / Partial color, Advanced filter for movie : Toy camera / Pop color / High-key / Low-key / Fish-eye / Partial color, Framing guide Frame No. memory, Date stamp, Motion panorama360, Automatic LCD brightness adjustment  
Playback functions
Multi-frame playback (with microthumbnail), Protect, Resize,  Crop,  Slide show, , Image rotate, Photobook assist,  Mark for upload, Erase selected frames,  Favorite, Image Search, Movie edit
Other functions
PictBridge, Exif Print,
35 languages selection, Time difference, Silent mode

Dust proof: IP6X
Water proof: IPX8 (up to 10.0m, within 120min.)
Anti-shock: Method;MIL-STD-810F-516.5  Fuji's standard;1.5m
Wireless transmitter   
               ( standard)
IEEE 802.11b/g/n (standard wireless protocol)
               (access mode)
Infrastructure
Wireless function
Geotagging / Wireless communication (Image transfer) / View & Obtain Images /  / PC Autosave
Terminal       (Video output)
-
       (Digital interface)
USB 2.0 High-speed, Micro USB terminal
                         (HDMI output)
HDMI Micro connector (Type D)
                         (Audio input)
-
Power supply
Li-ion battery NP-45S (included)
Dimensions
104.1mm (W) ×66.5mm (H) ×25.9mm * (D)/ 4.0 in. (W) × 2.6 in. (H) ×1.0 in.* (D)
*excluding projections
Weight
approx.179g /6.3oz. (including  battery and memory card)
approx.162g /5.7oz. (excluding  battery and memory card)
Operating Temperature
-10℃ー+40℃  (+14°F ー +104°F)
Operating Humidity
10%-80% (no condensation)
Battery life for still images*3
(approximate number of frames that can be taken with a fully-charged battery)
approx. 210 frames  (AUTO mode)  
Accessories included
Li-ion battery NP-45S
AC Power adapter AC-5VT
USB cable
Hand strap
Owner's manual
Optional accessories
Li-ion battery NP-45A
Action camera lens ACL-XP70
# *1 Please see the Fujifilm website to check memory card compatibility.
# *2 Exif 2.3 is a digital camera file format that contains a variety of shooting information for optimal printing.
# *3 Approximate number of frames / period that can be taken with a fully-charged battery based on CIPA standard.
# *4 OS compatibility
    Viewer software: Windows 8/7/Vista/XP
UK AVAILABILITY AND PRICING:
The FinePix XP70 will be on sale from February 2014. Its UK SRP will be £169.99.
Your Comments