Fujifilm X-Pro3 Mirrorless Camera, Specs, Price and Availability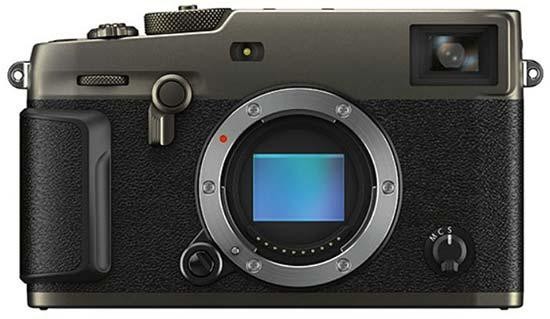 Fujifilm have unveiled the new X-Pro3 mirrorless camera at an X-summit event in Shibuya, Japan. The Fujifilm X-Pro3 camera will be officially announced on October 23rd, but details have already emerged that the new model will be made entirely out of titanium, making it 10x more scratch-resistant than a stainless steel chassis.
Update: Nokishita have just leaked official product images and the full specifications for the X-Pro3.
It will also feature an innovative "hidden" LCD screen on the rear which has already sparked some controversy among ardent fans. On the rear of the camera is a miniature screen which will display basic exposure information and even the currently selected film simulation.
Flip this part of the camera down, and the main, hidden LCD is revealed, hinged at the bottom so that you can use it for composing at waist-level or reviewing your shots, something that Fujifilm don't really want you to do.
Instead they want you to use the camera's viewfinder when shooting and less time chimping your images afterwards, which is why they've effectively made it more awkward to the use the rear LCD screen.
They haven't quite gone the whole hog and removed the screen completely, as on the Leica M-D, but its definitely a very bold design choice that is already polarizing online opinion.
Other new features include a Classic Negative film simulation mode, improved optical and electronic viewfinders.
The Fujifilm X-Pro3 will be available in three colours - classic black, Dura Black and Dura silver. The price and availability of the X-Pro3 will be announced on the 23rd October.
In other news, Fujifilm have abandoned plans to release a 35mm F1 lens, instead replacing it in the lens roadmap with a 50mm F1 lens, which will be smaller and more practical to use.
You can view the entire Shibuya X Summit, which is a unique chance for photographers and fans to find out more about the thinking behind the development of Fujifilm's X Series and GFX System direct from our senior management and X-Photographers, here:
https://fujifilm-x.com/global/global-events/summit-shibuya-2019/
Fujifilm X-Pro3 - Price
The previous X-Pro model was officially launched back in 2016 at $1,699 / £1,350 for the body-only, so we'd expect the price of the new X-Pro3 to be the same or possibly slightly in excess of that, given that it's going to be made out of titanium rather than stainless steel.
Fujifilm X-Pro3 - Availability
The X-Pro3 will be officially announced on 23rd October, according to this countdown timer on the global Fujifilm website, so we'd expect to see cameras available in shops in late-November 2019.
Fujifilm X-Pro3 - Colours
The X-Pro3 will be available in classic black, Dura Black or Dura silver, all at launch, something that Fujifilm haven't done before.

Fujifilm X-Pro3 - Size and Weight
The X-Pro3 will measure 140.5 x 82.8 x 46.1mm and weight 497g.
Fujifilm X-Pro3 - Sensor
Fujifilm consistently update their new models with the latest generation sensor, so it's almost a dead cert that the X-Pro3 will have the back illuminated 26.1 megapixel sensor and X-Processor 4 image processing engine from the X-T3 camera.
Fujifilm X-Pro3 - Image Stabilisation
In-body image stabilization (IBIS) is currently only available in the X-H1 camera, which turned out to be a bit of a dud for Fujifilm in terms of sales.
And as that camera had to be made physically bigger to accommodate the IBIS unit, we'd be very surprised to see it in the more compact X-Pro3.
Instead, image stabilisation will be available via the Fujifilm lenses that support it.
Fujifilm X-Pro3 - LCD Screen
This is the feature that has gained the X-Pro3 most attention so far.
Designing an LCD screen that's hidden away for most of the time is certainly a brave decision by Fujifilm, and one that has split opinion amongst fans of the series.
It could even make or break the overall success of the X-Pro3, something that we've never said about any camera before!
The X-Pro 3 has a 1.62-million-dot high-resolution tilting LCD screen that can be flipped by approx. 180 degrees.
Fujifilm X-Pro3 - Weather Sealing
Weather sealing has been applied at 70 different points to give the X-Pro3 advanced dust and moisture resistance. The camera is also capable of operating in temperatures as low as -10℃.

Fujifilm X-Pro3 - Viewfinder
The X-Pro3 is definitely getting a new hybrid viewfinder, which is one of the key features that differentiates the X-Pro series from the other Fujifilm cameras.
The optical element inside the updated hybrid viewfinder will apparently offer a clearer, wider angle of view with less distortion than the older X-Pro2.
The electronic element inside the updated hybrid viewfinder will have a higher resolution of 3.69-million-dots than the X-Pro2's 2.36 million-dot panel, plus a higher refresh rate, wider color space and better contrast.
Fujifilm X-Pro3 - Video
After launching only with 1080p video, the X-Pro2 later benefited from a firmware update that added 4K video recording at 30fps, so we'd anticipate that the new model will offer at least that specification. In fact, it will probably increase the frame rate to 60fps, just like the X-T3, despite being a camera aimed primarily at stills photographers.
Fujifilm X-Pro3 - Autofocus
The X-Pro3 uses an improved algorithm to autofocus down to -6EV, which is virtually pitch-black.
For the first time a Fujifilm mirrorless camera has a built-in AF range limiter function. You can select from two preset values or use the focus ring to specify any focus range.

Your Comments