Amazing Full-Colour Footage of WW2 Photographers at Work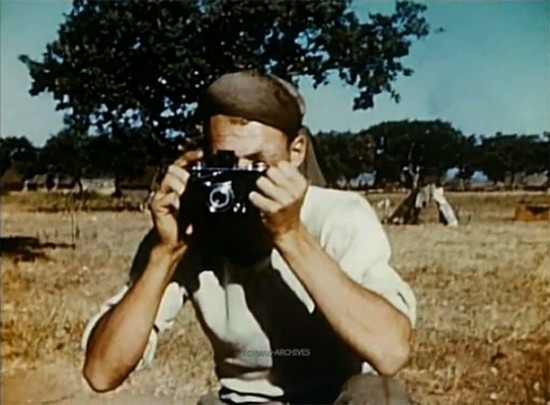 The Romano Archives have published an amazing collection of rare colour footage showing Allied war photographers and cameramen at work during World War II. Founded by Italian historian Vincent Romano, the Romano Archives are dedicated to the digitisation and online distribution of historical documents and records, as well as WW2 newsreels filmed on colour material such as Kodachrome. This compilation features mainly US war photographers and cameramen in action in various theatres of the war, including places like Paris, Iwo Jima and Torgau, Germany, where US Army forces first met with Red Army units coming from the East. The footage shows the varied equipment used by members of the US Army Signal Corps and other Allied war photographers, including 35mm rangefinders and large-format press cameras, as well as a range of motion-picture cameras and accessories.
Click through / scroll down to view the compilation.
WARNING: Although most of the footage shown in this compilation was apparently shot during ceasefires, behind the front lines and in post-combat situations, some scenes do feature content that some viewers may find shocking, so click the link below only if you are not easily offended by graphic depictions of destruction and death.
Source YouTube | Romano Archives
Your Comments