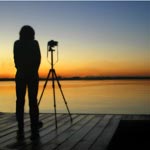 This week's Gary's Parries topics are:
1. In Pursuit Of A Canon PowerShot S80
2. Animal Cruelty
3. Welcome Back, Nick In Japan
Introducing this week's Gary's Parries column. Everything you always wanted to know about digital cameras, but were afraid to ask. No question too difficult, or too easy. As a Senior Principal Software Engineer, and a former Assistant Professor of Computer Information Systems, as well as a recording studio owner/operator, inventor, and now, a digital camera enthusiast, GARY has more digital camera knowledge in his entire brain than most people have in their little finger. In the unlikely event that GARY would not know the answer to your question, he will answer it anyway, true to the spirit of the word "Parries", a fencing term which, in this context, implies "cleverly evasive answers". So let your imagination run wild. Email all your nagging digital camera questions to: garysparries@photographyblog.com , and then, En Garde!
You may also attach to your email an ORIGINAL PHOTO of your choosing. A preview of the photo will be displayed with your question, and a full-sized version will be just a click away. No personal information will be published with your question unless you specifically include it in the text or attached photo of your email, which may be further edited for grammar, content, or other reasons.
***
*** QUESTION 1—- IN PURSUIT OF A CANON POWERSHOT S80
***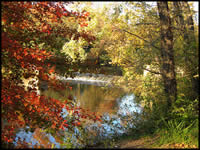 Hi Gary! I came across your column in my pursuit of a Canon PowerShot S80, and I was wondering:
1. why Canon cancelled this camera, as everyone told me it was really good
2. where might I get an S80 despite it being discontinued
3. if I can't get this camera, which Canon I should get that looks similar and has the easy modes on a rolling wheel thing (as you can see I'm not a camera genius).
Thanks for your time, and I hope to hear from you soon.
Lorian
***
*** ANSWER 1
***
Lorian, you don't have to be a camera genius to know that the Canon PowerShot S80 was a great camera. You are correct in your statement that it has been discontinued. I checked with a few of the major manufacturers (hardly an exhaustive search) to see if they were still in stock; however, as you probably already knew, they are not.  As for any similar Canons, there really is nothing that matches the features of the S80, Canon or otherwise.
Two of the best features of the S80 were its 28mm wide-angle zoom lens and its optical viewfinder, but those features are becoming hard to find these days in a pocket camera.  The Canon PowerShot SD800 IS is one camera that does have these features. It also comes close to the S80 in terms of its lens speed and zoom range, its compact size (the SD800 is even more pocketable than the S80), its resolution and performance, and its movie and scene modes, but the SD800 does not have the S80's 'rolling wheel thing' (multi control dial) or its side-mounted mode dial, nor does it have its multitude of manual controls.
The SD800 does, however, have some nice features that were not available in a pocket camera at the time of the S80, such as an image-stabilized lens, a high-resolution 2.5" LCD, and automatic face detection. If you can live without the manual-control features of the S80, then the point & shoot style SD800 should suit you just fine. If not, then you will just have to wait for the S90. :-)
***
*** QUESTION 2—- ANIMAL CRUELTY
***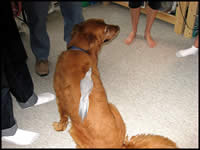 Dear Gary,
I noticed a picture in one of your recent columns, which displayed a somewhat large and vicious looking bird standing atop a Golden Retriever.  Several people's feet can be seen standing around enjoying the spectacle, whilst the hapless dog is forced to endure this obviously frightening and humiliating ordeal. I'm concerned this kind of photography will lead next to "cock-fighting".
Signed: Very Worried
[Note: Photo republished from the November 12, 2006 Gary's Parries. – Ed.]
***
*** ANSWER 2
***
VW, rest assured, as one of the people's feet in that picture, I can definitely, without the slightest bit of hesitation, attest to the fact that this was NOT an act of animal cruelty.  In fact, Red-eye and Zoom are best of friends.  Nobody had to place Zoom on Red-eye's back, he frequently lands there on his own, and Red-eye loves it.
As for the insinuation this was the sort of seedy gathering you would find at a cockfight, that is the furthest thing from the truth. The scene in the photo is one of a normal family gathering to celebrate my friend's recent return from China.  My wife was the one taking the picture, and the other feet in the picture belong to my friend and his family.
On the evening of this photo, we all sat down to a wonderful family dinner, where the main course was a deliciously unusual dish prepared by my friend. He would not tell us what was in it, but he called it Red-eye Pie.
***
*** QUESTION 3—- WELCOME BACK, NICK IN JAPAN
***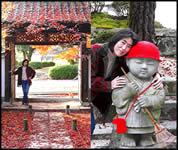 Sanae took the day off today, and on the way to my appointment at the hospital, we stopped for 25 minutes at Kikko Park. A lot of the fall color was gone, but I did manage to get a few shots. Hope you like them.
Feeling better now. Chemo is working; next appointment is 13 Dec. Will feel even better when Gary's Parries is back from vacation. Hope you had lots of fun. Anxious to see some of the shots you took!!
Anyway, all's well. Been playing with slide shows combined with music. Almost got it figured out.
Good health to you and your loved ones. Anxious to read your column again…
Semper Fi,
Nick and Family
***
*** ANSWER 3
***
Nick, so glad you are out of the hospital and feeling better. I missed your informed and witty comments while you were away, but in my recent scans of the PhotographyBLOG comment activity, I see that you are getting back to your normal self. I know you wanted to get some shots of the fall colors, and from the looks of things, you made it in time (a big sigh of relief). Sanae also looks like she is breathing a sigh of relief. She must like those fall colors as well. :-)
***
[Column photo "The Photographer" by Brenda LaFleur of Brenda LaFleur Photography.]