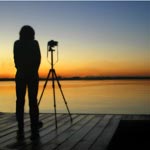 This week's Gary's Parries topics are:
1. Face Detection For All Colors
2. Inadequate Canon G3/SD30 White Balance?
3. The Perfect Non-SLR
Introducing this week's Gary's Parries column. Everything you always wanted to know about digital cameras, but were afraid to ask. No question too difficult, or too easy. As a Senior Principal Software Engineer, and a former Assistant Professor of Computer Information Systems, as well as a recording studio owner/operator, inventor, and now, a digital camera enthusiast, GARY has more digital camera knowledge in his entire brain than most people have in their little finger. In the unlikely event that GARY would not know the answer to your question, he will answer it anyway, true to the spirit of the word "Parries", a fencing term which, in this context, implies "cleverly evasive answers". So let your imagination run wild. Email all your nagging digital camera questions to: garysparries@photographyblog.com , and then, En Garde!
You may also attach to your email an ORIGINAL PHOTO of your choosing. A preview of the photo will be displayed with your question, and a full-sized version will be just a click away. No personal information will be published with your question unless you specifically include it in the text or attached photo of your email, which may be further edited for grammar, content, or other reasons.
***
*** QUESTION 1—- FACE DETECTION FOR ALL COLORS
***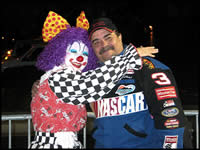 Gary-
Do these new-fangled face recognition doohickeys (to use the technical term) do as well with dark (e.g. black, brown, Klingon) skin types as with lighter flesh tones?
Ben
***
*** ANSWER 1
***
Ben, to be more precise, the term face 'recognition' refers to security type systems. For digital cameras, the technical term would be face 'detection' doohickeys. :)
Be that as it may, while face detection algorithms must account for a wide variety of facial conditions, skin color is actually one of the least problematic. Think about it. What if a person is wearing glasses, or sunglasses? What if they have a beard or mustache? What if they have one or more eyes closed? What if they are not directly facing the camera? What if they have a finger up their nose?
But suppose skin color were a problematic condition. Can you imagine the uproar that would result if a camera's face detection algorithms were biased towards a particular race? Fortunately, there are enough common facial features to go around so that, even under adverse conditions, reliable face detection can be achieved without regard to race, color, creed, or national origin (notice that I did not say 'galactic' origin :)).
This is especially good news for the likes of Canon, Nikon, Kodak, and Fujifilm, which have all implemented face detection in their latest digital camera models.
[As an aside, red-eye removal algorithms have similar face detection problems. They must identify circular red pupil areas in the image, but only those that are surrounded by brown, blue, green, hazel, etc. iris areas, but only those that are further surrounded by eye-shaped, white sclera areas, but only those that are further surrounded by 'skin' color areas, but only those that are unmistakably part of a (human) face.]
***
*** QUESTION 2—- INADEQUATE CANON G3/SD30 WHITE BALANCE?
***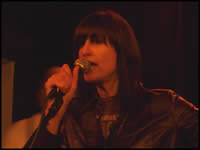 Neither of my two Canon compact digicams (G3, SD30) has a white balance setting for open shade.  Yet I find myself in that very lighting condition more often than Canon's engineers suspected I would.  So which of the remaining WB settings is likely to work the best (Auto, Daylight, Cloudy, etc.)?
Thanks, Gary.
[Note: Open shade lighting refers to daylight conditions where the subject is completely shaded from the direct rays of the sun (as would be the case when sunlight comes through a window with an 'open shade'). Many cameras include a 'Shade' white balance preset for just such lighting situations. – Ed.]
***
*** ANSWER 2
***
You are absolutely correct about the Canon PowerShot G3/SD30's lack of any white balance preset for open shade lighting. What were those Canon engineers thinking?
Using your camera's 'Auto' white balance setting for open shade lighting may work out just fine, but then again, it may not, depending on such factors as the brightness of the sunlight, the degree of shading, and even the composition of the scene. However, using the G3/SD30's white balance presets (such as Daylight, Cloudy, Tungsten, Fluorescent, Fluorescent H, or Flash) will only make matters worse.
Fortunately, Canon (in their infinite wisdom) have included two 'Custom' white balance settings on your G3, and one on your SD30, for just such occasions. With these Custom settings, you can easily adjust the camera for any type of lighting, simply by having the camera evaluate a sheet of white paper exposed to the light in which you are about to shoot. This procedure enables the camera to eliminate any color cast from the light by adjusting its own white balance until the paper appears white in that light.
Thankfully, these custom settings are also automatically stored in the camera until they are manually reset, so you will not have to perform this procedure each time you shoot in open shade. Still, it wouldn't hurt to keep a white sheet of paper handy. :)
***
*** QUESTION 3—- THE PERFECT NON-SLR
***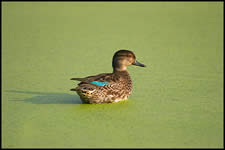 Hi Gary:
I do a lot of media consulting and have a small weekly newspaper client that wants to replace its film cameras with digital cameras. What would you recommend as a versatile, capable, and cost-effective solution in a non-SLR format?
Thanks,
Rob
P.S. My client wants the most versatile camera possible for around $500; however, low image sensor noise is not a necessity, since the newspaper rarely prints anything larger than snapshot size.
[Note: This question (without the P.S.) was previously addressed as a 'first pass' in the October 8, 2006 Gary's Parries (Question 1: In Search Of A 'Versatile' Non-SLR). Also, much thanks to Nick in Japan for submitting his Canon 20D image of a duck lounging on a putting green (at least that's the way I see it). – Ed.]
***
*** ANSWER 3
***
Rob, have I got a camera for you. :)
If there is one camera that I would consider the most versatile non-SLR, it would have to be the Panasonic Lumix DMC-FZ50. The ONLY problem with it (and I mean that almost literally) is its image noise at higher ISOs. However, since the consequences of image noise are minimal at small print sizes, I think this camera, with its professional look and feel, would be the perfect camera for your client.
The FZ50 is a bridge style camera that comes closer to DSLR performance than any other non-SLR. Among its many outstanding features, it has a very high-quality, fast, 12x (35 - 420mm), image-stabilized, 'Leica' zoom lens, a 2.0" high-resolution, 'flip-out' LCD, a high-resolution electronic viewfinder, fast operation, full-manual control, a TTL flash hot-shoe, and a RAW file format with included SilkyPix conversion software.
The FZ50 can be purchased for well under $600. As an alternative, its predecessor, the FZ30, is nearly identical to, almost as full-featured as, and slightly higher rated than the FZ50, but costs $100 less (and therefore, may be going fast).
If your client would prefer a more compact camera, the 10 megapixel Canon PowerShot G7, with its 6x (35 - 210mm), image-stabilized zoom would be an excellent choice. It also has a 2.5" high-resolution LCD, an optical viewfinder, a flash hot-shoe, full-manual control, and optional converter lenses for extending the zoom range of the camera lens, should that be desired.
For just under $600, the G7 is considered one of the highest quality compacts on the market. Even so, I would still hold off on any purchases until after the camera has been reviewed. (Mark? :))
***
[Column photo "The Photographer" by Brenda LaFleur of Brenda LaFleur Photography.]