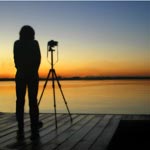 This week's Gary's Parries topics are:
1. Anti-Shake DSP Beats Traditional OIS (In Theory)
2. Time To Trade The SLR In For A Bridge
Introducing this week's Gary's Parries column. Everything you always wanted to know about digital cameras, but were afraid to ask. No question too difficult, or too easy. As a Senior Principal Software Engineer, and a former Assistant Professor of Computer Information Systems, as well as a recording studio owner/operator, inventor, and now, a digital camera enthusiast, GARY has more digital camera knowledge in his entire brain than most people have in their little finger. In the unlikely event that GARY would not know the answer to your question, he will answer it anyway, true to the spirit of the word "Parries", a fencing term which, in this context, implies "cleverly evasive answers". So let your imagination run wild. Email all your nagging digital camera questions to: garysparries@photographyblog.com , and then, En Garde!
You may also attach to your email an ORIGINAL PHOTO of your choosing. A preview of the photo will be displayed with your question, and a full-sized version will be just a click away. No personal information will be published with your question unless you specifically include it in the text or attached photo of your email, which may be further edited for grammar, content, or other reasons.
***
*** QUESTION 1—- ANTI-SHAKE DSP BEATS TRADITIONAL OIS (IN THEORY)
***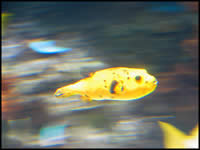 Gary,
Any chance you have advice for me?  I've been looking for a digital camera with the following characteristics:
- LCD screen of 2 inches or larger
- 7 or higher megapixels
- At least 3x or 4x optical zoom
- Mostly metal case
- Optical viewfinder
- Image stabilizer
I was looking at the Casio Exilim Zoom EX-Z850, but noticed that is has "anti-shake DSP" instead of "image stabilizer".  Is that a big difference?
Do you have a small compact digital camera you would recommend that would meet my criteria?  I also want to stay under $500, and preferably under $400.
Thanks so much.
Kathie
***
*** ANSWER 1
***
Good eye, Kathie, for noticing that the Casio Exilim Zoom EX-Z850's 'anti-shake DSP' is not quite the same as 'traditional' image stabilization. In theory, Casio's anti-shake DSP is a good thing; however, in practice, it is not nearly as effective as traditional image stabilization at reducing the image blur caused by camera shake.
Traditional image stabilization works by mechanically shifting the position of a lens element, or the CCD itself, at the exact moment an image is being snapped, so as to compensate for any unintentional shift of the camera at that time. This method of image stabilization enables the user to shoot unaided by a tripod at up to several shutter speeds slower than would be advisable sans image stabilization.
With anti-shake DSP, there is no such 'mechanical' adjustment that takes place at the time of the snap; rather, an image is analyzed 'electronically' subsequent to the snap in order to detect any image blur that may have occurred, and if so detected, the image is processed to extrapolate what the scene would have been without the blur. In theory, with powerful computer algorithms, such processing could reduce image blur even more effectively than traditional image stabilization; however, in practice, considering the underpowered microprocessors typically used in cameras, that is not the case.
It should be noted that anti-shake DSP is actually more effective than traditional image stabilization at reducing another type of image blur, namely, the image blur caused by subject movement. However, that is an entirely different problem, and one that is not of much consequence, unless you make a habit of shooting fast-moving subjects.
So, while the EX-Z850 is an excellent camera in all respects, it lacks image stabilization. To get that feature, in combination with the others you have listed, you might take a look at the Canon PowerShot SD700 IS. It is one of the most highly rated compacts, and has all the features you listed, except for 7 megapixels or higher. The SD700 has 'only' 6 megapixels, but that is actually a good thing in terms of reduced image noise.
Case in point, the Canon PowerShot SD800 IS crams 7 megapixels into the same size CCD, and the result is slightly more image noise. The noise will not be noticeable at standard photo sizes, so if you like the fact that the SD800 has a wider angle lens than the SD700 (28mm vs. 35mm), you might want to consider that camera, as well.
Both the SD700 and SD800 are entirely 'point-and-shoot' style cameras. If you are looking for a compact that offers manual operation, as well, and you can tolerate a slightly larger compact, the Canon PowerShot A710 IS is an excellent choice with its 6x zoom and 7 megapixel CCD. Along those same lines, the slightly higher-priced Canon PowerShot G7, with its 6x zoom and 10 megapixel CCD, is another excellent choice. Do not be concerned about the G7's 10 megapixel cramming factor. Its CCD is much larger than the other three cameras, as is evidenced by its class leading image quality.
Kathie, I don't want to give you the false impression that I only recommend Canon cameras, it's just that Canon seems to have cornered the market on high image quality compacts with optical viewfinders and image stabilization. :)
***
*** QUESTION 2—- TIME TO TRADE THE SLR IN FOR A BRIDGE
***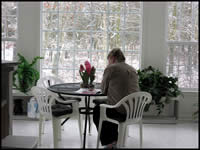 Dear Gary,
I am in my 70's, have one foot, arthritis everywhere, so carrying my old SLR & lenses is out of the question.
What to buy?
No.1 at the moment is the Leica V-LUX 1.
Waiting to see what the replacement for Panasonic's FZ7 offers. Due to be announced anytime soon.
Now the new Olympus pops its head up.
I want to be able to shoot in RAW, then as my mobility decreases I will have plenty to do on my iMac.
I need someone with greater knowledge than I to offer some suggestions, please.
Hope you can find the time to consider my problem.
Regards,
Elsie
"The butterfly is a flying flower, the flower a tethered butterfly."
***
*** ANSWER 2
***
LC, your problem is my problem, and I will certainly find the time to consider it. Besides, you've already done all the hard work by finding your most suitable camera choices. I know of none better.
The Leica V-LUX 1 (a Leica-branded Panasonic Lumix DMC-FZ50) is about the best bridge camera you can buy, and it would be perfect for you, except for one thing … it weighs 734 grams (1.6 pounds).
The just released Panasonic Lumix DMC-FZ8, at less than half the FZ50's weight (340 grams), is nearly as good in all respects. The only significant feature it lacks is the FZ50's flip-out LCD, which would be a really nice feature to have. It's a tough call, but I think the lighter FZ8 is the better choice.
The slightly heavier (460 grams) Olympus SP-550 UZ is also an attractive choice. Its 18x zoom (compared with the FZ50 and FZ8's 12x zoom) and its 28mm wide-angle lens (compared to the FZ50 and FZ8's 35mm wide end) might make it worth carrying around that extra weight, but I would still wait for the PhotographyBLOG review of the camera before making any final decisions. A lot can go wrong with a 'compact' 18x zoom. :)
***
[Column photo "The Photographer" by Brenda LaFleur of Brenda LaFleur Photography.]
Your Comments