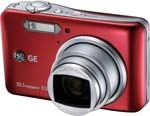 The GE E1050TW is a new feature-rich 10 megapixel camera. In addition to a 3.0'' touch screen LCD and 28 mm wide-angle, 5x zoom lens, the E1050TW also offers 1280 x 720 pixel HD movie recording, plus Face, Blink and Smile detection functions. Available in silver, black and red, the GE E1050TW will be available at the end of September for £149.99.
GE Digital Cameras set to lead the way
E1050TW – Setting a new standard for the term ''feature rich''
General Imaging, designer and manufacturer of GE branded digital cameras, announced today the arrival of its latest model.
Housed in a stainless steel body, the E1050TW (Touch & Wide) is a great all rounder with many innovative features, which are destined to make it a 'best in class' compact.
1. 3.0'' touch screen LCD –with auto adjust brightness
2. All glass aspheric 28 mm wide-angle lens. (35mm camera equivalent)
3. 10.1 megapixels
4.  5 x optical zoom
5. HD output compatible, with HD picture viewing directly from the camera, eliminating the need for a docking cradle.
6. High Definition movie recording (1280 x 720 pixels)
With the increasingly popularity of flat screen TVs, high street and online retailers will find a ready made market for this camera.
The E1050TW has already won the prestigious Plus X Award for innovation and ease of use. And it packs a punch in a slim, stylish exterior, with 10.1 mega pixels and 5x optical zoom. It enhances an already strong range, which has models from entry level (A735 and A835) upwards.
All GE digital cameras include the following advanced features as standard:
·      In camera panorama mode, which allows you to merge three photos to create one wide panoramic shot - ideal for capturing breathtaking views or big groups of people.
·      Face, Blink and Smile detection functions, these features will make sure you get fantastic pictures of family and friends –Face detection - The camera detects faces in a scene and then automatically focuses and optimizes exposure for them. The Smile detection feature cleverly waits for the subject to smile before taking the picture whilst Blink detection warns you if someone in the picture has blinked.
·      14 scene modes such as night, landscape, portrait and sunset.
·      Image stabilisation - automatically overcomes shaking or blurring caused by hand movement, helping you take clearer, sharper pictures. 
·      In camera red eye removal - provides users a tool to remove the appearance of red eyes in subjects, which sometimes occurs when pictures are taken using flash.
·      Rechargeable lithium-ion battery
·      Slim body styling
·      Auto-adjust Brightness - Standard on many of our cameras, Auto Adjust Brightness automatically adjusts the camera's LCD viewing screen to the existing lighting conditions. As the ambient lighting becomes stronger, the camera will adjust it so you can frame your picture properly
·      Available in silver, black and red
General Imaging has the worldwide, exclusive licence to design, manufacture and distribute digital cameras under the GE brand name. Heading up the European team is Katsuhiko Watanabe, a veteran of the Photo industry with over thirty years experience in many companies including Polaroid, Tokina and Hoya. Commercial Director for Europe is Gary Banks, who says: We recognise that in order to be successful, our cameras need to offer something for all the links in the chain: distributors, retailers and finally the consumer. All of these have a choice, and we need to give each of them a reason to select our product over some very intense competition."
The GE digital camera proposition fits this brief and ensures that all parties are well catered for. In addition, with features such as the panorama stitching there are opportunities for retailers to sell other services to consumers - and to get them back to the store. Selling panorama prints, special frames and enlargements means repeat visits.
The full GE Digital Camera range:
A735/A835/A1030: Entry level digital cameras with a host of great features
7 / 8 / 10 mega pixels, 3x optical zoom, 4.5x digital zoom, 2.5 inch LCD
E840s: Slim and perfectly designed, a best in class model
8 mega pixels, 4x optical zoom, 4.5x digital zoom, 2.7 inch LCD
E1035: High performance – great design
10 mega pixels, 3x optical zoom, 4.5x digital zoom, 2.7 inch LCD
E1050TW: Versatile and sophisticated with HDMI Connectivity
5x optical wide angle zoom, 3'' touch-screen LCD technology, 10 mega pixels, 4.5x digital zoom
E1235: High technology and performance
12 mega pixels, 3x optical zoom, 4.5x digital zoom, 2.7 inch LCD
G2: Refined style and spectacular design - one of the slimmest and lightest cameras on the market
8 mega pixels, 4x optical zoom, 4.5x digital zoom, 2.7 inch LCD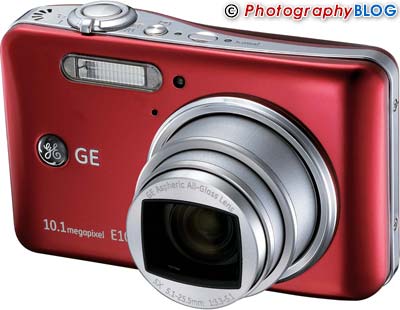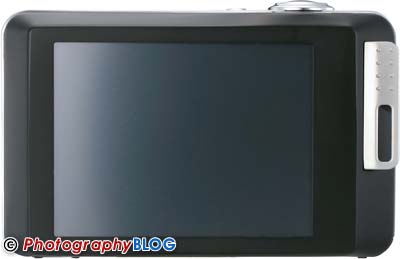 Your Comments