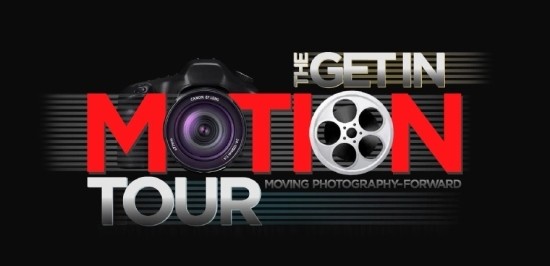 CineStories' upcoming Get In Motion Tour teaches photographers how to leverage digital SLR technology for filmmaking. Participants will learn to make Web commercials, wedding videos, birth-announcement films, family movies, and more. The Tour, which has 37 stops in cities across the US and Canada, will also teach you how to record your audio properly and how to mix it in post productions. Tickets start at $49 with a $10 discount if using the coupon code BLOGVID. For more information including exact dates and locations, and to register, visit the Get in Motion Tour website.
Website: Get in Motion Tour
Cinestories Press Release
The Get In Motion Tour is a Call-To-Action for photographers everywhere to use their artistic talent, training, and equipment to make moving images.  Video is a product that should be in every photographer's repertoire of services in 2011 because if you can't do video, you're not in the scene.
Photographers will learn to make web commercials, wedding films, birth-announcement films, family films, senior music videos, and films for events.  Learn fimmaking's best-kept secret: editing is easy; all you need is a little instruction.  Filmmaking is story-telling and it is the most important aspect of filmmaking.  The way the camera moves tells the viewer how to interpret the scene.  The Get In Motion Tour breaks down the camera movement and shows how each one affects the story.  Recording clear audio is vital!  Dialogue, background sound, and music are essential to drive your story.  The Tour will teach you how to record your audio properly and how to mix it in post productions.  They have an in-depth discussion about what lens to use, when to use, and why.  Creating Intrigue & Emotion is the #1 goal, wanting the viewer to feel differently after they've watched the film, there is no luck involved with this you have to create and enhance specific emotions for the viewer.
Use Discount Code: BLOGVID
$10 OFF tickets
http://www.youtube.com/watch?v=8keTfIR0LhA
Filmmaking is here to stay, and Photographers will inevitably come into contact with it. Whether making films yourself, for clients, or hiring someone else to make them, knowledge of the fundamental principles will allow one to contribute to the final finished film, the filmmaking process, and to assist your clients in meeting their needs for these products.
Your Comments