Gitzo Basalt Tripods and Monopod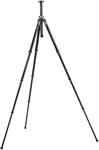 Gitzo Press Release
Gitzo, revered throughout the world for its precision, quality and innovation in bringing new products to market for both the professional photo and video markets, is proud to introduce the world's first monopod developed from volcanic rock – the GM2940 Basalt Monopod. In 2005, Gitzo, maker of the original carbon fiber tripods and magnesium alloy photographic heads, introduced their new, exclusive Basalt technology.  The volcanic-based basalt materials used to develop the line of tripods and monopods provide photographers advanced performance and durability at affordable prices. Basalt tripods and monopods are designed to achieve the best performance for camera support applications.  The new line is composed of Gitzo's innovative fiber tube fabrication capabilities, which were developed for the space program because of the material's lightweight and insulating fire-proof properties.
Gitzo utilized these while creating a new way of producing tripods. The basalt, a black lightweight rock, is pulverized, then melted at extreme temperature (1500 °C) and combined with other materials and spun into a strong fiber which is used to create multi-layer composite tubing. Strong, stable and featuring high thermal stability, the resulting non-rotating tube offers exceptional performance, meeting the demands of today's professional photographers and featuring the same advantages of composite materials, yet at more affordable prices.
The legs are assembled using Gitzo's "H.I.S.," a dual "screw thread and glue" jointing technology that provides greater durability and reliability than alternative methods.  The new products in Basalt line –the GM2940 monopod and three tripods – are recyclable, provide stability and have easy-to-use features.  Basalt fiber legs are tougher than aluminum, yet they are 20 percent lighter.
The GT2940LVL and GT2940L Basalt tripods introduce a new concept of "Eye Level" height tripods. According to this concept, tripods can hold the equipment up to eye level without extending the center column. Photographers and birders no longer need to compromise between tripod performance and comfort of use.
Both the GT2940LVL Leveling Basalt Tripod and the GT2940L Basalt Long Tripod are four-sectioned, rapid column tripods with the ability to reach maximum heights of 58.26 and 71 inches.  The GT2940L Leveling Basalt Tripod folds to 22.44 inches and weighs 4.1 pounds.  The GT2940L Basalt Long Tripod folds to a smaller 22.24 inches and weighs less at 3.72 pounds.  Both can support cameras up to 15.4 pounds.
The GT2930EX Explorer Basalt Tripod is a three-sectioned, rapid column tripod that can support equipment up to 13.22 pounds.  The GT2930EX reaches maximum heights of 46.45 and 57 inches and allows for low-angle shots with its ability to reach a mere 4.52 inches from the ground.  The Explorer Basalt tripod folds to 23.62 inches and weighs 4.27 pounds.
The new Basalt tripods and monopod takes mere 5 seconds to open and secure each leg with Gitzo's Anti-Leg-Rotation (ALR) system. Just loosen all twist locks at the same time and pull down the leg before tightening the twist locks.  An added plus, the basalt tubes won't get hot and cold to your touch the way aluminum does.
Suited for all camera types, ranging from compact digital to medium format film, the new tripods and monopod are more durable and better at absorbing vibrations than aluminum models with similar dimensions.