Gitzo Launches Redesigned 'Systematic' Tripod Range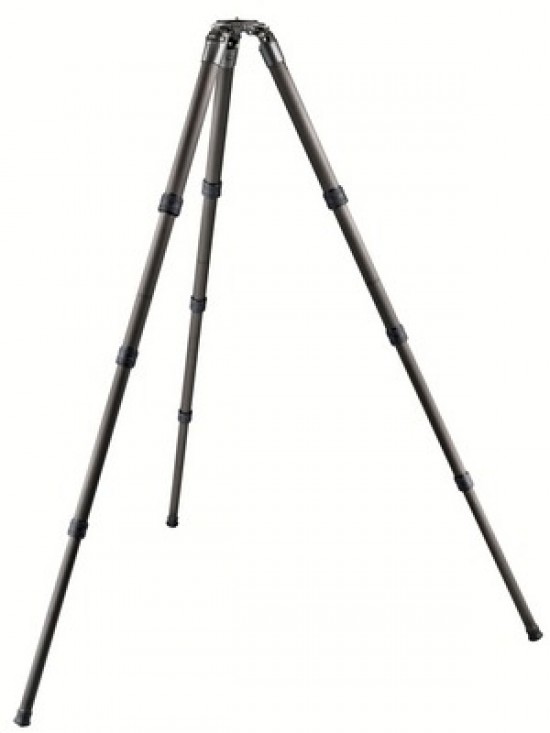 Gitzo has announced the launch of its refined and improved Systematic range of modular, professional tripods. New construction and bonding techniques have almost doubled maximum payloads by distributing weight more efficiently to the 6X carbon fibre legs, which also feature the G-Lock system for greater power and ease of leg section locking. In addition, design details on the distinctive new triangular top casting make changing centre components even faster and safer. Each Systematic Series has 3-section, standard 4-section and long 4-section tripods, with Series 3 and 5 also offering an extra-long 4-section model and Series 5 featuring the "iconic" giant 6-section tripod alongside an ultra-compact 6 section model. Additionally, the range has been extended to cover Gitzo Series 2 in order to offer the advantages of mechanical strength and build quality at a more portable size and weight. For more information, visit the website below.
Website: Gitzo
Gitzo Press Release
Gitzo launches a redesign of the Systematic tripod range:
Gitzo's top of the range modular tripod family has been redesigned, with a host of practical benefits for professional photographers
Gitzo's modular Systematic tripods have always been the choice of professional photographers using long lenses and heavy camera equipment. Now the whole family has been redesigned to give even higher levels of strength, stability, safety, set-up speed and ease of use. Gitzo set out to ensure that the flagship Systematic range incorporated the very latest technological features, the best quality materials and the most innovative construction techniques in order to provide exacting photographers with practical improvements in performance.
Fast and easy to use
Systematic's modular top casting allows each tripod to be configured with a geared or sliding centre column, a flat disk, video half-ball adaptor, levelling unit or other specialised centre components. Opening and closing the tripod top casting in order to switch components has been made much easier by a new tool-free ratchet locking lever.
Secondary safety mechanism
Even if the top casting is inadvertently left untightened, centre accessories (and valuable camera equipment attached) are held securely in place by a secondary safety mechanism. Until the safety mechanism's release button is pushed, the centre accessory can't be removed from the tripod, offering even safer support at all times.
Doubled payloads
Systematic has a brand new design for the key top casting component: its pronounced triangular shape distributes weight more efficiently and evenly to the carbon fibre legs, and in combination with an innovative bonding and assembly technique, this has led to dramatic increases in the loads that each Systematic tripod can support: a Series 5 tripod now safely carries up to 40kg of camera equipment, double the payload of the previous version.
Built-in spiked feet for a secure grip on all surfaces
New one-piece, built-in spiked feet provide a secure grip on uneven ground, mud and snow. Integrated into the leg construction (so there's no risk of losing them), the spiked feet have a special non-scratch finish that won't damage floors and surfaces, but protective rubber caps are fitted for everyday usage.
Carbon fibre increases rigidity throughout the range
Gitzo's own 6X carbon fibre leg tubes are used on all the updated Systematic models. The unique crossed-layer structure of 6X tubing maximises rigidity and strength, and absorbs vibration.
Easier tripod set-up and increased stability
Setting Systematic's independent leg angles has been made much easier and more comfortable by changes to the design of both the tripod top casting and the pull-out angle stops, which now offer more "grip room". Gitzo's G-lock system, used between all leg sections, adds stability to each leg by exerting a consistent blocking force on the entire circumference of the leg, while also requiring less force to twist and lock or unlock.
Gitzo's elegant and durable Noir Décor finish
All cast components of the Systematic range are finished in Gitzo's traditional "noir décor" paintwork. The hammered paintwork has become a Gitzo tradition not only for its elegance, but also because of its durability and resistance to rugged treatment.
A new series extends the Systematic range
The Systematic range has a new addition: Series 2 tripods. Extending the range from Series 3, 4 and 5 to include the smaller Series 2 models makes Systematic's professional levels of performance available in a more easily transportable tripod. Built around the same top casting used in Series 3 and 4, Series 2 inherits its structural strength from the larger models.
Your Comments