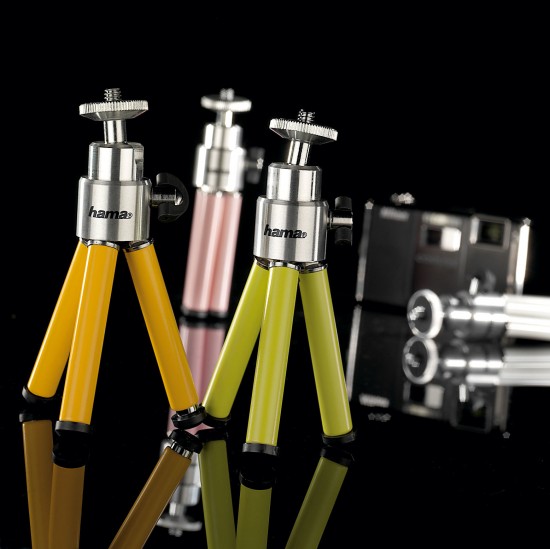 Hama has released a range of colourful mini tripods. Complete with a ball head, these little accessories measure just 24x120mm when closed and weigh in at 110 grams. Extendible to a maximum height of 180mm, the Hama mini tripods come in a choice of white, orange, green and pink to match the colour of your digital compact camera or mini camcorder. Available now across Europe, these mini tripods cost €9.99 apiece.
Website: Hama
Hama Press Release
Mini tripods – indispensable little helpers that come in handy when you're on the go and you need a steady camera for self-portraits or shots that require timed exposures. Hama introduces four new models that will "shake up" the mini tripod market with their vibrant colours.
The four-section mini tripod legs are available in orange, green, white, and pink, and the tripod head on all of the models is silver. Once the legs are completely extended, the camera stands 18 centimetres above the ground. This makes it a practical and unmistakable companion that measures 2.4 x 12 centimetres, weighs just 110 grams, and fits in the pocket of your jacket.
These lively mini tripods can also be used to hold small video cameras, microphones, and mini speakers.
Technical specifications:
- With ball head
- Thread: 1/4" (6.4 mm)
- Weight: 110 g
- Dimensions: 24 x 120 mm
- Application: Photography/Video (3D)
- Maximum height: 18 cm
Item no. 4071 "Ball" Mini Tripod, L Mini, white;
Item no. 4072 "Ball" Mini Tripod, L Mini, orange;
Item no. 4073 "Ball" Mini Tripod, L Mini, light green;
Item no. 4074 "Ball" Mini Tripod, L Mini, light pink;
Your Comments