Hama Omega Carbon Tripods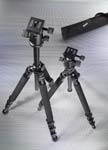 The new Hama Omega Carbon tripod range is aimed at semi-professional photographers. The height of the Omega Carbon III tripod adjusts from 71 to 202 cms, and it weighs under 3kgs including a 3D precision ballhead. The smaller Omega Carbon II model has an extension length of 68 to 174 cms and weighs 2.5kgs including the tripod head. A tripod case is included with both models. The Hama Omega Carbon III costs 329 Euros, and the Omega Carbon II 269 Euros.
Hama Press Release
Hama presents its new Omega Carbon tripod series for semi-pros
Carbon for connoisseurs
Carbon, used colloquially to describe carbon-fibre-reinforced plastics, is used in products that require high stability at a relatively light weight, such as in automobile construction or sporting goods. The two new Omega Carbon II and III tripods from Hama take advantage of these characteristics, and are stable and lightweight at the same time.
Lightweight giant: Omega Carbon III
Omega Carbon III's height adjusts from 71 to an imposing 202 centimetres, making the tripod ideal for taking impressive high-angle photos. Including the versatile 3D precision ballhead, the tripod weighs just under three kilograms; it is the perfect travelling companion. The completely removable central column helps with this, too. It can become a fully adjustable monopod, with a height of 54 to 158 centimetres; or, inserted upside-down into the tripod, it can be used for macro photography.
Little brother: Omega Carbon II
The little brother, the Omega Carbon II, with an extension length of 68 to 174 centimetres, weighs just 2.5 kilograms, including the tripod head. A crafty detail: the hook on the bottom of the extendable central column also functions as a holder for items such as the camera case, which means that they can be used to provide greater weight for improved stability.
Comprehensive features
What the two carbon tripods have in common are the comprehensive features. The stable 3D precision ball head is impressive. It features a separate ball and pan head lock, adjustable tension settings as well as a quick-release plate with a safety catch and locking screw. The four-piece tripod legs can be extended in three places and spread out in various patterns. The large, quick-action leg clamps help you fix the legs in the required position in a snap. Rubber feet with a ball joint and extendible steel spikes provide for completely secure positioning, even in rough terrain. The foam sheathing around the legs means that you will always have a comfortable and secure hold, even in the cold and during transport. The tripod case included with both models makes it easy to carry the tripod when you are on the go.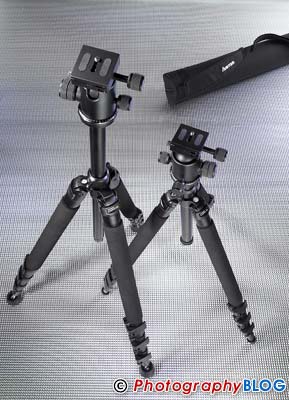 Your Comments