HANNSapple Digital Picture Frame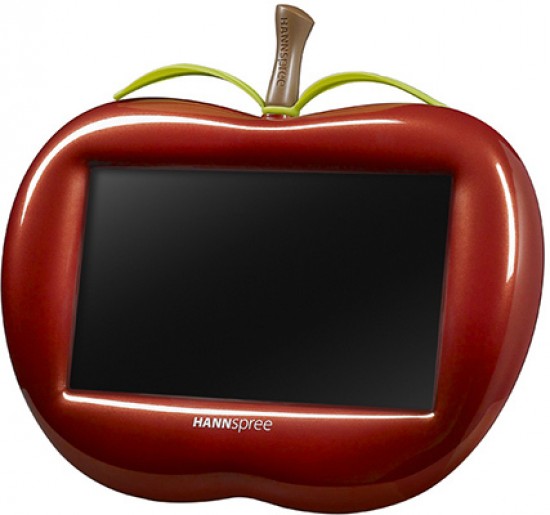 Hannspree will be unveiling a new, 'Apple' inspired digital photo frame at its London concept store on 12th November. Featuring a shiny red exterior and classic apple detailing, the HANSapple has a 7 inch LCD screen with a resolution of 800x480 pixels and contrast ratio of 500:1, dual SD-MemoryStick memory card slots and USB port. Hannspree's Apple digital photo frame is exclusive to the UK and Ireland and will be available for £34.99
Hannspree Press Release
New Shiny Red Apple Digital Photo Frame from Hannspree

A tasteful, unique display for digital memories

3D aesthetic design
Exclusive to the UK and Ireland
15% discount at the Hannspree store on the 12th November*
Fun, original Christmas gift, only £34.99

Hemel Hempstead, UK. 2nd November 2011. Consumer electronics manufacturer and AV specialist, Hannspree, is preparing to unveil a new digital photo frame donning Hannspree's famous 3D design aesthetics.  The 'Apple' inspired DPF will be exclusively unveiled at Hannspree's London concept store on the 12th November.
Hannspree is the master of creative technological design and the HANNSapple DPF is a show piece of its talent. With a completely original full 3D design it features a tasteful shiny red exterior and classic apple detailing, that would sit at home comfortably in any modern or colourful setting.
A wonderful gift for lovers of fun, novelty items or unique kitchen accessories, the HANNSapple has a 7 inch LCD screen on which photos from a memory card or an external USB device are clearly displayed, and includes clock, alarm and calendar functionality.
Hannspree's Apple DPF is exclusive to the UK and Ireland. It will be available from the Hannspree concept store for £34.99 and from Xtravision in Ireland.

* On the 12th November the Hannspree store will be celebrating its 1 year anniversary with a Willy Wonka themed birthday party. As part of its celebrations Hannspree will be unveiling the Apple DPF which can be purchased with a 15% discount for one day only. In addition to offering the new Apple DPF for only £29.99, Hannspree will be showing both the classic and modern version of the Willy Wonka film across its various TV displays, children can have their face painted, all will be treated to a variety of sweet treats and shoppers will have the chance to meet a genuine Oompa Loompa. The Hannspree store will be also collecting for Children in Need, and rewarding donations with a cupcake from Lola's and the chance to win one of five amazing Hannspree prizes.
Your Comments