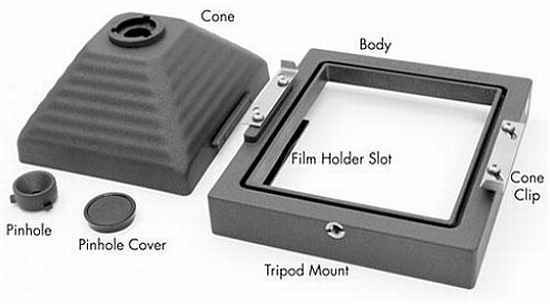 The Lomography Online Shop now carries the Harman TiTAN Pinhole Camera, which takes pinhole photos on 4x5" sheet film. Made of lightweight yet heavy-duty ABS plastic, this large format camera features two2 tripod mounts, built-in spirit levels, and accessory mount. Priced at €240, the Harman TiTAN Pinhole Camera comes bundled with an interchangeable 72mm wide-angle cone. Separate cones of 110 and 150mm are also available. 
Lomography Press Release
Capture Professional-Quality Pinhole Photos
From the makers of the esteemed Ilford black & white film comes another product that will stir your analogue senses! We are honored to introduce the Harman TiTAN Pinhole Camera – a remarkable large-format pinhole camera that takes supremely high-quality 4x5 photos.
The Harman TiTAN Pinhole Camera boasts an innovative and durable design that guarantees easy operation in all situations. It is held together by magnets to grip everything tight, keeping light leaks at bay. Order yours now and get it within 1 to 2 weeks. The wait is definitely worth it; this simple and sleek pinhole camera shoots really impressive large-format pinhole photos like you've never seen before.
Your Comments