Hasselblad USA Announces H4D-40 Promotion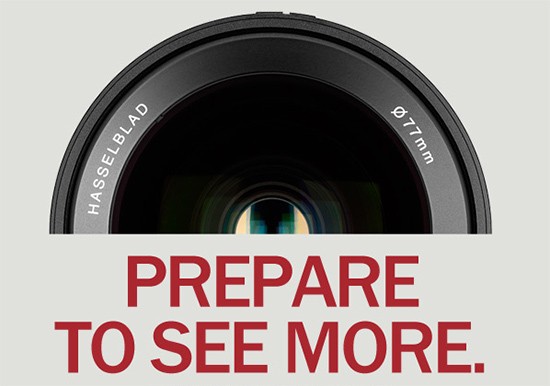 Those who buy a Hasselblad H4D-40 medium-format DSLR camera with an 80mm lens before 31st January 2012 are entitled to a 50% discount off the MSRP of a second lens of their choice. This offer is good for any lens in the H line, from the HCD 28mm wide angle all the way to the HCD 35-90mm zoom lens, and represents a value of up to $3,747. Note that you must buy the H4D-40 kit and the second lens before 31st January in order to claim the 50% discount.
Hasselblad News Release
PREPARE TO SEE MORE
BUY A HASSELBLAD H4D-40 WITH AN 80MM LENSAND GET 50% OFF A SECOND LENS OF YOUR CHOICE.*
You can only see what you are prepared to see – and you can only capture the shots you are prepared to capture. With a new Hasselblad H4D-40 you will be able to capture shots that you never before thought possible, shots with a resolution and quality that will blow you away.
And now we're making it even easier to capture more of your photographic vision. If you purchase a new H4D-40 80mm kit before January 31st, 2012 we'll give you the second HC/HCD lens of your choice at 50% off the price*, a value of up to $3,747. The offer is good for any lens in the H line, from the HCD 4/28mm wide angle all the way to the HCD 4-5,6/35-90 mm zoom lens. And of course, no matter which lens you choose, you'll be putting it onto one of the best cameras ever produced.
The Hasselblad H4D, like every H System camera, gives you full access to the rest of the advanced features that set the Hasselblad H System apart from other high-end systems. Features like our powerful Phocus software, out-of-the-box Hasselblad Natural Colors, the outstanding H System lenses, and more. In addition, the Hasselblad H4D-40 features a range of new features and functions such as:
- One-Click, instant digital focus check
- Two directional, electronic spirit level
- Improved, high resolution display
- New rear display with grip info displayed on the back
At Hasselblad we are always pushing the technology envelope and developing new and exciting features to help photographers take their photography further. These features run the range from very advanced technical solutions designed to improve resolution, clarity, and other image critical factors to clever functional features designed to make high end shooting as easy and photographer friendly as possible. All, as we say, to remove the obstacles between great photographers and great photographs.
* This offer only applies to H4D-40 80mm kits purchased before January 31st, 2012. The second lens must also be purchased by January 31st, 2012 in order to claim 50% discount on MRSP.
Your Comments