Hitched.co.uk Breakthrough Awards Winner Announced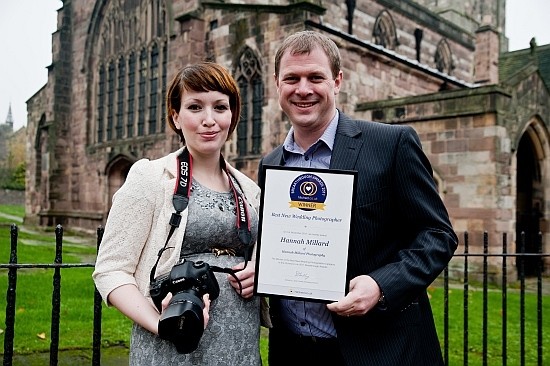 Hannah Millard a freelance wedding photographer has been crowned Best New Wedding Photographer in the first-ever Hitched.co.uk Breakthrough Awards (HBAs). The HBAs is an award scheme which recognises the creativity and talent of newcomers to the wedding market using expert judges and a transparent voting system to identify the best new work of 2011. After receiving her certificate Hannah said "Entering the hitched.co.uk Breakthrough Awards was a great opportunity for me to review my work to date. As with many businesses the focus has to be forward-facing but by looking back at my portfolio I could see how my business has developed. This was the first award scheme I have entered and to win through a process of both expert selection and public voting is especially rewarding."
Hitched Press Release
EXCITING NEW TALENT RECOGNISED WITH FIRST EVER HITCHED.CO.UK BREAKTHROUGH AWARD IN PHOTOGRAPHY
Hannah Millard a freelance wedding photographer has been crowned Best New Wedding Photographer in the Hitched.co.uk Breakthrough Awards (HBAs).
Hannah is one of hundreds that entered the competition, which was open to professionals that have been in business under a year. After being shortlisted to the last ten in the New Wedding Photography category by judges, thousands from the Hitched.co.uk community voted for Hannah to win.
After receiving her certificate Hannah said "Entering the hitched.co.uk Breakthrough Awards was a great opportunity for me to review my work to date. As with many businesses the focus has to be forward-facing but by looking back at my portfolio I could see how my business has developed. This was the first award scheme I have entered and to win through a process of both expert selection and public voting is especially rewarding."
The HBAs is an award scheme which recognises the creativity and talent of newcomers to the wedding market using expert judges and a transparent voting system to identify the best new work of 2011. The innovative award scheme contained three categories, wedding cake designer, photographer and florist.
All three winners receive a certificate, a full page on the Hitched.co.uk website as well as the Hitched.co.uk logo to use on all their stationary and website.
Dean Yardley continues: "We are thankful to all those that entered the HBAs It is such an achievement to be picked out from hundreds of entries that the HBAs recognise. Providing these finalists and winners with an award from the UK's leading wedding website will give them an extra opportunity to promote their business and we look forward to seeing them grow."
Your Comments