Hobie Launches on Kickstarter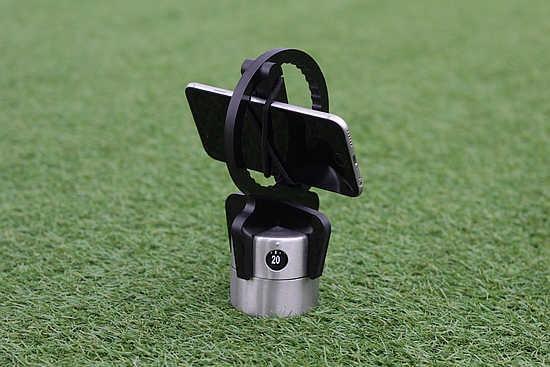 Hobie by Overlab Designs is a new tool for creating time-lapse videos with smartphones. Available in four colours, Hobie is a simple, fully mechanical device that works with any phone that's less than 8cm wide. Comprising a modified kitchen timer, a crossbar and a large wheel, the ingeniuous device is highly portable and features 36 different point-of-view setting options for both static and 360-degree time-lapse sequences. Interested readers are encouraged to pay a visit to Hobie's Kickstarter page for more information.
Overlab Press Release
Hobie - Your Personal Time-lapse Tool
Hobie is a handy tool for making beautiful time-lapses that works with any smartphone.
London, UK. September 8, 2015 - Overlab Designs has created, Hobie, a new tool for creating timelapse videos with smartphones. This tool works with any brand of smartphone regardless of its OS. The only requirement is that the phone is no more than 8cm wide. Hobie's small size makes it easy to carry along to the shooting location and eliminates the need for bulky tripods. There are several settings options allowing the user to make videos from multiple points of view.
The Hobie comes in four colors: white, ice, blue, and black. There are 36 different point of view setting options that can be easily and quickly adjusted. There is also the choice of keeping either a fixed or a moving 360 degree point of view. With Hobie it's possible to create an infinite number of sketches, videos, time lapse, stop motions, or even record a work in progress.
Hobie does not require batteries because its motor is mechanical, so it can be recharged manually by simply rewinding the kitchen-timer base."I chose to repurpose this specific timer to give a new life to it plus, it is extremely durable and its shape is very simple. In addition, the timer itself has a mechanical engine inside, which means you never need to worry about recharging batteries. Thats what I really love about them." explains creator, Mattia Ciucciarelli.
Mattia Ciucciarelli, founded Overlab Designs in 2014. He is also the designer/creator of Hobie. He holds a degree in industrial design and has worked as a designer in multiple companies including an architecture studio and a yacht design company.
Mattia launched a Kickstarter campaign that will run until September 26, 2015. He has already surpassed his goal of £10,000, so his project will definitely be funded. Hobies can still be pre-ordered until the campaign end date.
Kickstarter page: http://kck.st/1Jr2Vt4
For additional information about Hobie please visit our website, follow us on Facebook and Instagram.
Your Comments