How to Photograph Children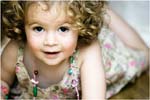 Our first Christmas guest writer, world class photographer Annabel Williams, shares her top tips for taking great photos of children.
People always say, 'Never work with children or animals' – where's the challenge in that!
Capturing stunning images of children is one of the most rewarding parts of my job – and while they aren't always perfectly behaved, there are many ways in which you can put them at ease and within a great environment in order to shoot the best images possible!
Parents and Grandparents always want beautiful shots of their little ones – and today there are so many different ways to present these – framed prints, albums, on canvass, photobooks and even digital photo frames.
One of the most important factors when working with young people is to allow yourself plenty of time for the shoot – children need this time to become comfortable around you. When you first meet the child or children involved, always do so without your camera as you may appear frightening.  Let the child get to know you and trust you before introducing your camera gear.
Make friends!
For many young children, meeting someone new and having their picture taken can start out a bit scary, so you need to make the shoot fun.  If a child has a favourite teddy-bear or doll, encourage them to bring the toy to the shoot.  Not only will it make a great prop, it will also comfort a small child.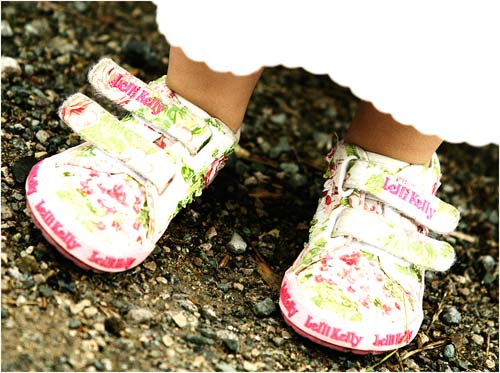 As well as putting them at ease, think carefully about what your subjects will wear – for instance for a winter shoot, colourful hats and woolly scarves can really transform an image.
Always encourage the client to bring wellies, brollies, hats and scarves to every shoot if the child uses them day-to-day – and don't be afraid to ask the client.  They will want the best images possible, so don't be worried about asking them to bring a number of outfits and accessories.  Ask to look through their selection of clothes if you think they might need some inspiration! 
Clients will be much happier if you take control – they are looking to you for direction and guidance.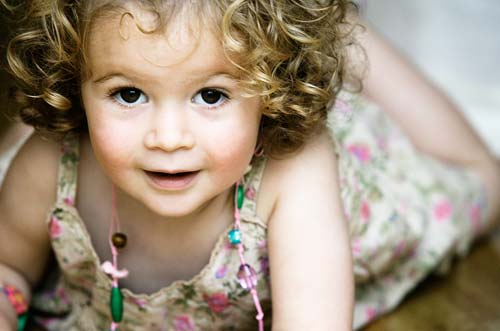 It's also important when photographing children, to keep the momentum going, but get your 'safety shots' in the bag first – the full face smiley shots – before you start getting more creative.  These images are likely to be more 'posed' than the later shots – but once you let a child loose in the garden or on a beach, you may find it more difficult to get them to sit still and smile! Starting in the house is more comfortable and familiar to children and using a doorway is a good trick to 'contain' them in a safe environment when they may feel more nervous at the beginning of the shoot.
Before you even get your camera out, identify at least three further locations– and keep things fresh and fun by constantly changing location.  Think through which outfits will work best against each background, but keep each section of the shoot no longer than 10-15 minutes depending on the age of the child – they get bored very quickly!
When choosing locations, ensure that they complement the age of the child and the child's clothing – and always check that you have the photographic space to capture the child's movements as they play and move around.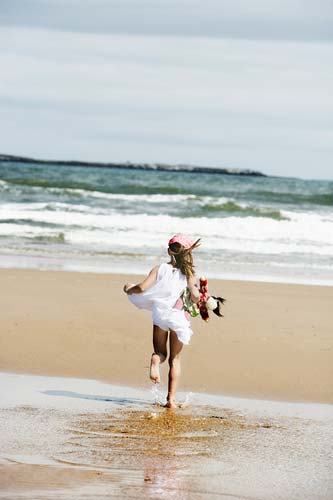 Get creative!  Play games with children, make cakes, pretend to paint pictures on the sand to capture the beauty and innocence of childhood as they play naturally.  And always ensure that the child's parents are close to hand as this gives the child added confidence.
As well as general shots – also look out for shots of the 'detail' of childhood as well as the child themselves.  Their old teddybear or doll, cute shoes or wellies, details on their favourite clothes.
You can also involve the parents in the shoot, to ensure the experience is fun and memorable for everyone involved in the day.  If there's a family dog, consider including it in the shoot.  Dogs combined with children make wonderful pictures and often the dog is just as important member of the family!!
If there's more than one child involved, photograph the older child first – this way the younger child will watch, learn and gain confidence for when it's their turn.
You don't need fancy lighting and reflectors to capture a brilliant shot – but you do need to consider the natural light.  Shoot children in even shade for flattering images and to avoid them squinting.  If it's full-on sunshine, ask the parents to shade them – this can be as simple as holding a beach towel or coat above the child's head to place them in the shade.
And finally don't be put off by the weather – wet winter weather is every photographer's nightmare, but it doesn't have to be if you rise to the challenge!  Get those wellies on and let children jump in the puddles – just make sure you do this near the end of a session as they are likely to get their clothes and feet wet!
Beaches are one of my most favourite locations – you can take photos on beach even in the winter and they will still look good.  Wrap the children up in warm colourful hats and scarves and let them play!  Children are usually so happy when they are on the beach that they don't even notice you taking pictures.  Pictures of shapes and textures on the beach also make fabulous detail shots – these can be used as art in their own right, or can be used at the beginning of the portrait album to really set the scene.
And if you're lucky enough to enjoy a White Christmas – go sledging!  Buy some bright colourful plastic sledges and take pictures of the kids having fun.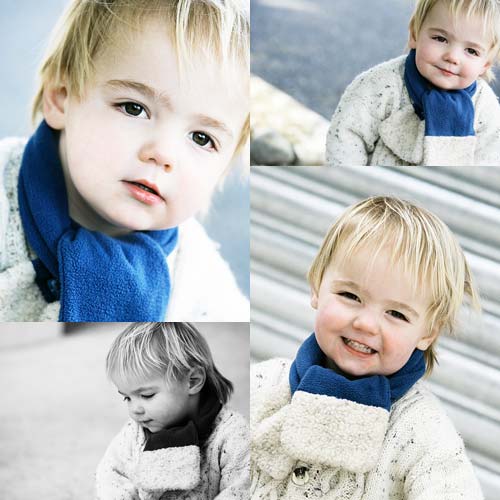 Whether action shots or detail – also think about shooting sequences of images at every stage – these form great stories within a multi-frame or within the final album.
Above all, wrap up warm, have fun and get out there!
Biography
http://www.annabelwilliams.com
Annabel Williams' reputation as both a world class photographer and an outstanding tutor is recognised across the globe. Her warm enthusiasm, coupled with an incredibly intuitive approach, is and always has been the driving force behind her very personal and unique style of innovative yet contemporary award winning portraiture.
She brings to her work an imagination and insight which is rare among even the finest professionals, all of which has contributed to her outstanding performance in her genre and it is these qualities which command Annabel so much respect from her peers.
No stranger to both TV and the press, Annabel is also the author of several books on her subject. Her passionate viewpoint engages everyone in a highly enthusiastic exchange of ideas and creativity.
Alongside her business partner Catherine Connor, Annabel also runs Contemporary Photographic Training (CPT) – a dedicated training centre in the Lake District, which runs a comprehensive range of workshops and seminars from 'getting started' right through to the prestigious 'Bespoke Programme' for aspiring professionals.
All images in this article © Annabel Williams
Your Comments