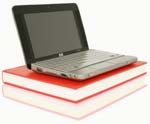 The HP 2133 Mini-Note PC is a new full-function, mini-notebook PC priced starting under $500. Taking on the popular Asus Eee, the Mini Note features a large 8.9-inch diagonal WXGA display, full QWERTY keyboard, anodized aluminum shell, Wi-Fi, and weighs around 2.5 pounds. The HP 2133 Mini-Note PC starts at $499 and will be available later this month.
HP Press Release
HP Introduces Full-function Mini-notebook PC for Education Market
PALO ALTO, Calif.—(BUSINESS WIRE)—To help schools offer affordable computing to every student, HP (NYSE:HPQ) today introduced a full-function, mini-notebook PC priced starting under $500.(1)
Designed for the education market, the HP 2133 Mini-Note PC is flexible enough for students to use from the classroom to the family room.
"HP listened to our needs and now is delivering a product designed by education for education," said Chris Sieger, director of information technology for Alexandria City Public Schools in Virginia. "Teachers and technology are the two most important assets in education. HP's announcement demonstrates that it understands what schools need from industry."
At slightly more than two and one-half pounds,(2) the HP Mini is smaller and lighter than many math or science books. It includes a suite of wireless,(3) multimedia and security capabilities to allow students to learn everywhere they go – from class to home, from field trips to vacations.
"Education shouldn't end at the bell," said Jeri Callaway, vice president and general manager, Personal Systems Group – Americas, HP. "HP believes providing each student with an affordable, creative multimedia tool like the HP Mini will better prepare them to live, learn and work in an information-rich society."
Business and mobile professionals value the same mobility, usability and cost concerns of the education market. The HP Mini provides mobile professionals a sleek, lightweight device that provides access to information and the ability to collaborate with others as well as to communicate via email, instant messaging or even blogging.(3)
The HP Mini is packed with a combination of features to boost productivity and improve the overall mobile experience, including:
  * Simple, refined design and anodized aluminum shell that is sleek and sturdy yet lightweight;
  * HP DuraKeys, featuring a clear coating applied over the notebook keyboard that protects the finish and printed letters and characters;
  * An HP 3D DriveGuard, which sends a signal to shut down the hard drive upon sudden movement or shock by using a three-axis digital accelerometer chip
  * Scratch-resistant display and magnesium hinge bracket
  * A large 8.9-inch diagonal WXGA display, user-friendly full keyboard (QWERTY) and touchpad;
  * Ability to view video, still-image capture, web conferencing or video-enhanced instant messaging(3) with no additional hardware to buy or carry. An optional(4) integrated VGA webcam enables video and still-image capture to allow the addition of photos and video clips to presentations, documents and email;
  * Two battery solutions – three-cell for lightest-weight configurations or optional(4) six-cell for longer battery life;
  * Wireless technologies such as integrated Wi-Fi Certified WLAN(3) and optional Bluetooth™, allowing students to access the Internet as well as communicate via email, IM, chat, VOIP and blogging. The wireless technologies also enable connections at hotspots as well as with Bluetooth devices such as printers, mice and headsets; and
  * Optional(4) Absolute Software's Computrace(5) allows IT professionals to work with local law enforcement to track and help recover stolen or missing computers, inventory computers district wide and detect changes in hardware and software.
Additional education initiatives
HP also announced the development of the Teacher Experience Exchange, an online community sponsored by the company and Microsoft to provide educators a one-stop resource to discuss, share and learn with other educators. At the exchange, www.hp.com/go/teacherexperience, teachers also can access tutorials for teaching with technology in the classroom.
To help K-12 teachers effectively integrate new technology in the classroom, HP also plans to provide free, online professional development courses designed to engage students and improve student achievement through the use of technology.
Pricing and availability
The HP 2133 Mini-Note PC starts at $499(1) and is expected be available later this month.
About HP
HP focuses on simplifying technology experiences for all of its customers – from individual consumers to the largest businesses. With a portfolio that spans printing, personal computing, software, services and IT infrastructure, HP is among the world's largest IT companies, with revenue totaling $107.7 billion for the four fiscal quarters ended Jan. 31, 2008. More information about HP is available at www.hp.com.
(1) Estimated U.S. street price. Actual price may vary.
(2) Weight will vary by configuration.
(3) Wireless access point required and is not included. Availability of public wireless access points limited. Wireless Internet use requires separately purchased Internet service contract.
(4) Sold separately or as an add-on feature.
(5) The Computrace agent is shipped turned off, and must be activated by customers when they purchase a subscription. Subscriptions can be purchased for terms ranging from one to four years. Available in the United States only.
Bluetooth is a trademark owned by its proprietor and used by Hewlett-Packard Company under license.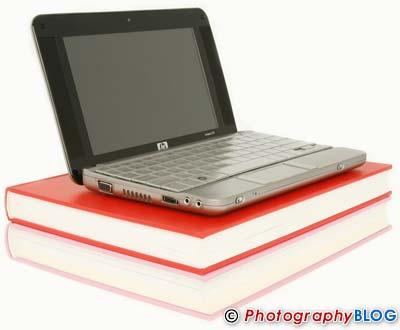 Your Comments