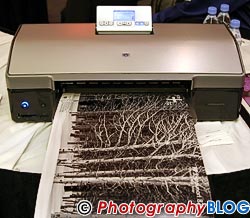 HP are really promoting their new HP Photosmart printer, the the 8750, at PMA 2005. At a lunchtime conference today, HP presented their overall package for the 8750 and the higher-end DesignJet 90 via 3 key speakers. Henry Wilhelm, who is heavily involved with testing digital print lifespan, Iris Mangelschots from GretagMacbeth, who are providing colour management solutions bundled with the new HP printers, and Joel Meyerowitz, a professional photographer who has converted to selling digital prints in the last year made with the HP DesignJet series, abandoning conventional silver halide. (Click on each picture to see a larger version)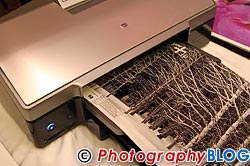 The HP PhotoSmart 8750 supports print sizes up to 13x19 inches, offers a lightfastness of up to 108 years, and has a new 9 colour inkset which now includes blue for more, well, vibrant blues. There is also a built-in memory card reader which HP are positioning more as a way to proof your photos, rather than the usual selling point of being able to bypass the computer entirely (reasoning that prosumer photographers will edit their photos on a computer in Adobe Photoshop before printing).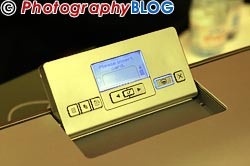 The black and white print that HP were showing was stunning - true black and white quality out of the box with no need to profile the printer, due to HP's dedicated Gray inkjet cartridge. This technology has featured on their smaller printers like the PhotoSmart 7960 - the real challenge for HP will be the colour side of things. Will the new Blue cartridge be enough to convince buyers that HP can beat their competitiors in terms of colour? Pro photographer Joel Meyerowitz certainly seemed to think so - Meyerowitz claimed that using the DesignJet series and the 8750 was "a life changing experience". Strong words indeed. A competitive price-tag of $499 will no doubt help HP's cause. I was personally very interested in the Epson R1800 when it was announced a few days ago - now the HP PhotoSmart 8750 is making me think again.
Update: Henry Wilhelm's report for the HP Photosmart 8750 is now online:
http://www.wilhelm-research.com/hp/8750.html