HP Photosmart A618 Compact Photo Printer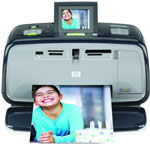 HP UK Press Release
Instant, Lab-Quality Photos from Your Camera or Phone with the HP Photosmart A618 - Compact, stylish photo printer packs a big punch with integrated Bluetooth connectivity, 2.4 inch display and new HP 110 Tri-Colour Dye-Based Ink Cartridges with Vivera inks for vivid prints and maximum durability. The HP Photosmart A618 Compact Photo Printer is expected to be available for purchase in August 2006 priced at £149.
Bracknell, UK, 21 August 2006 - HP today announced the launch of its small and stylish HP Photosmart A618 Compact Photo Printer - the ultimate in convenient home photo printing. At just over one-and-a-half kilograms with it's convenient carrying handle and optional battery1 the Photosmart A618 compact photo printer makes an ideal companion whenever & wherever you need quick photo printing. Integrated Bluetooth connectivity2 means easy printing from compatible camera phones and devices while the flip-up 2.4inch image display means you can totally bypass the PC when editing, organising and printing photos. The new HP 110 Tri-colour Inkjet Print Cartridge contains dye-based inks for lab-quality, durable, smudge-resistant photos while the one-touch HP Photo Fix button removes red-eye and improves colour and contrast without a computer.
Key features
Integrated Bluetooth technology for easy printing from camera phones and other Bluetooth devices
Printing without a computer using the PictBridge slot, memory card slot or USB Flash Drive
Small, ultra-lightweight, fold-up design and optional HP Internal Battery for HP Compact Photo Printers means true portability
Prints a variety sizes including passport, 10 x 15 cm and 13 x 18 cm - even prints video frames and greetings cards.
New HP 110 Tri-colour Inkjet Print Cartridge is designed for use with HP's newest generation of Photosmart compact photo printers and HP Advanced Photo Paper. The inks are designed to deliver key photo printing attributes: excellent image quality, reliable performance, and durability.
This maximum durability provides a premium water and fade resistant solution for compact photo printers based on HP's exacting testing criteria3.
10x15cm photos in as fast as 39 seconds from only 20p a photo4
One-touch HP Photo Fix button automatically removes red-eye, sharpens blurred images and improves the overall brightness, colour and contrast of photos
Edit photos directly on the printer - edit, crop, zoom, and add creative touches
The HP Photosmart A618 Compact Photo Printer is expected to be available for purchase in August 2006 priced at149 GBP inc VAT. 5
The HP 110 Inkjet Print Cartridge with Vivera Inks is also available for purchase separately, priced at 14.99 GBP.
It can also be purchased with a higher ink volume as part of the HP 110 Series Photo Value Pack - comprising one HP 110 Value Series Tri-colour print cartridge and 120 sheets of HP Advanced Photo Paper - priced at 23.99 GBP. 5
About HP
HP is a technology solutions provider to consumers, businesses and institutions globally. The company's offerings span IT infrastructure, global services, business and home computing, and imaging and printing. For the four fiscal quarters ended April 30, 2006, HP revenue totaled $88.9 billion. More information about HP (NYSE, Nasdaq: HPQ) is available at www.hp.com.
1 HP Internal Battery for HP Compact Photo Printers not included. Please include separately
2 Visit www.hp.com/support/bluetooth for a list of compatible devices
3 Please see "HP Inkjet Photo Water Resistance testing and Performance Paper" on www.hp.com/go/printpermanence
4 Special offer with purchase of HP Photo Value Pack, Custom 110 Series, 10x15cm, 120 sheets. Based on estimated street price.
5 Price stated is UK Manufacturer's Recommended Selling Prices (MRSP) including VAT and is subject to change - actual price may vary by country.