Ilford Rebrands Galerie Range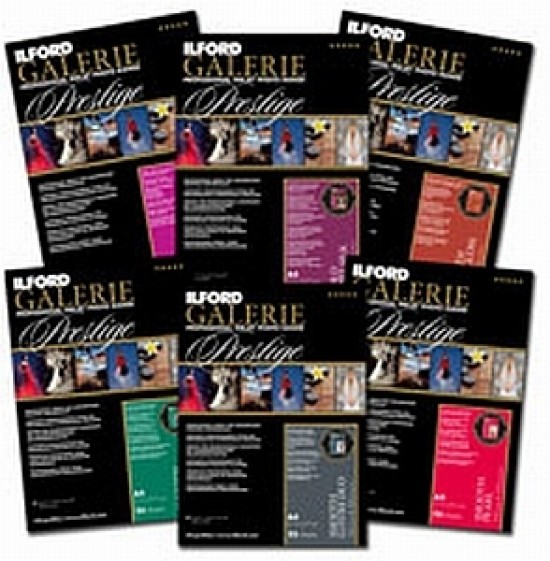 Ilford has announced that it is rebranding its popular ILFORD GALERIE range as ILFORD GALERIE Prestige (5*). "The evolution to GALERIE Prestige (5*) paves the way for a series of new product additions to be introduced in 2012 that combines state-of-the-art inkjet technology with in-demand artistic styles," the company says. "The additions will complement the already robust line of best-in-class media developed for professional photographers and creative professionals. In addition, the GALERIE range is now categorised in a star rating system, enabling professionals and consumers to quickly recognise the media that best suits their printing needs."
Ilford Press Release
ILFORD REDEFINES ITS GALERIE RANGE; ESTABLISHES PRESTIGE TO MEET THE EXACTING STANDARDS OF PROFESSIONAL PHOTOGRAPHERS
Rebranded as ILFORD GALERIE Prestige, the ILFORD GALERIE Lineup Retains Same High-Quality and Permanence Standards, and Adopts a Star Rating System for Instant Classification
Avon, CT & Marly, Switzerland – January 17, 2012 – ILFORD (http://www.ilford.com), a leading developer and manufacturer of professional quality media for both inkjet printing and color photographic processes, today announced that it is rebranding its popular ILFORD GALERIE range as ILFORD GALERIE Prestige (5*). While the packaging has changed, the media inside remains the same leading inkjet paper that professional photographers rely on to produce breathtaking prints with superior permanence qualities.
The evolution to GALERIE Prestige (5*) paves the way for a series of new product additions to be introduced in 2012 that combines state-of-the-art inkjet technology with in-demand artistic styles. The additions will complement the already robust line of best-in-class media developed for professional photographers and creative professionals. In addition, the GALERIE range is now categorized in a star rating system, enabling professionals and consumers to quickly recognize the media that best suits their printing needs.
GALERIE Prestige (5*) is developed for professional photographers and imaging professionals who demand high precision and accuracy. The specialty coating provides superior images and consistent results when used with a wide array of printers. This range includes the Gold Fibre Silk, Smooth Pearl and Smooth Gloss that recently received high print permanence ratings from Wilhelm Imaging Research, Inc., the world's leading independent permanence testing laboratory. Smooth Fine Art and Smooth Lustre Duo are also included in the range.
"ILFORD has a long tradition of providing the marketplace with media that delivers perfect images for every style, from traditional portraits to contemporary, highly-saturated commercial images," said Jane Dixon, Director of Global Marketing for ILFORD.  "With the introduction of ILFORD GALERIE Prestige, both professional photographers and photo enthusiasts can be sure the choices they make will best deliver the print results they desire. In addition, the advanced coatings on all ILFORD media, and on-going development from our in-house research and development team, ensure that all ILFORD media will continue to be compatible with a wide range of printers currently on the market and new printers that will hit the market in the future."
To further guarantee photographers exact the finest prints from each sheet of ILFORD GALERIE Prestige, and all ranges, detailed instructions for using ICC profiles are available at the ILFORD website.  A ReadMe file is available in the profile download section offering intuitive, step-by-step instructions. The carefully defined printer settings, created by technicians on the ILFORD Research and Development team, ensure optimal print results for the entire range.
About ILFORD
Founded in 1879, ILFORD is a leading player in the development and manufacture of photo quality media and other consumables for both inkjet printing and color photographic processes. The worldwide digital imaging and color photographic businesses, which include R&D and manufacturing operations in Switzerland, are owned by Paradigm Global Partners LLP.  ILFORD hosts its U.S. sales operations from its offices in Avon, CT.
The ILFORD name is well established in the history of imaging and today continues to be associated with cutting edge technology thanks to its strong links to the photo imaging marketplace, research and development, technical know-how and manufacturing capabilities.
For more information on ILFORD, please visit http://www.ilford.com/
Your Comments