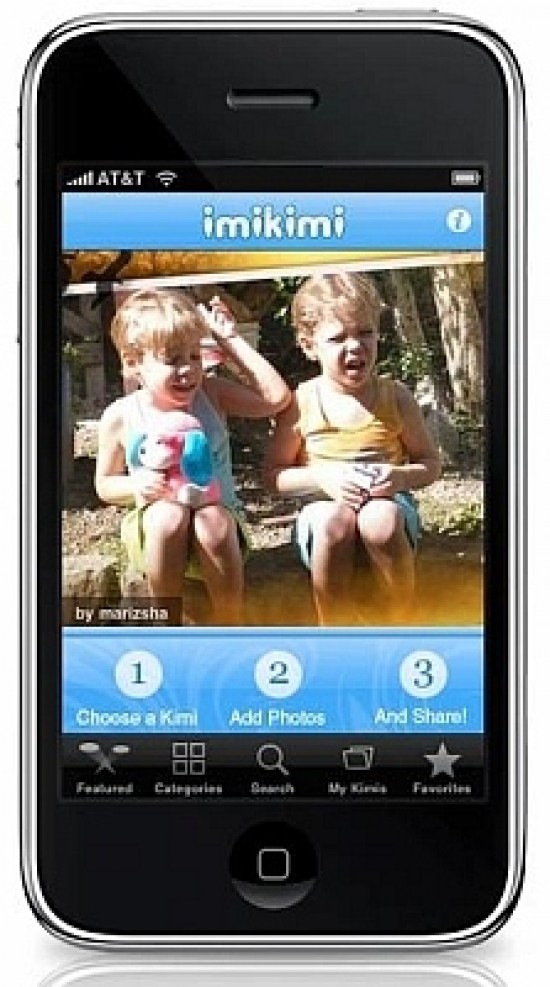 Imikimi has launched a new iPhone app that lets you frame your photos using over a million user-created frames, and then e-mail them or post them on Facebook or Twitter. You can frame photos from the Apple iPhone camera, your Photo Library or your Facebook account. Imikimi for iPhone offers excellent Facebook integration including friend tagging, the developer says. The app is available at the iPhone App Store.
Website: Imikimi for iPhone
Imikimi Press Release
Imikimi Launches iPhone App for Digital Photo Frames: Share Photos on the Web
The Imikimi iPhone app, now available for iPhones and iPod Touch, allows memories to be shared online with digital photo frames and cards created by Imikimi artists from around the world.
Seattle, WA (PRWEB) December 18, 2009 –- Just in time for Christmas, Imikimi announces the latest iPhone app (http://imikimi.com/iphone) for digital photo frames. Artists have created 47,081 digital photo frames & cards for special holiday photos from goofy to religious, and traditional to avant-garde. Special holiday memories can now be created from anywhere and shared with friends on the web.
The Imikimi digital photo frames (http://imikimi.com/main/categories/101) iPhone app and iPod Touch is available at the App Store.
Imikimi's digital photo frame app isn't just for Christmas; it's also a great way to share life memories year-round. Artists have created 1,753,835 photo frames and cards for every possible use, with hundreds being created every day. Photo frames are available for every imaginable purpose, occasion, and taste. With great tools for browsing and searching, it's easy to find the perfect frame for photos of friends, family, kids, and special occasions. There are even great frames for pets.
Imikimi Key Features for its iPhone App:
Customize Templates:
* Drop photos into 1,753,835 photo templates
* Templates for 1, 2, or more photos
* Multi-touch move, re-size and rotate photos
Add Photos From:
* Photo library and iPhone camera
* Use photos from Facebook, including photos tagged with friends
Share Customized Kimis
* Email
* Post to Facebook and tag friends
* Tweet on Twitter
See the high quality demo video for this new iPhone app (http://imikimi.com/main/mobile) at the Web site and learn about other great Imikimi App digital photo framing features.
"We want to bring fun and simple tools for sharing creativity to everyone on the web, wherever they are," says Shane Brinkman-Davis, Co-Founder and CTO of Imikimi.
About Imikimi (http://imikimi.com/AboutImikimi)
Imikimi.com is a global online community for sharing creativity where millions of people create, re-mix and collaborate on digital images in a fun and easy way. Imikimi artists have created 1,753,835 original photo frame templates and Imikimi users have uploaded a quarter-billion photos into them.
Your Comments