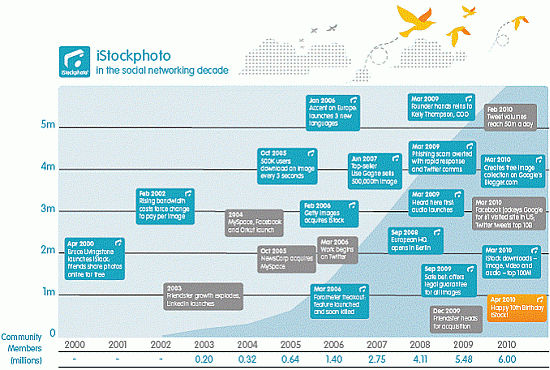 iStockphoto, the micropayment pioneer in stock imagery, has just turned 10. iStockphoto kicks off the celebrations with a 10th anniversary microsite, including detailed timelines and iStock history, and asked site members to upload self-portraits for the "Faces of iStock." More than 3200 people have participated from 89 countries. "The stock multimedia business model has transformed in the last decade, and although the model has changed, make no mistake, the demand for artistic stock is strong," said Kelly Thompson, COO. "With the decline of print, publishers who embrace new technology and understand its potential will not only survive, but flourish. As the leading e-commerce platform for affordable royalty-free stock imagery, video and sound, iStock is uniquely positioned to help these pioneers change the way people consume media."
Website: iStockphoto 10th Anniversary Microsite
iStockphoto Press Release
iStockphoto Celebrates 10th Anniversary and A Decade of Creating a Profitable Community
Visit www.iStock10.com for History, Videos and more than $20,000 in Cash and Prizes
CALGARY, Alberta, Canada, April 7, 2010 – iStockphoto, the micropayment pioneer in stock imagery, which first made great royalty-free images affordable and accessible to everyone, today kicks off a celebration of its first decade in business with cash and more than $20,000 USD in prizes at http://www.iStock10.com. iStock is globally known as one of the first social networks in the world and remains one of the few community-oriented sites to sell user-generated content, allowing its member artists to share in the profits. iStock currently pays $1.7 million weekly in artist royalties.
A decade and 100 million downloaded files later, it is nearly impossible to walk down a city street anywhere in the world, or watch TV without seeing an iStock photo, illustration or video. In fact, since the company began counting, six million registered members worldwide, on average, download a file every second. A timeline of key events, product launches, feature successes and failures of iStock's first decade can be found here: http://www.iStock10.com.
So, what does the future hold for iStock and its six million-strong community? More growth, according to COO Kelly Thompson, plus streamlined user experiences and a natural alignment with emerging business models such as digital magazines for the iPad.
"The stock multimedia business model has transformed in the last decade, and although the model has changed, make no mistake, the demand for artistic stock is strong," said Thompson. "With the decline of print, publishers who embrace new technology and understand its potential will not only survive, but flourish. As the leading e-commerce platform for affordable royalty-free stock imagery, video and sound, iStock is uniquely positioned to help these pioneers change the way people consume media."
Your Comments