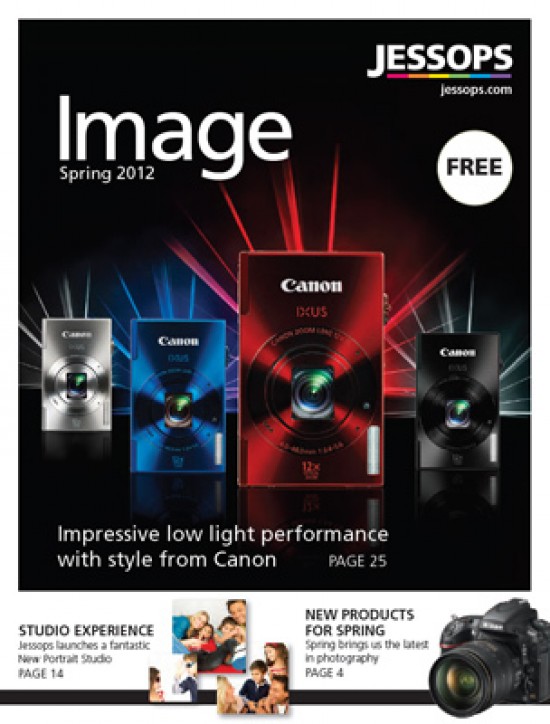 Jessops today launched the Spring edition of its Image magazine, available free at Jessops stores across the United Kingdom. This edition showcases new products and latest technologies that are stocked by Jessops and includes some handy guides and in-depth features on the latest products from leading manufacturers. Sean Emmett, Marketing & E-commerce Director at Jessops commented "We feel that the new magazine is a valuable asset for our customers because as well as being packed full of the latest technology and photographic innovation it also offers lots of advice and useful features to help our customers get even more from their photography."
Jessops Press Release
Jessops Launch Spring Image Magazine
29th March 2012 – Jessops, the UK's leading photographic retailer, today launches the Spring edition of its Image magazine, available free at Jessops stores nationwide.
The Spring 2012 edition showcases new products and latest technologies that are stocked by Jessops to help customers make the right decisions in buying the best products and accessories to suit their photographic needs. There are some handy guides and in-depth features on the latest products from leading manufacturers to assist the customer and give them the confidence they need to make that all important purchase.
To celebrate the forthcoming Diamond Jubilee, Jessops has included a hints and tips feature on street party photography and ways to make a keep sake box of still images and video. There is also a helpful feature on fun things do to with children to while away the hours over the Easter holidays including an 'Easy Photo Project' and within this things to look out for when selecting a child-friendly camera suitable for spontaneous snapping.
Sean Emmett, Marketing & E-commerce Director at Jessops commented "We feel that the new magazine is a valuable asset for our customers because as well as being packed full of the latest technology and photographic innovation it also offers lots of advice and useful features to help our customers get even more from their photography."
Your Comments