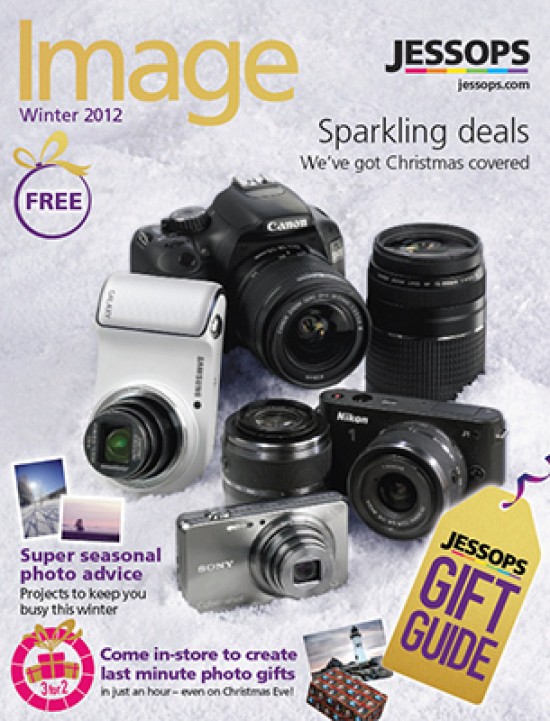 Jessops today launched the Winter edition of its Image magazine, available free at Jessops stores across the United Kingdom. This edition features a number of helpful guides and in-depth articles to help customers make the most of their photography at this time of year. The new magazine also features an extensive gift guide and a number of reviews of the latest products from leading manufacturers. Commenting on the latest edition of Image magazine, Sean Emmett, Marketing & E-commerce Director at Jessops says, "As the UK's leading photography retailer, we are uniquely placed to offer impartial advice and the widest choice of products to our customers.  With technology advancing so quickly, Image magazine offers a quick and easy way for customers to stay up-to-date with the very latest cameras and accessories. This edition acts as a brilliant gift guide that I believe will really help our customers when buying gifts this season."
Jessops Press Release
Jessops Launch Winter Image Magazine
15th November 2012 – Jessops, the UK's leading photographic retailer, has announced the launch of the Winter edition of its Image magazine. The magazine will be available free at over 180 Jessops stores nationwide from 15th November 2012.
The Winter 2012 edition features a number of helpful guides and in-depth articles to help customers make the most of their photography at this time of year. The new magazine also features an extensive gift guide that will help you buy your loved ones the perfect festive present, whether they are an amateur or a professional, catering for all budgets – Jessops have something for you and in addition a great selection of Jessops's Christmas special offers are included in the magazine to help you have a very cheerful Christmas. Jessops will continue to make 1 hour photo products in-store even on Christmas Eve, so if you really have left it last minute the Jessops catalogue will show you what great personalised products you can still pick up - including the great 3 for 2 mix and match offer on instant gifts, posters and wall art.
A showcase of half price telescopes 'Gifts for Stargazers' gives practical tips on what to look for when choosing a telescope this Christmas. The Winter edition also includes a number of reviews of the latest products from leading manufacturers to help customers make the right decision when purchasing a new camera.  The reviews, which are written by a group of experienced photographers at Jessops, provide information on the very latest technology such as superzoom compact cameras; compact system cameras and Digital SLR cameras available in the market. A special feature is included on the brand new Samsung Galaxy camera, a truly connected camera.
Jessops is offering an amazing deal this Christmas, with every Samsung NX1000 and Samsung NX20 you buy; you receive a free Samsung 7" Galaxy Tab2 worth £199.99, plus up to £100 cashback from Samsung. The new magazine features details of this offer so along with the great gift guide, you are bound to get gifts that are at the top of everyone's wish list.
There is also a chance for one lucky reader to win a Nikon D3100 – pick up your copy to see how to enter and win this fantastic prize!
Commenting on the latest edition of Image magazine, Sean Emmett, Marketing & E-commerce Director at Jessops says, "As the UK's leading photography retailer, we are uniquely placed to offer impartial advice and the widest choice of products to our customers.  With technology advancing so quickly, Image magazine offers a quick and easy way for customers to stay up-to-date with the very latest cameras and accessories. This edition acts as a brilliant gift guide that I believe will really help our customers when buying gifts this season"
Your Comments