JVC GZ-MC500 Digital Media Camera Revealed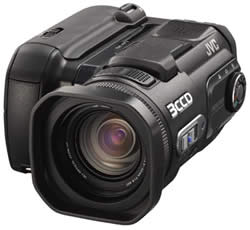 JVC GZ-MC500 Digital Media Camera is launched today at PMA 2005. The JVC GZ-MC500 is a 5 megapixel digital camera that records both still and moving images. The JVC GZ-MC500 uses three CCDs rather than one, dedicating 1.33 megapixel CCD to the red, green and blue colour channels, which JVC claims broadens dynamic range and produces sharp, vivid color with good contrast and low light performance. The JVC Everio GZ-MC500 will be available in March for $1,799.95.
ORLANDO, FL, February 20, 2005 – Just months after its launch of the world's first hard disk camcorders, JVC today announced a 3-CCD version that offers high quality 5-megapixel performance when shooting digital stills.
The new GZ-MC500 Digital Media Camera is the newest member of the JVC Everio family – the only currently available camcorders that record onto a hard disk. Like the single-CCD Everio camcorders launched last fall, the GZ-MC500 records 60 minutes of DVD-quality video or thousands of photo-quality stills to a Microdrive® removable hard disk. With this newest Everio, JVC combines these benefits with 3-CCD/5-megapixel performance.
The use of three CCDs combined with advanced pixel shift technology allows the GZ-MC500 to deliver 5 megapixel-class digital stills with a maximum size of 2560 x 1920 pixels, and a broadened dynamic range when recording still or moving images. The result is naturally sharp, vivid color, good contrast and clean mages or videos with good low light performance.
The benefits of recording video to a hard disk are the same benefits that have made hard disk-based audio players so popular – random access to quickly locate desired material, the ability to effortlessly delete unwanted material, and easily rearrange playback sequence. What's more, there's no danger of mistakenly recording over something you want to keep.
3-CCD/5-Megapixel Performance
The GZ-MC500 creates sharp and vivid images by dedicating a 1.33 (1.23 effective) megapixel CCD to each color – red, green and blue. JVC's advanced prism optics and filterless 3-CCD pixel shift technology quadruple the pixel count to record 5 megapixel-class stills. Simply put, the pixel shift technique, used also in JVC professional cameras, captures double the 1,228,800 pixel information in both the horizontal and vertical directions, creating a real full color image pixel count multiplied by four for stills. (Everio uses 691,200 effective pixels for each RGB video color.) The broader dynamic range delivers videos with bright realistic colors and photo-quality digital stills up to 2560 x 1920 pixels for beautiful 8" x 10" or A4 prints. JVC optics using three dimension angle mounting technology assures high precision prism/CCD registration with accuracy on the order of one micron.
Other Image-Enhancing Features
To fully capitalize on the camera's inherent picture performance, JVC's Megabrid Imaging Engine separately processes video and still signals, providing optimal processing for each. Megabrid technology assures high sensitivity and a high signal-to-noise ratio for moving pictures, and clear, high resolution progressive still images. Encoding of the image to MPEG-2 data is handled by the world's smallest MPEG-2 codec chip, developed by JVC.
The GZ-MC500 also features a high resolution 10x optical zoom (8x for stills) JVC lens and shoots native 4 x 3 or 16 x 9 (squeeze) video.
A challenge in designing and building a hard disk camcorder is protecting the disk from shocks and vibrations. JVC addressed this issue with a unique floating suspension system that effectively dampens vibrations through advanced polymer shock absorbers that automatically engage when the disk is writing/reading (and therefore most vulnerable), and disengage to allow disk ejection/loading.
Pro Design/Easy Operation
The GZ-MC500 is slightly larger than the previous two Everio models to ensure that the more demanding user can easily operate the camera's manual controls. Key among these is a manual focus ring on the lens barrel for easy complete control.
A large Program AE dial on the side of the unit makes it easy to select from Shutter Priority, Aperture Priority, Twilight, Sports, Snow, Portrait, and Auto/Manual modes. Furthermore, the GZ-MC500 offers Auto Bracket, which when the shutter is pressed automatically shoots three shots, each at a slightly different exposure setting. Other controls include Backlight and Spotlight Compensation, as well as a Real-time Histogram Display to graphically show exposure distribution within the image.
The GZ-MC500 features the rotating grip design found on the current Everio GZ-MC200. The camcorder's two sections – the grip and the lens/body assembly – pivot so the lens portion can be tilted without the user changing hand location. This makes it easy to quickly transition to a high or low shooting angle, and affords a number of comfortable and stable single and two handed shooting positions.
MPEG-2 High Quality Video Clips
In the video camera mode the GZ-MC500 shoots up to 60 minutes of high quality MPEG-2 video clips on the supplied removable 4GB Microdrive card. A choice of four recording modes lets users choose between more shooting time or higher quality, depending on their needs. The highest quality Ultra mode records at a fixed data rate of 8.88 Mbps including Dolby Digital audio (8.5 Mbps video plus 384kbps Dolby Digital Audio) — comparable to the DVD (average 4 Mbps video/9.8 Mbps maximum) data rate — for essentially DVD-level quality in the same video and audio format as a movie DVD. As a result, Everio images can be enjoyed on a large-screen display, including plasma, LCD and rear projection TVs, without the quality loss suffered by other formats when presented on a large display. A convenient multi-connector AV/S-Video cable is included for direct connection.
Video recording capacity per 4GB Microdrive®
ULTRA FINE NORM ECO
Video bit rate(1) 8.5 Mbps 5.5 Mbps 4.2 Mbps 1.5 Mbps
Image size (PAL models) 720x576/50i 720x576/50i 720x576/50i 352x288/25p
Image size (NTSC models) 720x480/60i 720x480/60i 720x480/60i 352x240/30p
Recording time 60 min. 90 min. 120 min. 300 min.
(1) Bit rate is fixed for ULTRA and FINE modes, variable for NORM and ECO modes.
Photo Quality JPEG Digital Stills
The digital still camera mode shoots JPEG digital stills at up to 2560 x 1920 pixels, for excellent quality even for large 8" x 10" or A4 prints. Users select picture quality and image size to match their needs, whether for photo printing, documents or e-mail. Thousands of pictures can be shot with the Microdrive's large storage capacity.
Still shooting capacity per 4GB Microdrive®
Quality mode Image Size
2560x1920 2048x1536 1600x1200 1280x960 640x480
FINE 1800 4400 6900 8800 9999
STD 2800 7300 9999 9999 9999
Above figures are approximate as file size will differ according to type of subject.
Digital Media Camera Multiple Advanced Interfaces
The camera stores images and video on the included 4GB Microdrive card. The same CF slot can accommodate user-supplied CompactFlash Type 2 cards. There is a separate SD memory card slot. Microdrive is a hard disk drive that's the same size as a CompactFlash Type 2 card, but with much greater capacity. It can be removed, just like a CompactFlash or SD memory card, and data loaded into a PC using an optional card adapter up to 4-5x real time speed depending on the PC and adapter.
For quick downloading to a PC, simply connect the camera via its USB 2.0 interface (requires Windows XP/2000/ME). All transfer is digital-to-digital (approximately 4x or better real time speed depending on the PC), so there is no quality lost in the process. And since the camera supports PictBridge, it can be connected via the USB terminal to a compatible printer to easily print stills directly from the camera. Also, DPOF (Digital Print Order Format) support allows the menus on the camera screen to be used to conveniently select images and quantity before giving removable media to a printing service.
Make Full-length DVDs Easily
The CyberLink DVD Solution bundled with the GZ-MC500 comprises three applications that make it easy to make and watch full-length DVD movies. A standard 4.7GB single-layer DVD-R/RW disc holds over one hour of an Ultra mode movie, and over 90 minutes of a Fine mode movie.
PowerProducer™ offers easy saving and authoring of video clips in any order to DVD, even directly from a USB-connected camera, so users can share original DVDs with anybody who owns a DVD player. The software makes it easy to locate and transfer video files residing on the camera's Microdrive. Saving to DVD requires only a PC with 256 MB RAM, 700MHz or above Pentium III, USB 2.0 terminal and a DVD burner.
PowerDirector™ Express offers feature-rich non-linear editing so users can flex their creative muscle with titles and even mix stills with videos. PowerDirector Express also converts movies to a variety of file formats to send via the Web or e-mail. Supported formats include DV-AVI, Windows-AVI, MPEG-1 and MPEG-2, as well as Windows Media Video and RealVideo that can be streamed over the Internet.
PowerDVD™ conveniently plays back video clips and DVDs with Dolby Digital audio.
Note: Applications not compatible with Macintosh.
The JVC Everio GZ-MC500 will be available in March at a nationally advertised value of $1,799.95.
About JVC Company of America
JVC Company of America, headquartered in Wayne, New Jersey, is a division of JVC Americas Corp., a wholly-owned subsidiary of Victor Company of Japan Ltd., and a holding company for JVC companies located in North and South America. JVC distributes a complete line of video and audio equipment, including high definition displays, camcorders, VCRs, D-VHS recorders, DVD players and recorders, satellite systems, home and portable audio equipment, mobile entertainment products and recording media. For further product information, visit JVC's Web site at http://www.jvc.com or call 800-526-5308.
JVC Everio GZ-MC500 Key Features
Three 1/4.5-inch 1.33 Megapixel CCDs for High-Quality Image Capture
5 Megapixel-Class Digital Still Recording Up to 2560 x 1920 pixels (JPEG file)
Manual Focus Ring with Push Auto-Focus button for Precision and Creativity
Built-in Pop-up Flash
Program AE and Manual/Auto Mode Dial
Advanced Photo Functions Including Auto Bracket (+/- 1/3Fstop & normal) and Real-Time Histogram Display
JVC Compact Rotating Grip Design
Weight: 400 Grams; Volume: Under 480 Cubic Centimeters
4GB Microdrive® Removable Media Provided
Microdrive®/CompactFlash card and SD Dual Card Slots for Extra Data Storage and Transfer
High-Quality MPEG-2 Video Recording (up to 720 x 480/60i in ULTRA mode) with Dolby Digital Audio (MOD file)
Megabrid Engine for Optimal Video and Still Quality
High Resolution JVC Lens
4x3 and 16x9 (squeeze) video modes
10x (8x for stills) Optical Zoom/200x Digital Zoom
35mm equivalent optical ranges:
16:9 video – 37.8-378mm
4:3 video – 46.2-462mm
Still Picture – 43-334 mm
Basic Features
User-Friendly GUI for Easy Operation and Setting
Thumbnail Picture for Easy & Quick Viewing
1.8" LCD Monitor
48kHz/16-bit Stereo Voice Recorder Function (WAV file)
USB2.0 for High-Speed Transfer
Easy Printing with PictBridge and DPOF Support
Auto and Manual Focus
Digital Image Stabilizer
Exposure (Video: -6 ~ +6, Stills: -2EV ~ +2EV)
Shutter Speeds (Video: 1/2 ~ 1/4000 sec. /Still: 1/2 ~ 1/500sec.)
Gain Up Video Sensitivity Setting
ISO 100, 200 (preliminary) Still Sensitivity Settings
Program AE (Sports, Snow, Spotlight, Twilight, Portrait, Shutter Priority, Aperture Priority)
Backlight/Spotlight Compensation
White Balance (Auto, MWB, Fine, Cloud, Halogen)
Self-Timer (2sec/10sec)
Motor-Drive Shooting
Macro Shooting as Close as 5cm With Zoom Set to Wide.
Tele-macro Shooting Distance: Up to 60cm.
Voice Recording Mode (FINE, STANDARD, ECO) Records .wav Files With 16 Bit 48kHz PCM Sampling at up to 1.5 Mbps; 5 hrs and 47 min. in Fine Mode With 4GB Microdrive; 34 hrs. 43 min. in Eco Mode (8kHz sampling, 256kbps)
Wind Cut to Remove Wind Noise
Record Special Effects (Sepia, Black & White)
Info Display: File, Folder, Date, Start Time, Playback Time, Video Mode, Protection
Appealing Design for "Thumbstick"-Operated Animated Camera Control Menu and Thumbnail Index System for Easy Clip and Image Location and Management
Playlist Video Clip Playback and Slide Show Still Playback
Playback Special Effects (Sepia, Black & White, Strobe)
Playback Scene Transitions (White Fader, Black Fader, Black & White Fader, Corner Wipe, Window Wipe, Slide Wipe, Door Wipe, Scroll Wipe, Shutter Wipe)
Provided Accessories
4GB Microdrive®
AC Power Adapter
Rechargeable Battery
AV/S-Video Out Multi-connector Cable
USB Cable
Software CD-ROM (Digital Photo Navigator, CyberLink DVD Solution)
Optional Accessories
CU-ASD032/ASD064 32 and 64 MB SD Memory Cards
VU-VM10KIT Battery Kit (aluminum carrying case and rechargeable lithium-ion battery pack)
AA-V200 Dual Battery Charger
BN-VM200 Rechargeable Lithium-ion Battery Pack (800mAh)
CB-VM20 Carrying Case