Kingston DataTraveler Secure Privacy Edition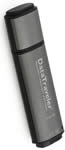 Kingston Technology Press Release
[21 November 2006]  Kingston Technology today announced the availability of its new DataTraveler Secure Privacy Edition, a USB Flash drive specifically designed to meet enterprise-level security and compliance requirements.  Kingston Technology's DataTraveler Secure Privacy Edition is the world's first USB Flash drive that guarantees 100 percent security for your data whilst on the move.  Featuring a 256-bit hardware-based AES encryption, the Privacy Edition offers fail-safe security and is the perfect solution for organisations looking for an efficient and cost-effective method to secure important data.
Equipped with a complex password protocol and a mechanism that locks out would-be hackers and any unauthorized users after ten consecutive failed password attempts, the DataTraveler Secure Privacy Edition removes the pressure placed on employees to protect their sensitive business information.
The new drives feature titanium-coated stainless steel casings designed to withstand harsh working environments and operating conditions. It is also waterproof - conforming to the International Electrotechnical Commission (IEC) standards - to protect against water damage to depths of up to four feet (1, 22 metres).
Slightly larger than a small pack of chewing gum, the DataTraveler Secure Privacy Edition offers superior performance, with read and write speeds of up to 24 MB/sec and 10 MB/sec. It is also available in storage capacities of up to 4 GB and comes with a five-year warranty and full customer support.
Kingston Technology DataTraveler Secure Privacy Edition Specifications
Dimensions: 3.06" x 0.9" x 0.47" (77.9mm x 22.2mm x 12.05mm)
Casing: Titanium-coated stainless steel
Capacities: 512 MB, 1 GB, 2 GB, 4 GB
Compliant: Designed to USB 2.0 specifications
Operating Temperature: 32º F to 140º F (0º C to 60º C)
Storage Temperature: - 4º F to 185º F (-20º C to 85º C)
Compatibility: Win 2000 SP4 or higher, Win XP SP1 and above
Features/Benefits
Secure: Uses 256-bit AES hardware-based encryption
Waterproof: Protected against water damage to depths of 4 feet (1, 22 metres)
Fast: Data transfer rates of up to 24 MB/sec read and up to 10 MB/sec write
Enhanced: For Windows Vista ReadyBoost technology
Safeguarded: Includes MyDataZone access security software for Windows
Easy to Use: Plug and play into any USB port; includes My Traveler file management software
Guaranteed: Five-year warranty
Kingston Technology DataTraveler Secure - Privacy Edition  
Part Number   MSRP (Without VAT) NB: Prices subject to change  
DTSP/512     £ 31  
DTSP/1GB     £ 48  
DTSP/2GB     £ 83  
DTSP/4GB     £ 176
For more information about the DataTraveler Secure - Privacy Edition, please visit the Kingston Technology's web site at www.kingston.com/PrivacyUSB .