Kodak Gold 200 Film Enhanced
PMA 2007: Kodak Gold 200 is a new consumer film which provides brighter colour and deeper saturation, has an extra stop of speed and is suited to general lighting conditions. The new Kodak Gold 200 Film will be available in the UK from early April.
Kodak Introduces an Enhanced Version of its Most Popular 35mm Consumer Film
New KODAK GOLD 200 Speed Film Offers Consumers Brighter Colours
London, March 9, 2007 – With consumers worldwide continuing to use film, Eastman Kodak Company has introduced a new consumer film, KODAK GOLD 200, designed to give consumers high-quality picture-taking choices.  Kodak has improved the emulsion to provide brighter colour, while maintaining the combination of colour saturation, colour accuracy, and sharpness in the film.  KODAK GOLD 200 is an excellent option for picture-taking under general lighting conditions.
"In an 'and' world, where consumers use both digital and film, we focus on providing them with the best choices to capture and print their stories," said Julian Baust, Country Manager, Eastman Kodak Company.  "When using the new KODAK GOLD Films, consumers can create bright, vivid photographs, even at low speeds and various lighting conditions.  Consumers have rewarded our ongoing innovation by choosing KODAK films almost three times more than the next leading competitor."
·      KODAK GOLD 200 Film, with an extra stop of speed, now delivers even brighter colours and deeper colour saturation than before, for sharp, snappy prints.  GOLD 200 Film is also great for enlargements, or for obtaining very high-quality results when scanning for digital output.
The new KODAK 200 Film will be available in the UK from early April.
About Eastman Kodak Company
Kodak is the world's foremost imaging innovator. With sales of $13.3 billion in 2006, the company is committed to a digitally oriented growth strategy focused on helping people better use meaningful images and information in their life and work. Consumers use Kodak's system of digital and traditional products and services to take, print and share their pictures anytime, anywhere; Businesses effectively communicate with customers worldwide using Kodak solutions for prepress, conventional and digital printing and document imaging; Creative Professionals rely on Kodak technology to uniquely tell their story through moving or still images; and leading Healthcare organizations rely on Kodak's innovative products, services and customized workflow solutions to help improve patient care and maximize efficiency and information sharing within and across their enterprise.

More information about Kodak (NYSE: EK) is available at www.kodak.com.

Kodak and Gold are trademarks of Eastman Kodak Company.
2007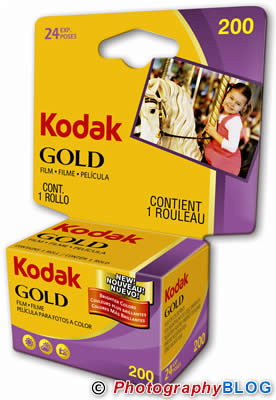 Your Comments