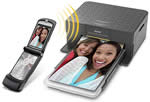 Kodak Press Release
ROCHESTER NY and COLOGNE GERMANY, September 26—Taking a bold new step in wireless printing technology, Eastman Kodak Company today announced the KODAK EASYSHARE Photo Printer 350—an affordable, innovative, and easy-to-use printing solution ideal for camera-equipped mobile phones. Using state-of-the-art BLUETOOTH® wireless technology, the Photo Printer 350 can wirelessly print 4x6-inch photos directly from BLUETOOTH technology-enabled devices.  Additionally, the Photo Printer 350 works with any PICTBRIDGE-enabled digital camera or camera phone and can quickly print pictures from personal computers using USB 2.0. "As the latest addition to Kodak's award-winning line of EASYSHARE printers, we are proud to introduce the EASYSHARE Photo Printer 350.  Kodak is committed to offering consumers a smart and simple photo printing solution at an affordable price that does not sacrifice quality," said Lisa Vandemark, Worldwide Marketing Director, Kodak's Home Printing.  "Helping to free pictures wirelessly from their mobile phone, the Photo Printer 350 is an essential companion to any BLUETOOTH technology-enabled camera phone and part of a cool, interactive printing experience."
With KODAK XTRALIFEtm lamination, people can enjoy fingerprint proof, waterproof, and worry-proof prints. Bundled with Kodak's award-winning EASYSHARE software, the Photo Printer 350 offers an all-in-one photo suite package for ultimate personalization at an affordable price (Australian $199 MSRP; available initially in Australia on October 1, 2006).
The KODAK Photo Printer 350 seamlessly integrates BLUETOOTH wireless technology into a home snapshot photo printer, removing any need for expensive accessories. Within seconds, pictures can be wirelessly transferred straight from the camera phone and into the printer. The Photo Printer 350 also supports many customizable features that may be offered by the phone, allowing users to select unique print sizes, choose fun layouts, and include text from their camera phones directly to the printer and onto the photo.
The KODAK EASYSHARE Photo Printer 350 provides great value and creates pictures that last a lifetime under typical home display conditions. The printer comes equipped with a KODAK color cartridge and photo paper starter kit, KODAK EASYSHARE software, and a USB cable. This innovative package sets the new benchmark in photo printing from mobile phone cameras, making it easy to print directly from your phone right out of the box.
About Eastman Kodak Company
Kodak is the world's foremost imaging innovator, providing leading products and services to the photographic, graphic communications and healthcare markets. With sales of $14.3 billion in 2005, the company is committed to a digitally oriented growth strategy focused on helping people better use meaningful images and information in their life and work. Consumers use Kodak's system of digital and traditional image capture products and services to take, print and share their pictures anytime, anywhere; Businesses effectively communicate with customers worldwide using Kodak solutions for prepress, conventional and digital printing and document imaging; Creative Professionals rely on Kodak technology to uniquely tell their story through moving or still images; and leading Healthcare organizations rely on Kodak's innovative products, services and customized workflow solutions to help improve patient care and maximize efficiency and information sharing within and across their enterprise. More information about Kodak (NYSE: EK) is available at www.kodak.com.