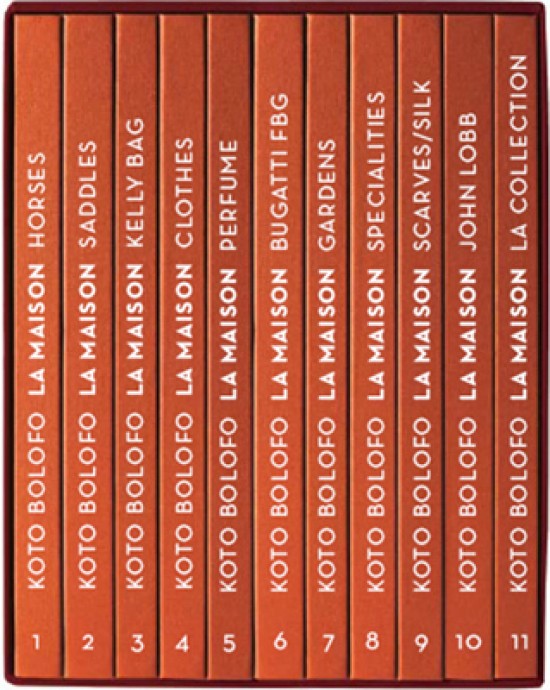 La Maison is a new series of books by Lesothan photographer Koto Bolofo. Bolofo's dream came true in 2004 when he started working for Monde d'Hermès, photographing craftsmen making handbags, saddles, scarves, prêt-à-porter, and shoes. The result is a collection of 11 books published by Steidl. Priced at £103 / €115 / $125, La Maison will be released in December.
Press Release
La Maison by Koto Bolofo
Edited by Koto Bolofo and Gerhard Steidl
Text by Ménéhould du Chatelle
Book design by Koto Bolofo and Gerhard Steidl
11 clothbound hardcover books housed in a slipcase
18 cm x 23.2 cm
ISBN: 978-3-86521-912-1
£103.00 €115.00 $125.00
Published by Steidl
Publication date: December 2010
Koto Bolofo's dream came true in 2004 when he started working for Monde d'Hermès, the Hermès magazine, and when he met the Chairman: "Mr Dumas asked where I came from. I said South Africa. He asked what part. I said Lesotho. He was shocked and very excited. He explained that his great great great grandfather was a missionary in Lesotho and that the Zulus used to attack his mission, but the Sothos – my tribe – protected him. I was very happy to be a Lesothan in Mr Dumas's office that day. He called me his cousin and said that his cousin was welcome any time and I had carte blanche to photograph what I liked in Hermès".
Over the next six years, Koto Bolofo worked his way through all the workshops of the Maison Hermès, getting to know the craftsmen and discovering how everything is made: from handbags, perfumes, scarves, prêt-à-porter, and shoes to the original objects of the house, saddles. Nothing escaped his lens, even the most secret places, such as the museum, a treasure trove of history and all things Hermès tucked away in the midst of the Maison on rue du faubourg St Honoré.
Koto Bolofo
Koto Bolofo was born in South Africa in 1959, but was raised in Great Britain after his family was forced to flee as political refugees. Bolofo's father, a history teacher, was found to have writings by Karl Marx among his teaching materials and was exiled for his supposed "communist practices." After nearly 25 years absence, father and son returned to South Africa, which Koto documented in his short film The Land is White, The Seed is Black. Along with his short films, Bolofo has worked for such prestigious publications as German Vogue, Italian Vogue, Italian Vanity Fair, Nippon , L'Uomo Vogue, Russian Vogue, Italian Marie Claire, British GQ, Sport and Style, Provider and many others. His advertising clients include Hermès, Banana Republic, Façonnable, Burberry, Levi's, Alberta Ferretti, Dom Pérignon and Keratese. Bolofo is currently based in Paris.
Previous books include Venus (steidl, 2008),I Spy With My Little Eye, Something beginning with S, (steidl 2010) Vroom! Vroom!, (steidl 2010) Grande Complication, (steidl 2010) Horse Power, (steidl 2010)
Your Comments