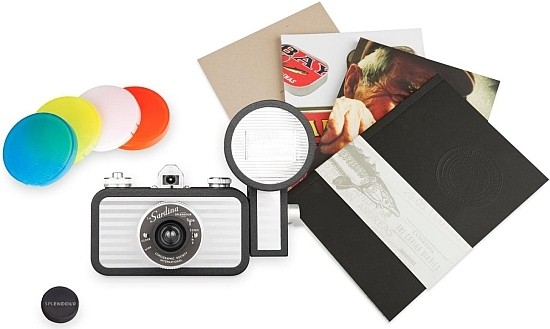 The Lomographic Society has launched the special-edition La Sardina Splendour 35mm film camera. Commemorating the early days of street photography, the Sardina Splendour features a 22mm f/8 lens, and comes bundled with the dedicated Fritz the Blitz flash gun. The camera is available in the Lomography Online Store for €179.
The Lomographic Society Press Release
LA SARDINA SPLENDOUR
Original Design: Wrapped in hammer finish metal this camera commemorates the early days of street photography
Street Photography: Equipped with the incredible Fritz The Blitz the La Sardina Splendour was designed to bring photography back to the streets
Hey Ho, Sailor! Lomography Gallery Stores worldwide will celebrate the launch of this camera with 1940s Sailor Parties!
 
Original Design
There might be very few people out there who actually remember the days when photography hit the streets for the first time. To give you a little taste of what it used to be we designed the La Sardina Splendour with fine hammer finish metal and elegant lines - a remake of the original Sardine Can Camera – the Kandor Candid. Even back in the days when street photography had to be spontaneous, direct and very well timed, so take this little wide-angle gem with you and keep in mind the Ten Golden Rules of Lomography while celebrating the new uprising of street photography!
Street Photography
When it comes to street (or candid) photography it's all about this very special moment - when reality shows its face. In the 1890s the first portable cameras were produced and enable photographers to go out and show the world through their lenses. The Kandor candid camera was one such camera produced in the 1940s and part of a family of novelty cameras that channelled the sleek and classic design of the humble sardine can – only with a camera stuffed inside it! Its elegant looks and fine hammer finish are still so appealing that we could not resist releasing a replica of the camera that started our love for La Sardina. Equipped with the incredible Fritz The Blitz the La Sardina Splendour knows how to handle the streets!
Hey Ho, Sailor!
You know, we loooove to party and for this special occasion we invite you to join our La Sardina Splendour launch parties in Gallery Stores worldwide! Dress up in your finest 1940s sailor outfit and show up in one of our Gallery Stores on April 12 to experience a swinging night of 1940s glamour and celebration. Don't forget to bring your cameras to practice some spontaneous and wild street photography while welcoming the La Sardina Splendour and have your loved one with you to re-enact the famous kiss of the Sailor in New York's streets.
TECHNICAL DETAILS
Film Type: Standard 135 roll film
Exposure area: 36 x 24mm
Lens focal length: 22 mm
Aperture: 1:8
Angle of view: 88 degrees
Focusing range: 0.6m - infinity
Shutter speed: N (1/100), B (bulb)
Multiple exposure: independent MX switch
Flash contact: Unique Sardina flash contact
Flash Sync: first curtain X-type synchronization
Tripod socket thread: Standard ¼" tripod socket
Cable release: Universal cable release socket
Price:  179 EUR
Your Comments