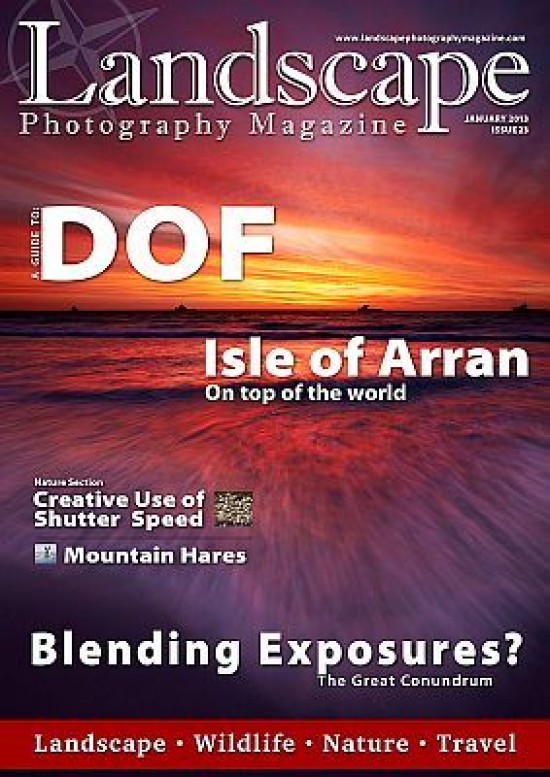 Issue 23 of Landscape Photography Magazine is now available for download. This edition includes a guide to depth of field, a review of the book "Photographing the Elements" by David Hay, a review of the Pentax 645D digital SLR camera, an interview with David Wiggett, an article on the creative use of shutter speed by Mark Sisson - and much more. Do note that the full contents of Landscape Photography Magazine are available to subscribers only.
Website: Landscape Photography Magazine
Landscape Photography Magazine Press Release
Issue 23 of landscape photography magazine is out now.
Published every month, LPM and its accompanying website has over 170,000 unique visitors in more than 190 countries, making it a truly international photography magazine for the digital age. Packed with refreshing content, exciting features and stunning imagery from around the world - all provided by innovative professionals who share one passion - that of landscape photography. It makes no difference if you are using a large format or a compact camera, LPM welcomes everyone the same way. We are here to promote, educate, inspire; this is what we do, this is who we are.
Besides our regular columns from our inspirational photographers and authors, this is what else we have in store for you this month:
A guide to: Depth of Field
Aperture: Sunrise on top of the world - Isle of Arran, Scotland
Book Review: David Hay is reviewing "Photographing The Elements"
Boris Mar is around Australia's Northern Territory
Expose: Fabien Greban from France
Featured Artist: Louise Denton
From the Hide: Mountain Hares with Mark Hamblin
Gear Test: Pentax 645D
Inspirations: Hope Valley, Peak District, England with Martyn Button
In Conversation… Darwin Wiggett
On the map: Mazar, north western China
Portfolio: Dylan Toh & Marriane Lim
Terra Fauna: Creative use of shutter speed with Mark Sisson
Note that the full contents of Landscape Photography Magazine are available to subscribers only.
And of course, some exceptional landscape and nature photography sent in by our readers. Landscape Photography Magazine, a publication full of inspiration.
http://landscapephotographymagazine.com/
Your Comments