Leaf AFi Medium-Format Digital Camera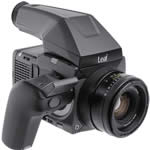 Leaf Press Release
Leaf introduce the Leaf AFi, a new medium-format digital camera for professional photographers.
Herzlia, Israel (October 4, 2006) - Leaf, the acclaimed leader in the design of digital backs for professional photographers and developer of the world's fastest digital camera backs, announced today the introduction of the Leaf AFi - a new, nextgeneration, medium-format digital camera aimed at professional photographers. The Leaf AFi is specifically designed for high-resolution digital photography, and is seamlessly integrated with the new Leaf Aptus S-Series digital camera backs. The Leaf AFi product line will include three models: Leaf AFi -75, Leaf AFi -65 and Leaf AFi -54.
Leaf solutions are based on the premise that a professional digital camera should operate intuitively, becoming an extension of the photographer's hands, while supporting maximum creative freedom and technical excellence. With this in mind, Leaf developed this new medium format digital camera solution to match the specific demands of high-resolution digital shooting. The Leaf AFi provides professional photographers with a 6 x 6 medium-format digital camera solution in a compact 6 x 4.5 design. The Leaf camera addresses the needs of professional photographers who require the combination of quality, speed and control, united into a simple to use and robust system. The Leaf AFi is flexible, easily adaptable, and fully compatible with the Leaf digital back technology.
Dov Kalinski, General Manager of Leaf comments: "Leaf has the reputation for delivering uncompromising quality, and accordingly, the new Leaf AFi has been designed with the very best components available. The Leaf AFi features an extraordinary integration of top-of-the-line components, including a newly-developed medium-format camera, high quality auto-focus digital Schneider- Kreuznach lenses (AFD) that are specifically designed for professional photographers and a new and advanced Leaf digital camera back."
Based on a newly designed camera body, the Leaf AFi enjoys a wealth of unique features, including:
• Changeable viewfinder system (waist level or 90°/prism view)
• Specially designed Schneider-Kreuznach digital lenses for speed and sharp images
• Adjustable control grip provides ergonomically optimal angles for different shooting positions
• Switching between portrait and landscape by turning only the camera back; no need to turn the camera
About Peartree Rental: Digital Innovation
Peartree Rental Ltd is a specialist digital sales and rental service, providing photographers with the latest cutting-edge solutions, education, expert consultancy and acute after-sales care. Our service is based on Leaf technology, which combines excellent design with robust shooting, ease of use and exceptional image quality. The research and development efforts of both Leaf and Peartree Rental are the result of on going contact with customers. This communication, coupled with profound experience in image capture and colour science, has led to the development of innovative solutions and workflows for the benefit of our photographers.
For further information and pricing on the full range of Leaf products please contact Lawrie Hope at Peartree Rental on +44 (0) 20 7251 2044 or email [email protected]