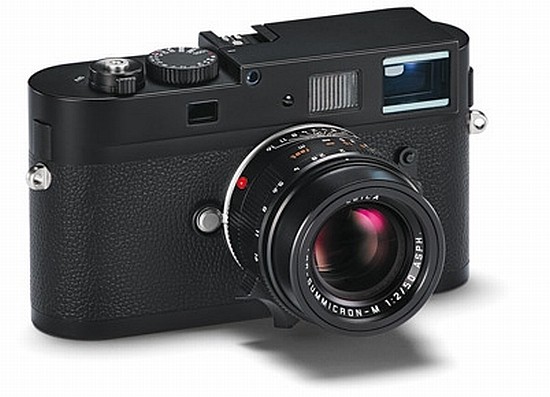 The Leica M Monochrom is a new, black-and-white only, full-frame digital rangefinder camera with a highly sensitive 18-megapixel monochromatic sensor. Lacking a colour filter array (CFA) and an anti-aliasing filter, the Leica M Monochrom is capable of producing extraordinarily detailed black-and-white photographs with no Bayer interpolation. The lack of a CFA also means that the sensor is significantly more sensitive to light, resulting in an ability to produce unusually clean image files at sensitivity settings up to ISO 10,000. In most other respects, the camera is similar to the existing Leica M9. The Leica M Monochrom is scheduled to be available in the UK from the end of July 2012 from authorised Leica dealers including the Leica Store Mayfair for an SRP of £6,120 including VAT. The scope of delivery also includes a copy of Adobe Photoshop Lightroom and Silver Efex Pro 2.
Leica Press Release
The future of black and white photography: Leica M Monochrom
10/05/2012
The world's first digital rangefinder with dedicated, full-frame black and white sensor for true monochrome photography
Leica Camera AG has today presented the world's first digital camera designed exclusively for full-frame, 35mm black and white photography: the Leica M Monochrom.
The Leica M Monochrom is a pure black and white rangefinder camera, using a newly-designed 18 million pixel CCD specifically created for the capture of light in its purest form. With this new sensor, there is no Bayer Pattern filter (colour filter array), which means it never separates the light into colours, and subsequently there is no need for complicated colour algorithms.
The 18 megapixel image sensor of the Leica M Monochrom is also perfectly matched to the superior performance of Leica M-Lenses. As the sensor does not 'see' colours, every pixel records true luminance values – as a result, it delivers 'true' black-and-white images that are significantly sharper than comparable exposures from a camera with a colour-sensitive sensor, and images that require very little or no further image processing.
The Leica M Monochrom continues the successful story of the Leica rangefinder system, which has written numerous chapters in the history of innovative photography.
Features at a glance:
  * Newly-developed monochrome CCD sensor with a native resolution of 18 million pixels
  * 100% sharper images thanks to the direct processing of RAW data with no interpolation
  * Extremely low, fine-grain image noise up to ISO 10000
  * Raw data histogram and configurable clipping display
  * Classic, iconic Leica M series design with black chrome finish and leather carrying strap
  * Includes Nik Silver Efex Pro™ 2 and Adobe® Photoshop® Lightroom®
  * Exclusive access to the Leica Monochrom Print Service in cooperation with Whitewall
  * Includes an original fibre baryte print of a Magnum photo from the Leica M Monochrom campaign
    by J. A. Sobol
Jesko von Oeynhausen, product manager, M-System, Leica Camera AG, commented, "Black and white photography has become more popular than ever before, with photographers continuing to be fascinated by it as an expressive medium. This is confirmed by the numerous monochrome images presented to us by members of the Leica M community, with whom we are in constant contact. With the Leica M Monochrom, we are offering photographers the opportunity to explore black and white photography with a product that is unique in the digital world, producing consistent and authentic results. The camera's exclusively black and white sensor brings an enormous technical benefit that is reflected in the outstanding image quality it delivers."
The classic, iconic design of Leica M-cameras is also continued with the Leica M Monochrom. With its matt black chrome top plate, the camera is unobtrusive, with just the engraved name of the product on the accessory shoe revealing its identity. The camera features a particularly soft leather trim, ensuring a positive grip, and perfectly complements the camera's discreet character. The camera package also includes a black leather carrying strap in premium full-grain cowhide.
To allow precise control of tonal values, the Leica M Monochrom offers a RAW data histogram display. This is different from conventional histograms in that it displays original, unprocessed and unmodified RAW data. The combination of this with a configurable clipping display allows precise correction or optimisation of exposures.
At the touch of a button, images captured by the M Monochrom can be converted using characteristic toning effects from black and white film photography (sepia, cold or selenium toning). The user simply saves the image in JPEG format and selects the desired tonal effect, and with no need for post-processing.
From photojournalism and available light photography to discreet, artistically aesthetic, creative compositions – the Leica M Monochrom adapts flexibly to every situation and enables the expression of personal photographic style and consciously creative composition. The enormous potential performance of the current M-Lens portfolio, with focal lengths from 16 to 135 mm, is also fully accessible. In line with Leica's renowned commitment to extreme system compatibility, almost all the lenses in the Leica M range built since 1954 can be used with the M Monochrom.
Furthermore, all the characteristic properties of the Leica rangefinder system are also present in the Leica M Monochrom. For example, it includes the system's intuitive and discreet handling. Its manual focusing, based on the combined viewfinder and rangefinder concept, and aperture priority exposure mode, is an aid to the photographer's creative freedom. In combination with the LCD display, the simple menu navigation needs only a few controls to enable rapid access to the entire range of camera functions.
Together with its compact construction, the camera's almost silent shutter ensures discreet and unobtrusive photography. Photographers can even select the appropriate moment for re-cocking the shutter. If longer exposure times requiring a steady camera stance are required, slight pressure on the shutter release button in 'soft release' mode is sufficient.
All components of the Leica M Monochrom are constructed with extreme durability and a long working life in mind. The one-piece, full-metal housing, made from a high-strength magnesium alloy, and the top and bottom plates machined from solid brass, provide perfect protection for the camera's precious inner mechanisms. The digital components and shutter assembly of the M Monochrom are similarly constructed with a view to a lifetime of endurance. For photographers, this amounts to absolute reliability over many years of use. The experienced hands of Leica technicians at the factory in Solms are responsible for the assembly and calibration of M Monochrom bodies and the precise testing of all mechanical and electrical components. Leica Customer Care has decades of experience, and even today, maintains and repairs M-Cameras built from 1954 onwards.
The Leica M-System has played a significant role in the improvement of the company's financial position in recent years. Since the launch of the Leica M9 in September 2009, Leica's annual results have been correspondingly positive, and the company is now reporting record revenues.
Included software and Whitewall Printing Service
The Leica M Monochrom is supplied with Adobe® Photoshop® Lightroom®, a professional digital workflow solution. The software is available to M Monochrom customers as an online download after product registration. Adobe Photoshop Lightroom offers a wide range of functions for the management, processing and presentation of digital images, for example the creation of simple print layouts, slide shows and photo books. A full-version of Silver Efex Pro™ 2, the world's leading black-and-white image processing software, is also included in the package. Silver Efex Pro 2 offers an impressive collection of unique and powerful, darkroom-inspired tools for the creation of high quality monochrome images. Silver Efex Pro 2 emulates more than 20 different types of black and white film to recreate the glory of classic black and white film photography. The emulation of each film type is based on the analysis of many rolls of the respective type and guarantees perfect reproduction of the characteristic look of many popular films from ISO 32 to ISO 3200.
For the production of high-quality black and white prints, Leica Camera AG is also offering a unique service in collaboration with Whitewall. Following registration of their Leica M Monochrom camera on the Leica web site, customers can have their digital images from the M Monochrom printed on premium-quality baryte paper and can order copies from Whitewall by means of a personal link.
Pricing and availability
The Leica M Monochrom (black chrome) is scheduled to be available in the UK from the end of July 2012 from authorised Leica dealers including the Leica Store Mayfair: www.leica-storemayfair.co.uk, tel: 020 7629 1351. A full list of authorised UK Leica dealers is available at www.leica-camera.co.uk. The suggested retail price of the Leica M Monochrom is £6,120 inc. VAT (camera body only, not including lenses).
Leica warranty and added value services
The Leica M Monochrom comes with a two-year warranty and a one-year Leica UK 'Passport' (complimentary accidental damage cover). UK customers are also welcome to visit the Leica Store and Akademie in Mayfair, London, for a complimentary demonstration or training session on the features of the camera. Technical support by telephone is available via Leica's London-based Client Care department.
Your Comments