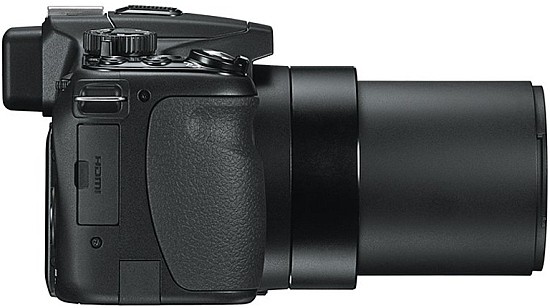 The Leica V-Lux 4 is a digital superzoom camera with a 25-600mm (eq.) f/2.8 lens. Featuring the same headline specifications as the Panasonic Lumix FZ200 and available from November, the Leica V-Lux 4 comes with a licence for the professional still picture and video processing software, Adobe Photoshop Lightroom 4, plus a two-year warranty and a one-year Leica UK 'Passport' (complimentary accidental damage cover) for £690 including VAT.
Leica Press Release
Get closer to the moment with the LEICA V-LUX 4:  super-fast, super-zoom compact for travel, wildlife and sports photography
Photokina, Cologne, 17 September 2012: Leica Camera AG has announced the V-Lux 4, a digital compact camera that combines a high-performance, superzoom lens, outstanding image quality and superior speed in a compact format. A true all-round camera, the V-Lux 4 offers a wide range of video functions and an impressive array of photographic features in a compact design, making it a lighter, versatile alternative to a DSLR system, and ideal for travel, sports or outdoor wildlife photography.
The Leica V-Lux 4 features a newly-designed Leica DC Vario-Elmarit 4.5–108 mm f/2.8 ASPH. 24x super-telephoto zoom lens with an enormous range of focal lengths, equivalent to 25–600 mm in 35 mm format. For photographers who like to shoot landscapes, architecture, sport, travel, portraits or wildlife, this enormously flexible lens makes the V-Lux 4 ideal for almost all photographic situations.
A particular highlight for a camera in this class is the constant maximum aperture of f/2.8 throughout the entire zoom range. This makes it possible to capture pin-sharp images at greater distances, even in unfavourable lighting conditions. In addition, the camera's fast operation and integrated optical image stabiliser allow the use of faster shutter speeds, ensuring fewer shots with camera shake when shooting handheld. In combination with longer focal lengths, the large initial aperture of f/2.8 allows a high degree of creative freedom for experimentation with planes of focus and depth of field.
A maximum ISO sensitivity of 6400 and a new 12-megapixel CMOS image sensor ensure outstanding image results in a variety of photographic scenarios, including low light. Still pictures and video recordings produced by the V-Lux 4 are characterised by high dynamic range and natural, perfectly saturated colours. The camera can capture fast-moving subjects, resulting in richly-detailed, pin-sharp images. Furthermore, the autofocus of the Leica V-Lux 4 reacts to changes within the image frame in less than a tenth of a second, and makes it possible to reliably capture fast-moving subjects – ideal, for example, for sports photography. This is also beneficial when shooting continuous sequences: the V-Lux 4 delivers up to 12 frames per second at full resolution.
In addition to impressive still image options, the Leica V-Lux 4 features an extensive range of video functions. The camera captures Full HD video in AVCHD format with 1920 × 1080 pixels at 60 full frames per second. The entire 24x optical zoom range is available during video recording, and an integrated stereo microphone with an electronic wind noise filter guarantees a crystal-clear soundtrack.
Video files can be saved in Internet-compatible MP4 format and can be uploaded to social media or mobile devices, for example, without the need for conversion.
The new electronic viewfinder built into the V-Lux 4, with a resolution of 1.4 megapixels and a 100% field of view, is a reliable aid for assessing subject framing and exposure settings. Particularly convenient is the new zoom function that can be used to magnify the subject for accurate review. The settings and functions displayed on the monitor screen and in the viewfinder are identical. The viewfinder also features dioptre correction and is a very attractive and practical alternative to assessing images on the camera's LCD screen, particularly when shooting in bright light.
The 3" LCD display with 460,000 pixel resolution delivers an extremely bright and clear view, and is a reliable and precise aid to photographers when composing and reviewing images. For more creative photography, the monitor screen can be freely rotated in almost any direction and allows users to shoot from even the most unusual angles. Whether shooting stills or video from above their head or close to the ground, photographers always have complete control over composition.
The design of the Leica V-Lux 4 is characterised by compact size and extremely easy handling. Its integrated handgrip keeps it steady in the photographer's hands, and the camera's particularly light weight allows easy one-handed shooting. All controls are clearly laid out and simple to use. For example, video recording can be started quickly and easily at the touch of a button on the top of the camera.
The Leica V-Lux 4 is supplied with a licence for the professional still picture and video processing software, Adobe® Photoshop® Lightroom® 4.
Pricing and availability
The Leica V-Lux 4 is scheduled to be available in the UK at a suggested retail price of £690 inc VAT from November 2012 from authorised Leica dealers including the Leica Store Mayfair: www.leica-storemayfair.co.uk, tel: 020 7629 1351. A full list of authorised UK Leica dealers is available at www.leica-camera.co.uk.
Leica warranty and added value services
The Leica V-Lux 4 comes with a two-year warranty and a one-year Leica UK 'Passport' (complimentary accidental damage cover). UK customers are also welcome to visit the Leica Store and Akademie in Mayfair, London, for a complimentary demonstration or training session on the features of the camera. Technical support by telephone or in person is available via Leica's London-based Client Care department.
Your Comments