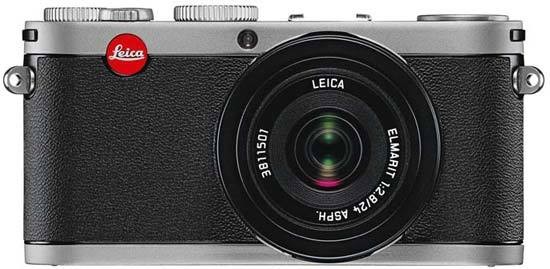 The Leica X1 is a 12.2-megapixel compact camera with an unusually big, APS-C sized sensor and a fast wide-angle lens. It has a fixed-mount, fixed-focal-length Leica Elmarit 24mm (36mm equivalent) f/2.8 lens with high-speed autofocus, and a 23.6x15.8mm CMOS sensor with a 3:2 aspect ratio. The Leica X1 has all the manual control an advanced photographer can desire, from manual exposure to manual focus, but it also comes equipped with a number of automatic options. Touted as an ideal choice for available-light photography, the Leica X1 has a sensitivity range of ISO 100 to ISO 3200. With a maximum shutter speed of 1/2000th of a second and a continuous shootig rate of up to 3 frames per second, the Leica X1 is equally well suited to capturing fleeting, split-second moments. The availability of the Leica X1 is slated for December 2009. The recommended retail price is €1550 in the euro zone. Pricing for the UK, where the Leica X1 shall become available in January 2010 only, has not yet been revealed.
Leica Press Release
LEICA X1: Photography as spontaneous as life itself
Leica Camera AG has announced the X1. Designed and made in Germany by Leica engineers, this camera is set to become a future classic. The desirable LEICA X1 achieves exceptionally high resolution and quality for a camera of such small dimensions, and will set new standards.
The LEICA X1 is equipped with a 12.2 megapixel CMOS sensor in APS-C format, as found in much larger DSLR cameras. This sensor, combined with the all-purpose LEICA ELMARIT 1:2.8/24 mm lens, offers outstanding picture quality comparable with professional cameras. Furthermore, the X1's technical specifications and broad spectrum of setting options – from manual to automatic operation – makes it a perfect companion for creative photographers, while the compact size means it can be carried at all times – ideal for capturing those unique, spontaneous moments in life.
The large sensor area of the individual pixels on the CMOS sensor receive more light, guaranteeing low noise levels, high dynamic range and accurate colour differentiation. The crop factor of the sensor is 1.5 in comparison with 35mm film format, which means the fixed-mount LEICA ELMARIT 1:2.8/24 mm lens is transformed into a universal reportage lens with an effective (35mm equivalent) focal length of 36mm. This is a true classic amongst prime lenses and has captured innumerable iconic images in history.
Peter Kruschewski, product manager digital compact cameras at Leica Camera AG, commented, "The LEICA ELMARIT 1:2.8/24 ASPH is a true Leica lens with terrific optical performance. Its moderate wide-angle character creates sufficient distance when needed, but still allows photographers to get in close to pick out the details whenever the situation requires. This lens ensures that photographers won't miss any shot, situation or detail, however fine."
The straightforward design of the X1 is strongly reminiscent of the legendary Leica M cameras. This, in combination with its robust, all-metal construction and tactile, high-quality leather trim, makes the X1 typically 'Leica'.
The LEICA X1 offers clearly laid-out, intuitive functions. For 'uncomplicated' photography, the X1 offers numerous automatic features ranging from precise autofocus to automatic exposure, guaranteeing photographers perfectly exposed, sharp images by simply pressing the shutter release. This allows the user to concentrate on the creative aspects of composition and framing.
Thanks to its numerous automatic functions, the X1 is always quick and versatile whenever the need arises. Photographers can also achieve creative freedom with the camera's manual control options. Both aperture and shutter speed can be selected manually with the easy-to-use dials on the top plate of the camera. Even the plane of focus can be set manually, along with white balance and various other image capture parameters. Consequently, the X1 offers photographers complete manual control of the creative process while also guaranteeing rapid reaction ability with its automatic functions, when required.
The large size of the sensor, a maximum sensitivity of ISO 3200 and large aperture make the LEICA X1 an ideal choice for 'available light' photography. Whether in adverse lighting conditions, or for conscious manipulation of depth of focus, the X1 offers numerous options for individual and creative composition.
The bright 2.7" display of the X1 almost fills the entire back of the camera and reveals the finest details, even in bright surroundings. The live-view function replaces an optical viewfinder and shows an accurate preview with all essential image information. The Live Mode also makes the X1 particularly versatile for shots taken from unusual perspectives.
Accessories and software
The LEICA X1 offers a comprehensive range of accessories that expand the abilities of the camera and adapt it to the photographer's personal photographic style: A 36-mm bright-line accessory, for instance, can be inserted in the camera's accessory shoe and ensures a clear view without unnecessary power drain. If required, the camera display can be switched off when an accessory finder is used. In this case, a prominently placed LED indicates successful automatic focusing. In addition to this, there is an accessory handgrip that aids the safe and secure handling of the camera. A comprehensive range of camera cases is also available: the ever-ready case offers sufficient room for the camera with an attached handgrip and includes a small case attached to the carrying strap to hold the accessory finder. The high-quality transport case offers perfect protection for the camera, while the attractively designed system case has space for the camera and all its accessories.
The LEICA X1 features a retractable flash that can do much more than simply replace other sources of light. It also serves as a fill-in flash and can even be synchronised to the second shutter curtain. If more power and flexibility is required, the Leica SF 24D and SF 58 system flash units are also compatible with the X1.
The LEICA X 1 is supplied with a battery charger and a high-performance battery, and also includes a comprehensive software package. Adobe Photoshop Lightroom, a professional digital workflow solution for Apple Mac OS X and Microsoft Windows, is available as an online download for all registered LEICA X1 customers. Adobe Photoshop Lightroom offers a vast range of functions for the management, processing and presentation of digital images, whether in JPEG or DNG format. If the images from the X1 are saved as raw data in Adobe Digital Negative format (DNG), Adobe Photoshop Lightroom guarantees direct and extremely high-quality image processing.
Pricing and availability
The LEICA X1 will be available in the UK from January 2010. Pricing will be available nearer to date of launch. For further details and a list of authorised dealers including the new Leica Store Mayfair, please visit www.leica-camera.co.uk.
Your Comments