Lindblad Expeditions Presents Unique Sweepstakes as FotoWeekDC Sponsor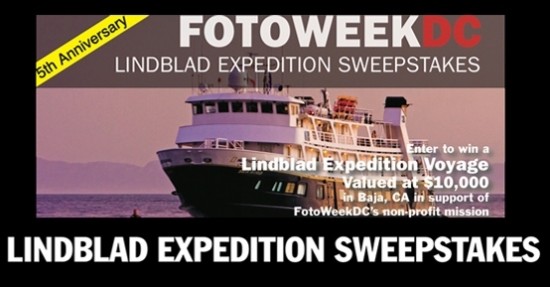 FotoWeekDC's sponsor, Lindblad Expeditions, has launched a sweepstake for photographers and photography lovers. No donation or purchase is necessary to enter for a chance to win an idyllic 8-day / 7-night Baja California experience - a prize valued at $10,000. The sweepstake ends at 11:59 p.m. Eastern Time on 21 November 2012. For more information and to enter, visit the website below. Do note that this sweepstake is open to US residents only.
Website: Lindblad Expedition Sweepstakes | Official Rules
FotoDC Press Release
FOTOWEEKDC AND LINDBLAD EXPEDITIONS PRESENT LUXE SWEEPSTAKES IN HONOR OF 5TH ANNUAL FESTIVAL
Chance to win expedition voyage in Baja California

Washington, DC (November 14, 2012)  To celebrate the 5th Annual FotoWeekDC Festival held across the Washington, DC region from November 9 – 18, 2012, FotoWeekDC sponsor, Lindblad Expeditions, will present an idyllic 8 day/7 night Baja California experience to an ultimate photo enthusiast. Uniquely supported by the award-winning tourism innovator, no donation or purchase is necessary to enter for a chance to win the sweepstakes valued at $10,000.  There are three ways to enter, see additional entry rules and details on http://fotodc.myw2m.com/enter-sweepstakes/.
Highlights of the expedition voyage:
·    Four nights at sea exploring an eco-playground of pure wilderness and sharpen your photo skills in workshops led by National Geographic photographers.
·    A three-day stay at an exclusive waterfront hotel set on five miles of beachfront property, an escape for Hollywood elite in the golden age of film.
Lindblad Expeditions is a proud presenting sponsor of FotoWeekDC. "Photographers are a passionate community of artists and story tellers who care about the world and are trying to make a difference," said Ralph Lee Hopkins, Director of Expedition Photography. "Lindblad Expeditions-National Geographic offers voyages that provide the opportunity for like-minded travelers to experience – and photograph – the amazing world we live in; not only the wild places, but also important historical sites and vibrant cultures in far-flung places. FotoWeekDC is a great celebration of this world, bringing together people from all walks of life, and we are thrilled to be a part."
Three Easy Ways To Enter*:
1.    Enter for free – No donation or purchase necessary:  http://fotodc.myw2m.com/enter-sweepstakes/no-purchase-necessary/
2.    Text FOTO 52000 to donate $5 using your mobile phone. All texts will be automatically entered.
3.    Enter credit card information through secure mobile website: http://fotodc.myw2m.com/enter-sweepstakes/
*For multiple entries, please enter multiple times by texting FOTO to 52000, visiting http://fotodc.myw2m.com/ or enter with no donation online multiple times.
FotoDC is a nonprofit 501(c)(3) and is featured as "One of the Best," Catalogue of Philanthropy 2012/2013. Visit www.FotoWeekDC.org for more information. FotoDC's mission is to provide exposure for photographers and to make diverse, high-quality photography accessible to audiences through the exhibition of inspiring and provocative images, dynamic programming, and collaborations with the local and international community. Special thanks to our sponsor Lindblad Expeditions for their generous donation of the Baja Expedition Voyage.
Your Comments