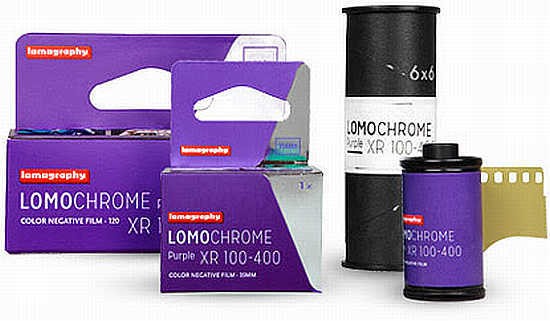 American and Asian customers will be able to purchase the exotic LomoChrome Purple film starting next Wednesday. Available in 120 and 135 formats, Lomography's LomoChrome Purple 400 is a speciality film that transforms "every green element of your photo into radiant purples." Although inspired by Kodak's discontinued Aerochrome emulsion - an infrared-sensitive, false-colour reversal film -, the LomoChrome Purple 400 is actually a C-41 process negative film with a sensitivity rating of ISO400/27°, allowing it to be used in virtually any weather conditions with no need for filtration at the capture phase. European customers can already buy the film in the online shop.
Lomography Press Release
LOMOCHROME PURPLE
35MM AND 120 FILMS
Europe
Now Available For Delivery

USA & Asia
Ready to ship starting April 2nd 2014
The phenomenal and much-coveted LomoChrome Purple 35mm and 120 Films are now available for purchase in the Online Shop. If you live in Europe, we already have the films in stock and ready to ship. If you live in USA or Asia, we will have the film ready to ship to you starting from next Wednesday (April 2nd 2014). Since its launch, Lomographers have been waiting to get their hands on their own supply. If you haven't tried this film, make a dash to get your rolls because stock is limited!
If you're new to the LomoChrome Purple, it's about time you gave it a try. It is famed for the surreal effect that it gives to photos: dreamy purple tones, color shifts and an overall majestic vibe that will make your shots magical.
Your Comments