Lomography Introduces La Sardina 'The Guvnor' Edition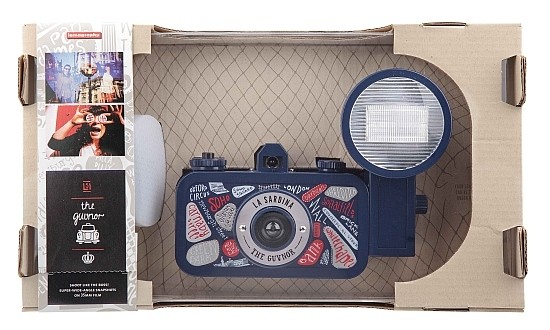 The Lomographic Society has announced a new special edition of its La Sardina film camera.  Dressed in blue, red and white the 'Guvnor' Edition features a London "city map" on the outside of its body and comes complete with Fritz the Blitz, a flash gun in a matching blue colour. Otherwise its specifications are identical to that of the standard La Sardina model, including a 22mm lens with an angle of view of 88 degrees and a fixed aperfure of f8, an independent MX switch for multiple exposures,  and two shutter speed settings, 1/100 second and Bulb. Lomography's La Sardina 'Guvnor' Edition is available for £99.
Lomography Press Release
LA SARDINA GUVNOR
A TRIBUTE TO LONDON
London Calling: As a true wide-angle wonder the La Sardina Guvnor will rock a summer full of events in London.
Union Jack Map: You will not get lost with this little fellow on your side – from Carnaby Street to Spitalfields – the Guvnor leads you the way through your analogue adventures.
Sardine Can Camera: No fish inside – just fine wide angle photography.…
LONDON CALLING
London is a city steeped in history, and has long been a cornerstone of Lomography. It is home to hundreds of Lomographers, who are continually inspired by architecture, art, amazing events and fashion, and one of the strongest Lomography communities in the world. So in a summer in which the whole world celebrates London, we are celebrating the London Lomography community with the launch of the La Sardina Guvnor Camera. Prepare yourself for a hot summer in London! Lots of exciting events will make this city THE hotspot to be: a huge Lomography exhibition at the Museum Of London, the long awaited congregation of the world's best athletes AND the release of the La Sardina Guvnor!
UNION JACK MAP
London is such a huge and buzzing city! Getting lost can be quite unpleasant but don't be afraid – the La Sardina Guvnor will lead you the way through all your analogue adventures! We printed a cute little map of London on the Guvnor's body that will help you navigate through THE city to be this summer. Dressed in blue, red and white the Guvnor pays tribute to the beloved Union Jack and makes it easy for you to show your love for good old London while snapping away with this great wide angle camera.
SARDINE CAN CAMERA
When we introduced La Sardina last year, this little fishy pal swept Lomographers all over the world off their feet. Sweet design combined with super easy handling make La Sardina the perfect every day camera that captures wide angle pictures wherever and whenever you want. Its plastic wide angle lens enables pros and beginners to shoot beautiful Lomographs easily. No need for long explanations at your local lab, the processing is really easy due to the regular format of the shots. Accompanied by Fritz the Blitz, our most sophisticated flash, La Sardina will make your photos shine. 
Microsite: http://microsites.lomography.com/la-sardina/
TECHNICAL DETAILS
Film Type: Standard 135 roll film
Exposure area: 36 x 24mm
Lens focal length: 22 mm
Aperture: 1:8
Angle of view: 88 degrees
Focusing range: 0.6m - infinity
Shutter speed: N (1/100), B (bulb)
Multiple exposure: independent MX switch
Flash contact: Unique Sardina flash contact
Flash Sync: first curtain X-type synchronization
Cable release: Universal cable release socket
Price: £99
What the Hell is Lomography?
www.lomography.com/about
The Lomographic Society International is a globally-active organization dedicated to experimental and creative snapshot photography. Boasting over a half-million members across the world, the concept of Lomography encompasses an interactive, vivid, blurred and crazy way of life. Through our constantly expanding selection of innovative cameras & photographic accessories, we promote analogue photography as a creative approach to communicate, absorb, and capture the world. Lomography Gallery Stores all over the world provide our full product range and a place for exhibitions, workshops, meetups and all lomographic needs. Through the efforts and skill of our Lomographic Society members, we seek to document the incredible planet around us in a never-ending stream of snapshots – literally a global "Lomographic" portrait as seen through the eyes of countless individuals and cultures.
Your Comments