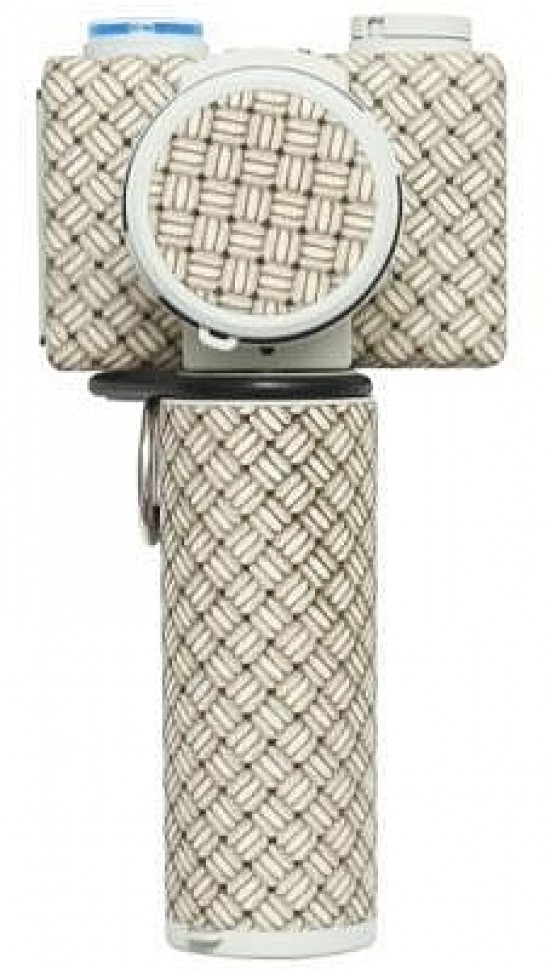 The Lomographic Society has introduced a limited-edition Spinner 360° clone wrapped in Toledo leather. The Spinner 360° is a fully mechanical camera that captures 360° panoramas on 35mm film with a spectacular spin. Set in motion by pulling the trigger-cord with simple manpower, the rubber band drive lets the Spinner 360° revolve on its grip while taking a photo at a fixed shutter speed. The Spinner 360° Leather Edition is decorated with a geometric network pattern, as seen in the photo above.
Lomography Press Release
The Lomographic Society Proudly Presents:
THE SPINNER 360° LEATHER EDITION
Leather Debut: The first Spinner 360° clone wrapped in luxurious Italian Toledo leather
Want To Take A Spin? The most freewheeling camera on the planet that enables 360° to infinite panoramic shots on 35 mm film
Spinner Lomography: 10 special shooting styles are waiting to set your creativity on fire
LEATHER DEBUT
It was spinning and winning – when the unique Spinner 360° was first introduced to analogue lovers its features and ultra-long panoramas won their hearts by storm. More than one year later we celebrate the release of the very first Spinner 360° clone wrapped in a suit of fine Italian Toledo Leather, a luxurious material that fits a fascinating camera. To add some more style we decorated the camera with a geometric network pattern in winter white that will trigger as much attention as the camera itself. Spinning away in style with the Spinner 360° Leather Edition has never been this exciting and will reward you with the most freewheeling panoramic pictures you have ever seen!
WANT TO TAKE A SPIN?
The Spinner 360° even exceeds the human perception and captures a full 360° vision which puts the Lomographer in the middle of a new lomocentric universe.
Set in motion by pulling the trigger-cord with simple manpower, the rubber band drive lets the Spinner 360° revolve on its grip in perfect shutter speed. Featuring two aperture settings, this freewheeling fellow is the perfect companion for panoramic adventures indoors and outdoors. Fed with 400 ASA 35 mm film for best results, it captures everything in its sight on a frame multiple times longer than a conventional landscape picture. A panorama-go-round of the special kind for Lomographers that love to spin!
SPINNER LOMOGRAPHY
To tickle your creativity a little bit, we developed ten unique shooting styles for the Spinner 360° that will open up a never seen before view. Why not explore the world while doing the "Rollercoaster"? Instead of holding the camera on a horizontal level it is held aslant. As the camera rotates in one full circle it produces images in wavelike perspectives and the whole world magically transforms from a flat surface into a rollercoaster of forms and figures. How about rethinking our conception of time and space while doing the "Timescan"? Or going upside down with the "Footloose" style? Even the long tradition of self-portraits will be revived through the "Hipshot", scanning your body from the hip. There are at least ten possible styles to spin the Spinner 360° and a whole lot are waiting to be discovered, so start spinning!

Website: http://microsites.lomography.com/spinner-360/
TECHNICAL DETAILS
Film Type: 135 roll film
Lens: 25mm
Horizonal View Angles: 360°
Vertical View Angles: 66°
Focusing: fixed focus,1m~inf.
Shots per roll: around 8 shots (on a standard 36 exposure roll)
Aperture: f/8, f/16
Price:
Package content
Spinner 360° panoramic camera
Lens cap
Additional rubber ring
Instruction Manual
Shooting technique cards
Panoramic poster
What the Hell is Lomography?
www.lomography.com/about
The Lomographic Society International is a globally-active organization dedicated to experimental and creative snapshot photography. Boasting over a half-million members across the world, the concept of Lomography encompasses an interactive, vivid, blurred and crazy way of life. Through our constantly expanding selection of innovative cameras & photographic accessories, we promote analogue photography as a creative approach to communicating, absorbing, and capturing the world. Through the efforts and skill of our Lomographic Society members, we seek to document the incredible planet around us in a never-ending stream of snapshots – literally a global "Lomographic" portrait as seen through the eyes of countless individuals and cultures.
Your Comments