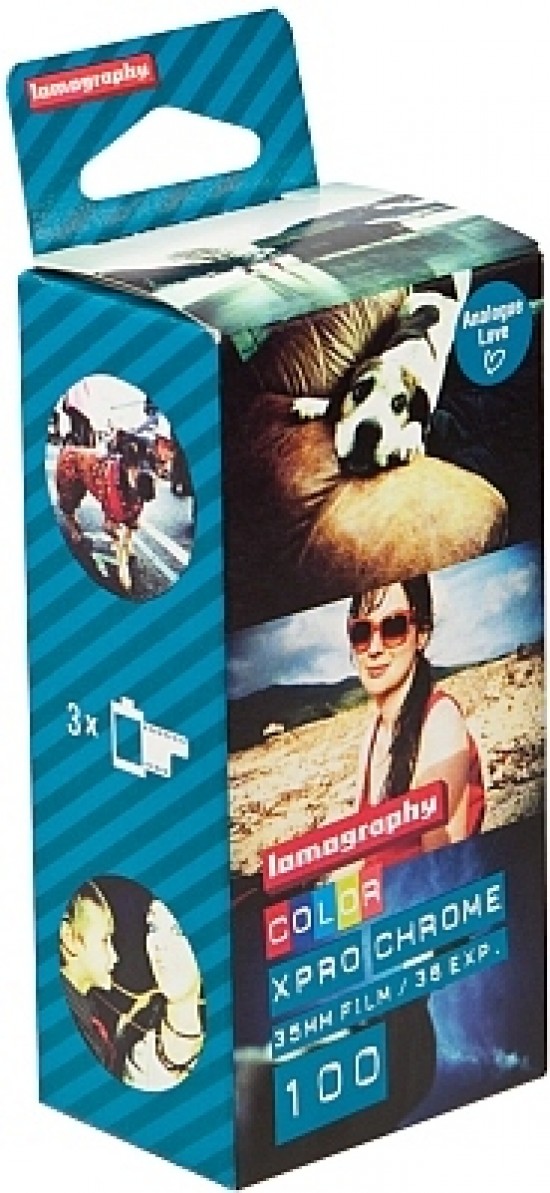 The Lomography X-Pro Chrome 100 is a new colour reversal film. Although it is possible to develop the Lomography X-Pro Chrome as a "normal" transparency film, using the industry-standard E-6 process, lomographers will probably love it for the strong contrasts and saturation it produces when cross-processed. In the United Kingdom, the Lomography X-Pro Chrome 100 is available in 35mm format, priced at £16.90 for a 3-pack.
Lomography Press Release
Introducing Lomography X-Pro Chrome 100 Film!
Lomographers and photographers alike love to cross process slide film and today we are happy to introduce a brand new member of the Lomography Film family! The Lomography X-Pro Chrome 100 film will not only give you gorgeously crisp colors when processed normally (as slides) but its strong contrasts and saturation will blow your mind when cross processed. Your pictures will instantly take on the vibrant blue-green tones of your wildest dreams, while keeping skin tones naturally beautiful.  As usual, the 36 exposure film comes in a handy money-saving pack of 3:
Lomography X-Pro Chrome 35mm, 100 ASA
Price £16.90
Launched today, available only on Lomography.com!
Key features:
•        -          Suitable for cross processing (C41) or E6 slide development
•        -          Amazing value for original chrome material
•        -          High quality, flexible and fine grained.
•        -          Perfect for use in all 35mm cameras
•        -          100 ISO (great for those crisp autumn days!)
•        -          36 exposures per roll
•        -          Available only in 3-packs
Your Comments