Lomo'Instant Camera KristopherH Special Edition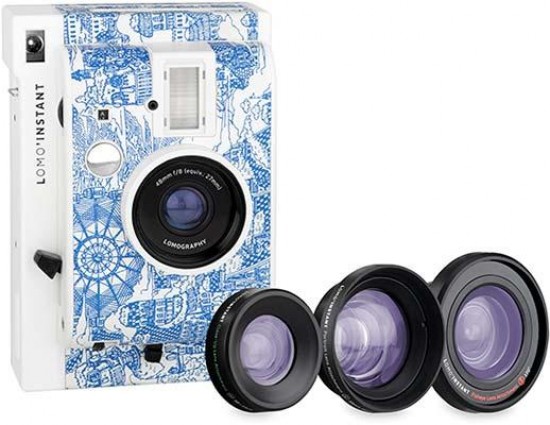 A very special edition of the original Lomo'Instant camera has been designed by KristopherH for Lomography x Fashion Walk: Be An Explorer —held in Hong Kong. With its wonderful new dress, the Lomo'Instant Explorer is now ready to go out into the world, into the hands of creative instant photographers.
LOMO'INSTANT EXPLORER

Designed by KristopherH for the Lomography x Fashion Walk.
Now available Worldwide!
Designed by World-Renowned Creative, KristopherH
Lomography is thrilled to add incredible illustrator KristopherH to their long list of fantastic collaborators. From Nike to Facebook, KristopherH has created gorgeous illustrations for an impressive line-up of international brands — as well as his own stunning portfolio. His Lomo'Instant Explorer design is reminiscent of delicate blue and white china. A mass of intricate blue illustrations, his signature style transports us to a surreal city with fantasy ferris wheels, towering toadstools and humongous, rusty robots. It's a beautiful addition to Lomography's colorful collection of creative instant cameras.
A Bespoke Edition Now Available Worldwide
The Lomo'Instant Explorer was specially designed by KristopherH for Lomography x Fashion Walk: Be An Explorer — held in Causeway Bay, Hong Kong. Now, Lomography is excited to bring it to creatives around the world. The Lomo'Instant Explorer will be available from the Lomography Online Shop and Gallery Stores for just 99 USD. You'll also be able to pick up a combo package for 125 USD, which includes fisheye, closeup and wide-angle lens attachments to shake up your perspective.
Lomography's Original Creative Instant Camera
The Lomo'Instant is where Lomography's adventures in instant photography all started — and it remains one of the most creative instant cameras out there.
Built for free spirits who aren't afraid to push the boundaries, it lets you layer up your composition with multiple exposures, take luscious long exposures, use color gel flash filters to tint your shots a whole new hue and so much more. With the Lomo'Instant, you can fill frame after frame of Fujifilm Instax Mini Film with your wildest imaginings, and hold your masterpiece in your hands just seconds later.
Online Shop:

https://shop.lomography.com/cameras/lomo-instant
KristopherH Website:
Fashion Walk:
TECHNICAL SPECIFICATIONS
Film Format: Fujifilm Instax Mini Film
Exposure Area: 42 mm × 64 mm
Shutter Speed: 1/125s / Bulb
Exposure Compensation: +2/-2 Exposure Values
Ejection Mechanism: Motorized
Multiple Exposures: Yes
Built-in Flash: Yes
Flash Range: 9 m
Automatic Flash Output: Yes
Battery Supply: 6V (4× AAA batteries)
Tripod Mount: Yes
Cable Release Mount: Yes
Aperture: f/8, f/11, f/16, f/22, f/32
Your Comments