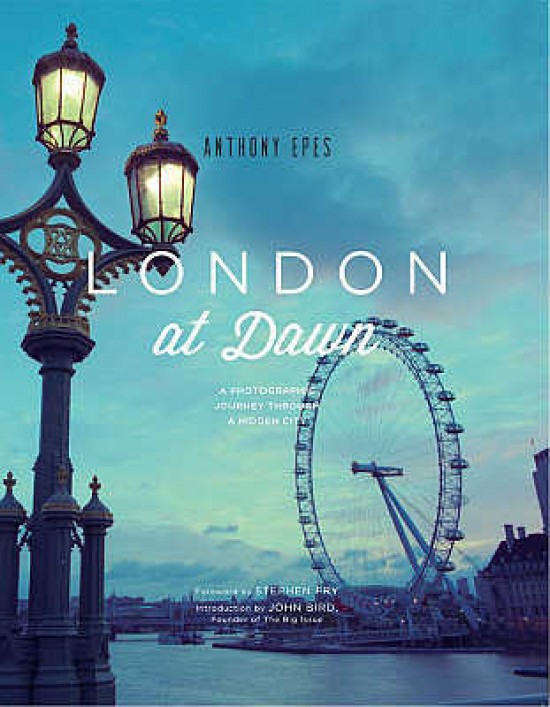 Husband and wife team Anthony Epes and Diana Bird are marking the launch of their new book, Paris at Dawn, and a revised edition of their first volume, London at Dawn, with a unique exhibition at St Pancras International. Taking place from 16-30 October 2013, the exhibition will portray two cities in a way rarely seen by its inhabitants – at dawn. The book launch will coincide with the opening of the exhibition on 16 October 2013, and both volumes will be available from Foyles bookshops in London and online at the website below, priced at £20 each.
Website: Cities at Dawn
Press Release
LONDON AND PARIS AT DAWN

Exhibition and book launch
WHAT: Fine art photographer Anthony Epes marks the launch of his new books Paris at Dawn and London at Dawn (revised and updated edition) with a unique exhibition at St Pancras International. The stunning display of his photographs will portray two cities in a way rarely seen by its inhabitants – at dawn. His two new books, 'London at Dawn' and 'Paris at Dawn' go on sale exclusively at Foyles, St Pancras International, on Wednesday 16th October.
WHEN: Wednesday 16th October – Wednesday 30th October
WHERE: The Arcade, St Pancras International Station, Euston Road, London, N1C 4QP
WHO: Anthony Epes is a fine art and commercial photographer from California who has been based in London since being commissioned for his first book London at Dawn. The book was a collaboration with John Bird, founder of The Big Issue, who conceived of the project idea whilst sleeping rough in the streets of London in the 60′s.
IMAGES: Images for web use are available here, please credit Anthony Epes, 2013.For high-res images please contact Diana Bird on diana@anthonyeps.com
BOOK SIGNINGS: Anthony will be at St Pancras on Oct 18th, 19th, 23rd and 25th. See @londonatdawn orcitiesatdawn.com for further details.
PHOTO TALK: As part of the exhibition Anthony will be doing a Mastering Composition talk at the Guardian Masterclass on Oct 28th. Details here.
PROJECT DESCRIPTION:
London at Dawn and Paris at Dawn reveal a vision of the capitals rarely seen by their inhabitants. The dawn hours, particularly in summer, are often a hidden time, a moment of quiet in these exhaustingly busy cities. The emptiness of the streets, the beauty of the dawn light and the calm that pervades London and Paris before the chaos of the working day, is captured by photographer Anthony Epes in two stunning new collections. With a foreword by Stephen Fry for London at Dawn and by John Bird for Paris at Dawn, these books capture a unique time in these

"Millions of us live in cities around the world. They can be fast, chaotic, aggressive places. Sometimes, as we live our lives in these intense urban areas, we lose something: the ability to notice the beauty in our surroundings. I wanted to make people fall in love with their cities again.
Seeing deserted streets at the magic hour of dawn can completely change the way we look at our city. Something truly amazing happens at this time of day. For a few brief moments, Mother Nature gives us a glimpse of the miraculous. An awe-inspiring light show while millions of people are still asleep."

Anthony Epes

Paris at Dawn and London at Dawn are being published by husband and wife team Anthony Epes and Diana Bird. Eschewing the traditional publishing route Epes and Bird decided to 'crowdfund' the project, joining thousands of creative people across the globe who are directly engaging with their audience to help them produce their work. 160 people backed this project, raising £10,875. See the campaign here: http://kck.st/15lF1h8

Anthony has exhibited widely in the UK as well as in the US and Japan and has a growing number of private collectors of his work. Anthony's work has been featured in French Photo magazine, BBC, The Guardian, Evening Standard, Amateur Photographer, Digital Photographer, The Big Issue, The Telegraph, Time Out and many other international and national publications. Last year, he launched a series of Cities at Dawn photo workshops in London, Paris and Venice in which he shares the magic of dawn to other keen photographers.
The books are available in hardback at Foyles Bookshop and citiesatdawn.com, with 10% of the net proceeds from the book and print sales being donated to The Big Issue Foundation.
BOOK SPEC

Hardback: 29cm x 23cm (portrait),128 pages of 90 full colour photos
Designed by: Helen Crawford-White
Introduction to both books by: John Bird, Founder of The Big Issue
Foreword to London at Dawn: by Stephen Fry
Available in hardback: £20
Available from Foyles bookshops in London and online at citiesatdawn.com from October 16th
Your Comments