LumeJet Launch Unique Photographic Print Service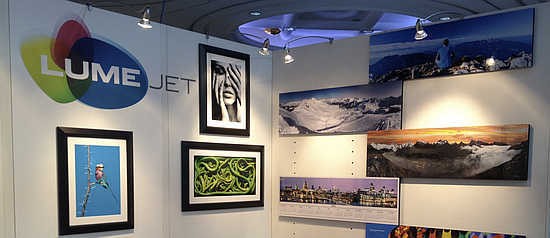 LumeJet Print Technologies have just launched their online printing service. Offering a range of printing sizes up to and including one metre (39") long panorama prints, as well as premium-quality lay-flat photo books via partners, LumeJet are promising to deliver a faithful reproduction in print of what a photographer has graded on their display. Additionally LumeJet's innovative photonic print technology, designed and developed in the UK, produces ultra-high quality printed output on traditional silver halide papers by using a brand new RGB, digital print head. "This true 400dpi continuous tone resolution, with much reduced flare and pixel cross talk, has been emphatically endorsed by a number of professional photographers that we have shown our print output to so far," says Paul Anson, Co-Founder of LumeJet. "Some have commented that it is the highest quality photo print they have ever seen, and I believe this is now the breakthrough moment for LumeJet. By offering our breathtaking quality and high-end professional services through a convenient web platform, we can ensure that creative photo artists can bring their work to life, from anywhere, without compromise."
Lumejet Press Release
Unique Photographic Print Service Launched by LumeJet
18th July 2016, London – LumeJet Print Technologies Limited, a new digital print innovator and provider of ultra high resolution photographic print, today launches its online printing service. LumeJet is passionate about printing beautiful photography and offers the next generation of quality print to discerning photographers and photo enthusiasts who want high quality, natural and accurate printing.
Offering a range of printing sizes up to and including one metre (39") long panorama prints, as well as premium quality lay flat photo books via partners, LumeJet delivers faithful reproduction in print of what a photographer has graded on their display, preserving the very essence of their art and also delivering an impressively wide colour gamut.
The new LumeJet online service, developed on Infigo Software's Web-2-Print platform, provides a flexible, tailored and simple user experience, allowing the customer to complete their journey through the photo print design and buying experience with a minimum of fuss.
LumeJet print is also available from a number of retail partners that offer additional finished products including bespoke wedding albums, hospitality keepsakes for exclusive events, high-end corporate proposals, professional photographic portfolios and also mounted and framed prints. LumeJet's growing Print Partner programme is enabling a community of like-minded businesses to cooperate and offer a broader variety of LumeJet based products. 
LumeJet's innovative photonic print technology, designed and developed in the UK, produces ultra-high quality printed output on traditional silver halide papers by using a brand new RGB, digital print head.
Paul Anson, Co-Founder of LumeJet said: "Our unique methodology produces prints of ultra-high quality.  This true 400dpi continuous tone resolution, with much reduced flare and pixel cross talk, has been emphatically endorsed by a number of professional photographers that we have shown our print output to so far.  Some have commented that it is the highest quality photo print they have ever seen, and I believe this is now the breakthrough moment for LumeJet. By offering our breathtaking quality and high-end professional services through a convenient web platform, we can ensure that creative photo artists can bring their work to life, from anywhere, without compromise".
Your Comments